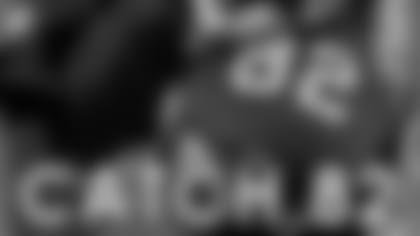 Throughout the '08 season, you can catch #82 - wide receiver Bryant Johnson on 49ers.com with his very own Catch 82 column. Johnson will trade off with cornerback Nate Clements with his scouting report on the upcoming opponent. Here's his take on Sunday's AFC contest against New England. **This weekend we've got the Patriots at home and they run a different defense than what we've seen so far on Sundays with the 3-4. A 3-4 can present a lot of problems with the count as far as the box reads for the quarterback and the linemen. It's going to be tough but as long as we prepare correctly and are sharp in practice, we'll be ready for Sunday.
The Patriots just play real solid defense overall. They've got good players at each level of their defense, and so we just have to be very good with our technique.
When I think of their front I think of Richard Seymour who is an excellent defensive lineman. We have to account for him because they can get pressure with him or with Vince Wilfork and Ty Warren up front.
At linebacker, you also always have to know where Adalius Thomas is. I remember when he was in Baltimore, he was playing gunner and he's a very athletic guy. He's very strong and he has some speed, so we definitely have to account for him and get a body on him.
Opposite him, they've got Mike Vrabel and then their inside guys in rookie Jerod Mayo and veteran Tedy Bruschi really make up a solid group of linebackers. When we are in our run game, we've got to get bodies on them because they all have the ability to make plays.
In the secondary, Rodney Harrison is a veteran back there. He's the leader of their secondary and we have to expect him to be around the ball a lot. He's another guy in the run game that you've really got to account for. James Sanders and Brandon Meriweather have been working at the other safety spot, and seem to fit their scheme pretty well. Their whole secondary fits their scheme, and those guys are good at what they do.
Deltha O'Neal and Lewis Sanders are two big corners, but I think we expect O'Neal to start.
Ellis Hobbs is another smart guy they have back there. We have to be good at what we do so he doesn't get any reads or a chance to jump our routes.
They've been to the playoffs, played in Super Bowls, have Super Bowl rings, so they have some continuity and we just have to very sound in what we do.
We need to be much better overall offensively than we were last week – whether it's penalties, interceptions, scoring in the red zone. We need to be focused and put pressure on their defense.
Other keys for us offensively - we've got to execute and be able to operate at our tempo, not turn the ball over, do well in the run game, and make plays downfield when we have those opportunities as receivers.
We also have got to protect JT. We need great play out of our line this week because that's very critical to being effective pushing the ball down the field, and then also for Frank Gore to be able to find lanes in the running game.
I think there was a lot to learn from that film from last week. All of our mistakes are correctable. It's not that we aren't good. We just have to be efficient and very good with our technique. I think this week it's going to be a big factor to focus on our efficiency as an offense so that we don't have any lulls.
I definitely expect our defense to be a little hungry this week, being that they gave up a few big plays last week. I know they want to erase those by coming out and having a good game this week. I think you can expect those guys to be very hungry and very eager to get back out there on Sunday.
They've got a lot of playmakers on offense – Randy Moss and Wes Welker are two very good receivers but I think we match up well with Nate Clements and Walt Harris. I think we have some very good corners and we match up well with a lot of teams. I think those guys are licking their chops for the chance to go against Moss and Welker.
I'm looking forward to getting back out there myself. I didn't have a catch in the game last week, and it had been a long time since I can remember that happening. I hope to get out there and help out this offense so that we can get a win at home this Sunday.