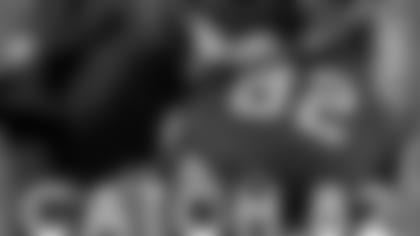 In this week's Catch 82 column, wide receiver Bryant Johnson shares his scouting report on the 49ers road game against the Dallas Cowboys.**
I think it's important as a confidence thing for your offense being able to start the game off fast, and we were able to do that last week against the Rams. I think that momentum can really carry out through the game, and it's something we need to do week in and week out.
Our defense provided us with great field position and we were able to utilize all of our playmakers and we were able to move the ball up and down the field. We want to keep building on that and not take any steps back. We know where we want to be offensively and we showed some of that last week with the way we started the game. Now we just have to play that way throughout the game and not let up.
I definitely expect Shaun Hill to keep getting better. He had only his second start of the season and he played very well last week. He was able to get in and out of the pocket and locate guys down the field and make the throws. He was also able to get a touchdown on his own, and so he showed a knack for making plays and that's what we'll expect from him going forward.
Now, as for Dallas, they have a good group of guys up front. I know we have to focus on outside linebacker DeMarcus Ware and nose tackle Jay Ratliff when it comes to the pass rush especially. Ware is a guy who has to be accounted for. You see him year in and year out make plays, over and over. We've got to get a body on him and try to negate his pass rush and run stopping ability. The same goes with linebacker Greg Ellis too.
At inside linebacker, they've got Zach Thomas and Bradie James. Thomas has been around a while, and is an experienced player. We've got to get blocks on him, and James, because they can both make plays and they get to the ball.
When it comes to their front seven, I think they are solid. With the way our offensive line played last week, I think they are for the challenge and will work to establish the line of scrimmage so that we can open up some running lanes for Frank Gore. Frank is one of the best running backs in the league and he just has a knack for being able to get into the open field and make guys miss and bust the long runs. As receivers we just have to be focused on maintaining our blocks longer because we know he can get the ball down the field.
As receivers, we can also help negate blitzes and a heavy pass rush by being where we are supposed to in times of blitzes, running our routes precisely and being able to defeat man coverage.
Dallas has a nice group of guys in their secondary.
Terence Newman is coming off injury but in watching film, I thought he did a great job covering Santana Moss. They matched him up and he's a guy we have to be technically sound with. He's a fast guy and he tries to be physical with you. He's a veteran and he's been around for a while.
Anthony Henry on the other side is a physical, bigger guy. I think we have to bring the physicality to him and not let him dictate to us the depth of our routes. The rookie Mike Jenkins came in for him last week and played well for them. I'm not sure if he'll start over Henry but I think we can just expect a lot of man coverage and for them to be physical.
Ken Hamlin is a good safety. I'm familiar with him from Seattle. He can come downhill and they use him on pressures and he has a good knack for the ball. I think they have a solid secondary, but I think we are for the challenge of defeating them. I think it's a matter of us taking it to them.
I think the keys to the game are protect the ball, establish the line of scrimmage, and make big plays down the field. As receivers we've got to defeat one on one coverage, the front has to do a great job of picking up pressures and giving Shaun time to make plays down the field like last week, and of course, we've got to get Frank the ball.
I think that's a complete offense right there, and we showed it in the first half last week. Now, we've got to maintain that throughout four quarters and put a team away at the end.