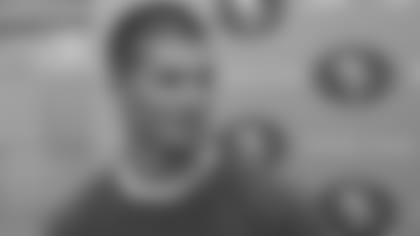 David Carr didn't just pick up on the 49ers progress at the beginning of the NFL's free agency period – he got a head start by familiarizing himself with Mike Singletary's team last season.
According to Carr, he and Giants starter Eli Manning would spend time in the film room watching various teams to "see who was on the rise and who was a good football team."
One of the main up-and-comers spotted by Carr was the 49ers; the team he signed a two-year contract with on Monday.
"We used to talk about what defense we didn't want to face and these guys always came up," Carr said. "We used to talk about the young talent with [Michael] Crabtree and Vernon [Davis] and it seems like they have enormous talent on the team."
Carr made the 49ers his first visit during the free agency period, and ultimately decided it would be his last.
"Just to have them feel the same way about me that I felt about them coming out, I wanted to make it my first trip because, honestly, I got the best feeling about them."
With Carr on the roster, the 49ers have added a player who was perceived by many to be the top quarterback on the free agent market. Carr's addition also brings the 49ers a capable, experienced signal caller who has played in multiple offensive schemes behind Pro Bowl quarterbacks like Manning and Jake Delhomme.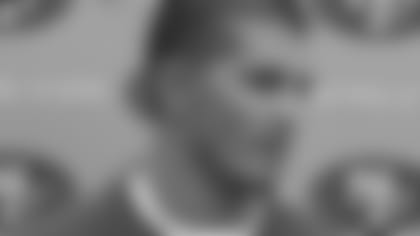 The former No. 1 overall pick of the 2002 NFL Draft returns to his home state, something he's very excited about.
"I'm a big family guy. I have a lot of family that would love to see me play that haven't had a chance to see me play, some people that I went to high school with that honestly can't afford to come out and watch a game in Houston or New York," Carr explained. "It was big for me to get back here."
The Bakersfield native, who starred at Stockdale High School, went on to have a productive career at nearby Fresno State. After two strong years as the Bulldogs starter, including 46 touchdown passes in his senior year, Carr was selected No. 1 overall by the Houston Texans. But things didn't get off to a great start for Carr, he was sacked a league-record 76 times in his rookie year and never developed offensive continuity while in Houston.
"My first experience, it was just such a rough year. I struggled with that," Carr revealed. "Once I realized I could do this, I'm going into my ninth year; I know that I can play the game. Now, it's just getting guys around you. I really didn't realize how important the team was and how important having good coaching and guys that believe in you.
"That's what I go back to with the 49ers believing in me and wanting me here. That stuff's important as a player. It's not going to help you throw a quick out or a post, but it helps you just carrying yourself in the locker room because as a quarterback you have to carry yourself the right way or guys aren't going to believe in you."