Nine weeks into Duane Carlisle's offseason program and it's abundantly clear that the 49ers are in top form for organized team activities and an upcoming mandatory three-day minicamp in June.
With four OTAs on the calendar next week starting Monday, the 49ers strength and conditioning staff have developed a plan to get their players in top form for the bulk of on-field work.
"Our focus is to get guys ready for football," Carlisle said in a recent interview with TV49. "We're simulating to a certain degree what they can experience on the field."
As the offseason program continues, the focus has gone from establishing a base conditioning level to position-specific training.
"Outside, the guys are now doing more positional drills, what we call positional speed, positional quickness and positional movement," Carlisle explained. "Inside (the weight room), we've reduced the overall volume. The focus is on improving explosive power because the demand increases. You have to be able to exert an explosive effort, play after play."
Veterans and newcomers have all taken a liking to Carlisle's program, giving it rave reviews across the board.
"Coach Carlisle knows what he's talking about and has a lot of exercises," free safety Dashon Goldson said after a recent workout. "He's a cool dude. You can talk to him about anything and he'll listen. He likes feedback, likes what the players have to say and that's always good so you can be on the same page. You get the most out of your workouts."
Add Ted Ginn Jr. to the long list of Carlisle supporters. In little under a month since being traded to the 49ers from the Miami Dolphins, the speedy wideout has been more than impressed with his experience in the 49ers offseason program.
"It's been great. I'm coming in getting acquainted and the guys are great, the coaches are great and I'm going out there to get better," Ginn said.
Not only is Carlisle and the 49ers strength staff responsible for pushing each player to their maximum output, the players also feel obligated to get the most out of each other.
"Every chance we get an opportunity to compete that's what we do. That's what Coach Carlisle wants us to do," safety Reggie Smith said. "Competition is good, because once training camp rolls around that's what we'll be doing every day, competing for a spot."
Just this week the competitive level heightened when wide receivers and defensive backs faced-off in various field drills. Needless to say, pride was on the line.
"We had a little competition, me and Teddy Ginn," Goldson said with a big grin on his face. "It was receivers versus defensive backs. We were competing on lateral movements, breaks and stuff like that. We just compete in everything to make each other better.
"Guys are just getting after it. We have a lot of guys with positive attitudes and everybody is excited about this year."
One area of the offseason workouts which have been most entertaining to watch have been the plyometric jumps performed inside the weight room. Whether it's seeing players like wide receiver Josh Morgan and Smith compete for who can jump the highest, or seeing Carlisle demonstrate proper form to his players, the jumps have been a remarkable sight to witness. (Thankfully you can in this tour of the weight room given by Carlisle himself).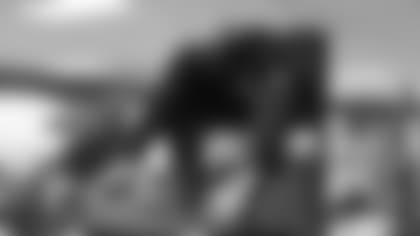 Being able to see their strength coach demonstrate various exercises like the plyometric jumps is only a positive according to Ginn and his teammates.
"(Carlisle) is a young guy," Ginn said. "He can still do some of the lifts, still can do some of the runs, he can show you better than he can tell you and that's great. Every coach in here can show you what to do and that can only help you get better."
Whether it's a lineman or a skill player working in the program, the emphasis is still the same for all players. The workouts might vary, but the purpose is all relative.
"When we train in here, we want each repetition to be explosive. We want to increase their ability to explode," Carlisle said. "We want our guys to have the intent to move the weight as explosively, as fast as they can, while being under control."
With all the hard work being put in over the past nine weeks, Carlisle and his staff will be eager observers of next week's OTAs. They'll be keeping a close eye on the fitness levels of the entire 49ers roster, including the incoming rookie class which will participate with the veterans in practice for the first time in their NFL careers.
"It's one thing to do it in here, but it's another thing to go out to a minicamp and feel better," Carlisle explained. "If they're moving better, they're more efficient, they're able to move better – that's the most rewarding thing there is."