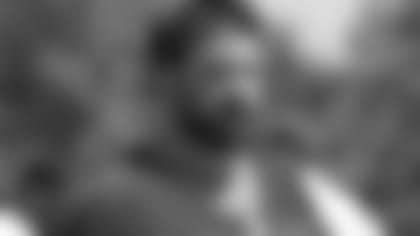 </td>            <td class="" bgcolor="#000000" valign="top" width="280">            

Training Camp Tidbits
Camp Must Have: Eight hours of sleep, and laptop
Camp Fear: That I won't get eight hours of sleep
Strangest Thing you've seen someone bring to Camp: framed picture of their dog
Coach's Pet: You mean like a golden retriever pet? Ha! Probably Joe Staley
Crankiest Person during Camp: Adam Snyder
First Thing You Packed for Camp: Clean Underwear
        </td>        </tr>        <tr>            <td class="" bgcolor="#000000" valign="top">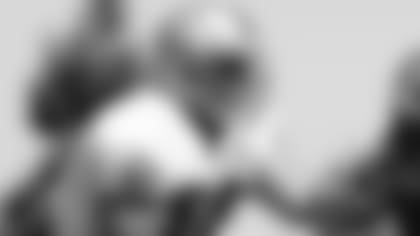 Person Most Hang with During Camp: The whole offensive line
Best Singer: Adam Snyder. I think he did Rick Astley's Never Gonna Give You Up.
Worst Thing About Camp: Probably late night meetings
Favorite Camp Memory: Probably my rookie year when camp broke in Stockton and we got to come home to Santa Clara.
Worst Camp Memory: Thomas Herrion passing in Denver by far was the toughest thing. Another bad memory was when we were playing in Japan, my first NFL preseason game, and my helmet got knocked off and my nose got busted up and I was bleeding everywhere.
Player who Provides most Camp Laughs: Probably DLP – Brian de la Puente – because he's the big bear.

        </td>        </tr>        <tr>            <td class="" bgcolor="#000000" valign="top">            

WHAT HE SAID
"Training camp is like summer camp when you are a kid except you have to hit people real hard and you get real tired and then you have to sit in the ice bath every day. But, it's time to get better, and I want us to develop a cohesive unit on the line, and make sure that my calls at center are understood all across the board, and then also get my technique down so that I'm ready for the season."
        </td>            <td class="" bgcolor="#000000" valign="top" width="280">            

"Eric Heitmann is always going to be consistent for us, but he's had a very good training camp. Last year in camp after hurting his leg he wasn't quite the same from a movement standpoint. But he's back to where he was two years ago in terms of his balance, and body control. He's had a very good camp. I'm very pleased with him." - Offensive line coach George Warhop
        </td>        </tr>    </tbody></table>