The San Francisco 49ers are set for training camp to begin at the end of the month. But before the team can defend its NFC West division crown this upcoming season, let's take a look at the depth of each position group on the roster as they prepare for camp. Offensive linemen are up next. OVERVIEW
It took a few weeks for the 49ers offensive line to hit its stride in 2011. Vocal left tackle Joe Staley insisted the offensive line was not as bad as critics suggested. He was right. Following Staley's statement, the 49ers offensive line paved the way for Frank Gore's franchise-record five consecutive 100-yard rushing performances. The 49ers finished 2011 as the league's eighth-best rushing attack, averaging 127.8 yards per contest. Staley went on to earn his first ever Pro Bowl selection as the NFC's starting left tackle. Months later, Staley's peers voted him as the league's No. 67 overall player. But it wasn't just the left tackle enjoying success, the entire offensive line made strides. Second-year linemen Anthony Davis and Mike Iupati started all 16 games for a second consecutive season. Center Jonathan Goodwin solidified the interior of the line, won the team's Bobb McKittrick Award given to the top lineman, and continued to strengthen bonds with his new teammates into the offseason. San Francisco also added two offensive linemen in the draft, just as they did in 2011 with the selections of Daniel Kilgore and Mike Person. This time around, the 49ers traded back to acquire Wake Forest guard Joe Looney in the fourth round and later selected Western Oregon offensive lineman Jason Slowey in the sixth round. Looney has not fully participated in practice with the 49ers due to a foot injury suffered at the 2012 Senior Bowl. Looney and the coaching staff remain optimistic about his chances of returning in time for camp. Meanwhile, 6-foot-8, 300-pound lineman Alex Boone has been given the first opportunity to claim the team's vacant spot at right guard. Coaches have applauded Boone's transition thus far, and also praised the efforts Davis has made with his footwork.
RETURNERS: Joe Staley (sixth season), Mike Iupati (third season), Jonathan Goodwin (11th season, second in San Francisco), Alex Boone (third season), Anthony Davis, (third season), Daniel Kilgore (second season), Mike Person (second season), Derek Hall (first season, 2011 practice squad member) and Chase Beeler (first season, 2011 practice squad member). NEWCOMERS: Joe Looney (fourth-round pick, Wake Forest), Jason Slowey (sixth-round pick, Western Oregon), Al Netter (undrafted, Northwestern), David Gonzales (undrafted, Washington State), Garrett Chisolm (first season) and Kenny Wiggins (first season).
With Goodwin opting to train close to home at the start of the offseason program, Kilgore was inserted into the starting lineup at center. Kilgore enjoyed the experience, but made sure to credit Goodwin for being such a big help during his rookie season. Another young lineman, Slowey, took a lot of snaps this offseason as a backup center. The other 49ers rookie draft pick, Looney, will continue to update his fans this season as he was chosen to be 49ers.com's rookie blogger. With four draft picks used on offensive linemen over the past two seasons, it's important to not overlook Stanford products Derek Hall and Chase Beeler. Both spent 2011 on the practice squad where they traveled with the team and continued to strengthen their bodies to make an impact this coming season.
The 49ers held on to the ball for 44:16 on Nov. 20 against the Arizona Cardinals without allowing a sack, marking the highest time of possession for the team since Nov. 3, 2002 at Oakland (44:33 – 49ers 23, Raiders 20).
"He's doing good. He's doing a great job. Love Alex's enthusiasm, energy, his size. Gosh, he's a fun guy to be around, just a throwback O-lineman. Loves football, loves getting dirty in the trenches. Man, about what you look like when you look at a prototype offensive lineman. I call him a throwback, I'd call him a throwback. He's doing a great job."
-Offensive coordinator Greg Roman on the progress of offensive lineman Alex Boone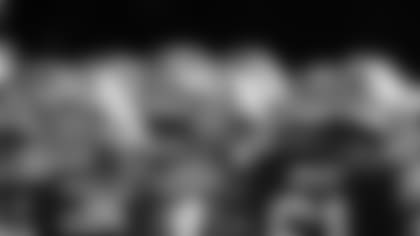 news
Los 49ers Hacen su Primera Ronda de Recortes del 2022
Con el plantel eventualmente teniendo que ser de solamente 53 jugadores, los 49ers se acercaron a ese número este martes.