There's only one way to do things in the mind of Cam Johnson. Do it the right way. Understand how it needs to be done and then master it. As a matter of fact, it's always been that way for this year's seventh-round draft pick of the San Francisco 49ers. From an early age growing up in Maryland, home to crab cakes and football, Johnson learned the best way to achieve was to master the approach.
The former University of Virginia standout has been that way throughout his career. Coaches and teammates recognized it, too.
"Cameron wants to make sure he's got it down and does it how it's supposed to be done," says former Cavaliers head coach Al Groh. "He wants to get it right. He'd be very focused on getting the information and getting it right."
Fast forward to his first offseason in the NFL, and San Francisco's seventh-rounder is continuing those already formed practice habits. Johnson worked beside arguably the best linebacking core in the NFL, and did it with a no-nonsense attitude.
Johnson's past doesn't matter. His future does.
"Everybody here is starting fresh," says the 6-foot-3, 268-pound outside linebacker. "The past is the past and we gotta work to make a better next season."
Johnson didn't have the handbook on how to play football from day one, but he did his best to pick up the basics while growing up in Greenbelt, Md. At the age of five, Johnson played ankle-biters pee-wee football in nearby Waldorf, Md. It was flag football in pads, and the 5-year-old future NFL draft pick loved every minute of it.
After a move and some time away from the sport, Johnson picked it up again at the local Boys and Girls Club all the way until high school. But Johnson had another passion in his early sporting days: basketball. "I started playing football first, then gradually started playing basketball because my friends were playing it, and it was fun," explains Johnson.
The basketball experience included a stint on a Maryland AAU team, which had an elder team led by 49ers All-Pro linebacker NaVorro Bowman. Johnson, two years younger, looked up to Bowman as well as the older basketball players from his area. The AAU teams would practice in the same gym, but would eventually split up afterwards into the different age groups. Technically, Johnson never battled Bowman on the boards. However, Johnson recognized the 49ers standout linebacker to be a lock-down defender on the court.
Hoops were enjoyable for Johnson, but he still had a passion for football. While playing both sports throughout high school, Johnson eventually stuck with the contact sport.
"At the time I was enjoying playing both," says Johnson. "But as the years went on, I found out football was where I wanted to put all focus."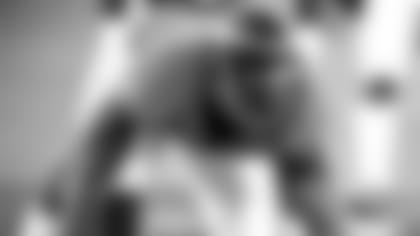 Not everyone in college football can say they played right away. Johnson can. As a freshman for the University of Virginia, the athletic linebacker was one of five true freshmen to see the field. It happened because of a rash of injuries at his position, plus Johnson's impressive early practices.
Johnson also had to transition from being a two-way player in high school to strictly an outside linebacker in Groh's 3-4 defensive scheme. From all accounts, Johnson handled it well. "Cameron had to go through two transitions, he had to go from high school competition to college competition, and he had to play a new position," recalls Groh. "That's a lot to ask from a guy all at once, but he was very diligent with it. It wasn't too big for him."
At one point, Johnson played in six consecutive games and finished the year with seven tackles (three solo), two tackles-for-loss and one pass breakup. "I wasn't expecting that," he says of his early experience, "but that's how things turned out and I wasn't opposed to it."
The young defender continued to be valuable to the Cavaliers while heading into his sophomore season, Groh's final year as Virginia's head coach. Johnson played in 12 contests as a weak-side outside linebacker and made 10 consecutive starts to finish the year. Johnson posted 40 tackles (26 solo) with five tackles-for-loss, two sacks and one forced fumble.
The success under Groh, however, was short-lived. In 2010, Mike London took over the Virginia program and brought a 4-3 defensive scheme along with him.
Though he was close with the coach who recruited him to UVA, Johnson embraced the coaching change. "It was an opportunity for me to be versatile and experienced in both schemes," says Johnson. "I was comfortable playing both."
Johnson called the scheme transition "rough" at first. But London's coaching staff explained the defense in such a way that allowed key contributors like Johnson to thrive immediately. In 2010, Johnson was chosen as a third-team All-ACC performer after he recorded a career-high 53 tackles (30 solo) and led the team with 6.5 sacks.
Despite the breakout season, Johnson rotated at defensive end for his senior campaign while making 12 starts. Johnson's most memorable collegiate moment also took place in 2011, when the pass rusher's late-game sack and forced fumble against Indiana led to a win. "Big plays can change the game and if you can continue to do that and help your team win, it's always a good thing," says Johnson.
Perhaps Johnson's late-game heroics, like the defensive brilliance against the Hoosiers, wouldn't have come to fruition if not for the defender's selfless mindset. Rotating on the defensive line, as a senior, no less, had to be a difficult situation. Not for Johnson. He mastered it.
"It was definitely frustrating in the beginning," admits Johnson, "but once you see the bigger picture and witness what's happening on the field and get a sense for what's going on, you gain an advantage as well."
NFL Network draft analyst Mike Mayock gave Johnson a second-round draft grade. Johnson was selected as pick No. 237. It didn't matter. Being selected was a blessing in itself. Groh was pleased, too, and sent an immediate congratulatory phone call. "I can't imagine there was a player more excited about his selection than Cameron was," says Groh. "He was thrilled to go there and I was very happy for him. One, for the opportunity, but secondly, with the organization that he's going to."
The former NFL head coach is quite familiar with the 49ers defensive coaching staff. He also knows all about Vic Fangio's reputation as one of the game's top defensive minds. "He's got a great teacher in Vic," says Groh. "Vic will have a very receptive student."
Count Ahmad Brooks as another fan of the incoming rookie. As a fellow UVA linebacker, Brooks, San Francisco's newly re-signed edge rusher, has appreciated seeing a fellow Cavalier join the 49ers. It's been a long time coming in his mind. "I've always wanted to have somebody on my team from the University of Virginia," says Brooks. "In the NFL, you have so many guys coming from Miami, Ohio State and all the Big Ten schools and all the SEC schools. There's very few guys coming from the school I went to, so it's good to have him on the team."
Johnson and Brooks have the Virginia brotherhood, but they also have the bond of being in the linebacker room. Johnson spends time watching Brooks' practice and game film to get a better grasp of the physicality needed to succeed. It's very apparent in Brooks' tape. "He's one of the guys I put close eyes on when we're watching film," shares Johnson. "I'm watching his moves and how he plays within the defense. He's one of the guys I look closely at. He's definitely one of the more physical players that you see in the game, and relentless as well. I look at that and try to implement that into my game. It's definitely a big part of playing outside linebacker."
Besides being stout against the run, Johnson truly enjoys the pass-rushing component, which he calls, "really fun." Why exactly? "You just get after the quarterback and try to make a big play." Johnson didn't get to rush the passer as much as he wanted during his senior year, but feels like he can grow in that department.
Johnson might have second-round talent to some, but other factors might have contributed to his seventh-round draft standing.  Concerns on draft day about him having sickle cell anemia were blown out of proportion in his mind. After all, several well-known NFL players (like Pittsburgh Steelers safety Ryan Clark and New York Jets wide receiver Santonio Holmes) have excelled with the condition. Johnson takes pride in seeing their success and wants to carve out the same kind of career. "The fact that there are successful people is definitely comforting," says Johnson, "but I try not to think about it and just go out there and play."
As Johnson points out, "The college career is over. Those things right now are irrelevant for everybody out here. It's not about what you did then; it's about what you're going to do now. I'm just trying to prepare myself to first make this team, and then to help this team as much as I can."
The attitude, as evidenced by the previous quote, is on par with Johnson's football mindset.
"Consistent," says Groh, summing up his former pupil in one word. "Probably with what you're seeing right now – a player who's a lot more interested in progressing and moving forward with his game than a player who's interested in the past. He was always receptive to everything that you wanted to show him, and eager for it. He had a strong inclination to learn and improve his game."
Johnson has that chance when training camp officially begins on Friday.