Quarterback J.T. O'Sullivan isn't one to allow emotions to seep into his week of game preparation. In fact, Sunday's opposing quarterback Jon Kitna said what stood out most to him last year about his former backup was his professional demeanor to each game.
"I think the first thing is his approach to the game. He was always serious about it," said Kitna. "He approached it like a starter, he didn't start last year at all, he approached it like that, and he knew the game plan in and out."
So, while this weekend's game marks the first of three consecutive former teams that O'Sullivan will face, it's simply business as usual for the 49ers starting quarterback. The only difference, he knows a lot more about the defense he'll be trying to attack come Sunday.
"What it does is give me…I have an extremely high level of respect for the way that they go to work every day," said O'Sullivan. "I know how they practice. I know how they compete."
Although the secondary features three new starters, O'Sullivan knows what to expect from the front seven, and the mindset of the entire unit.
"I know how they're going to come in and play – the emotion that they're going to have," said O'Sullivan. "The kind of relentlessness of their defensive line and their front. All those things I have a high respect for, so I'm not going to be surprised by their motor. They keep their 'want to' – and they keep going."
As for O'Sullivan, he too displayed a "keep on going" attitude in Sunday's road victory in Seattle. Eight times he found himself getting tossed to the ground by Seattle, but never once did he shy away from taking his own shots downfield, on his way to a 321-yards passing day and a 106.4 QB Rating.
"What you see is for real," said head coach Mike Nolan. " JT is very poised, very confident, very competitive and he stands right in there, moves up in the pocket, delivers the ball and he had an outstanding game. "
According to Kitna, hits will come in the Mike Martz offense, but that's a risk he said he was willing to take during his two years under the 49ers coordinator.
"I'll take a few more hits or having to get hit more often if it means that you're going to have chances at bigger plays," he said. "But again, that's a philosophy that Mike Martz employs. He wants to get that ball in that 20 to 30 yard passing range."
O'Sullivan might be tough enough to handle the hits, but twelve sacks in two weeks, the most in the NFL, could put a swift end to his weekly progress. As proved last year when Seattle's Rocky Bernard dropped Alex Smith and dislocated his shoulder, it only takes one well placed hit to lose a quarterback.
The offensive line carries the brunt of the protection burden, but O'Sullivan said he needs to help himself too, admitting that there were times when he could have avoided sacks.
"A lot of it falls on me," said O'Sullivan. "Obviously, you don't need to be a football guru to know that I took some unnecessary sacks. Things like that I need to clean up, and we need to realize what the problem is and for me, do the things that I need to not take those sacks."
Both O' Sullivan and Nolan said avoiding sacks involves a combination of releasing the ball quicker, or simply throwing it away. But, it's still a tricky balancing act because there were times when O'Sullivan did hold on to the ball long enough to come up with a big play in the overtime win.
"It's a fine line, but you have got to make the right decision all the time," he said. "That's the way that I'm approaching it. You take a sack, it's bad, or you make a good play. That's what we want. I don't have a direct, clean answer. There's not one. The thing that I'm working towards is not taking unnecessary sacks."
Detroit's defense owns only two sacks on the season, but they often chased Aaron Rodgers out of the pocket last week on downs that ended in big plays for the Packers.
If O'Sullivan plays his cards right, he too could expose Detroit for big plays because according to Kitna, even when on the run, O'Sullivan is pretty unique in his ability to throw the ball without having his feet set.
"I've never been around a person that can throw the ball as firmly and as accurately as he can with as quick of a release," said Kitna. "He looks like he's in a situation where he'd be lucky to get a five yard throw off and he can uncork a 20 yard throw with some velocity on it, and that's pretty amazing really. There are just not a lot of guys that have ever played this game that can throw like that and I don't know where he learned it and where he got it from but I think that it pretty amazing really."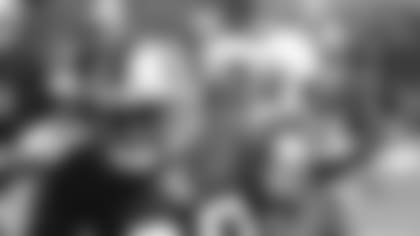 O'Sullivan enjoyed a few amazing throws last week, including six passes over 20 yards and a long of 63 on a deep ball to Isaac Bruce. After a somewhat rusty start in week one, O'Sullivan appeared in concert with his receiving group.
"It's more those guys being really good at what they do," said O'Sullivan. "Obviously, Isaac Bruce has been doing this a long time and he's going to be in the right spot all the time. Those things are just…it's a comfort level for me knowing that that's all the time consistent with really all those guys. So hopefully it just gets better and better."
Detroit might elect to follow Seattle's suit and come in with a heavy dose of blitz packages, but their secondary better be ready because this journeyman quarterback is starting to look more and more at home at the helm of the 49ers offense.
And while he might have taken some unnecessary sacks last week, since his first preseason start, O'Sullivan's proven to be the kind of player who doesn't repeat his mistakes the following week.
Running back Frank Gore and cornerback Walt Harris returned to work on Thursday after being rested on Wednesday.  Safety Dashon Goldson and cornerback Donald Strickland practiced the second day in a row with no restrictions, although both remain on the injury report.