College area scout Todd Brunner continues with his Brunner's Blog, all week long from Mobile, Alabama where the entire 49ers coaching and scouting staff have converged for the annual Senior Bowl.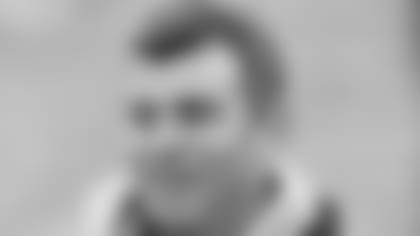 I get up at 6:30 every morning but today I skipped my usual run that I take. Since I knew I was going to come back to the room after the second practice, I figured I can run then so I just took the morning to lay in bed for a little bit and watch some television. I watched SportsCenter and Mike and Mike in the morning on ESPN and just caught up with the rest of the sports world.
Now, I'm sort of wishing that I had already gone for my run so it was out of the way but after this second South practice, I'll head back to our hotel and get that done.
The crowds for practice have definitely thinned here. I don't know if that's because of the cold or what. In the Northeast, we consider this golfing weather.
The tempo was more upbeat than the morning practice. I think Coach Nolan wanted to see guys getting after it, so this practice has definitely been high energy.
Just a few minutes ago, there was a long ball and two defensive backs and a wide receiver went up for the ball. They fell to the ground and the ball bounced off the receiver's chest and popped back up into the hands of Brandon Meriweather for a great interception.
I think both defensive backs from Texas are playing well, Aaron Ross and Michael Griffin. I've taken a liking to the kid from Auburn too, David Irons. His brother is on offense as a running back, and I haven't watched offense but I guess when they go at it in team, he's probably got that extra umph to tackle his brother. I know growing up with my brother, we used to fight all the time, even though we were really very close. I'm sure they like to compete against each other.
During the morning practice, I think Troy Smith did well. You can really see how strong his arm is, his athletic ability, and there's a reason the guy won the Heisman trophy and was in the National Championship for the second time in three years.
The surprise this morning, although it did not come as a surprise to me, but newcomer Ben Patrick, the tight end from Delaware looked very good. He was added to the roster and he made some great catches, and he showed he is physical as a blocker. I think the guy is making a name for himself.
He's a guy I wrote about in my blog earlier this season. He played three years at Duke and then had one year left and he transferred to Delaware. I went in to the school early and he hadn't played yet, so I went back in there later in the season and watched him on tape and he's just come on strong. This is his second all-star game, and the guys who went to the East/West game said he played very good and then with just one day here, he's making a mark for himself.
Each night they have hospitality rooms that sponsors of the Senior Bowl put on and the sponsors show up with their guests and everyone in the NFL goes to these things. Tonight is the big one, seafood jubilee. It's a chance to get some seafood and go to town on it and eat as much as you want. Matt Malaspina was saying he's going to hire someone to peel his shrimp for him so he doesn't have to waste any time. Obviously, he plans on eating an enormous amount of shrimp.
Hopefully, we will make it back for the event without any issues. One of our scouts, Ethan Waugh has been getting a bad wrap from Dave McCloughan for his driving ability. He's been all over him, and I think Ethan is taking offense to it. Dave gripes that Ethan isn't driving fast enough, is not in the right lane, for putting his blinker on, driving like his grandmother, and really probably doing the right things but Dave seems not to like it. I've yet to put my hands on a steering wheel down here which is a good thing, so I just figure I'm keeping my mouth shut on this one.