College area scout Todd Brunner continues with his Brunner's Blog, all week long from Mobile, Alabama where the entire 49ers coaching and scouting staff have converged for the annual Senior Bowl.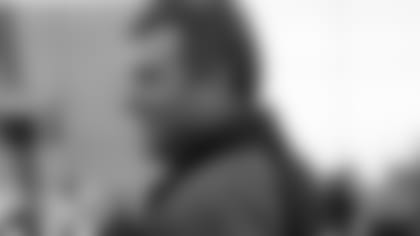 Tuesday morning we started off by attending the North practice which is being coached by the Tampa Bay Bucs staff.
Each one of us scouts has been assigned a position and I've got the defensive backs so that is the group I mainly keep my eye on, although I admittedly sneak looks at other players, particularly during the North practice since those are mostly players from my area.
It makes it easier though to focus in on a position at these all-Star games because if you are trying to watch all of your guys at once, it can become a little distracting. So we watch the same position all week and usually that gives you a pretty strong feel for a guy.
We feel like we know what these kids can do from an athletic standpoint, but it's good to see how they hold up mentally as well. This is a stressful time for them because all eyes are upon them and that's a lot of pressure because they know their future is on the line.
Some kids don't live up to their expected billing because the mental aspect and the pressure can get to them. Hopefully most of them continue to be who we think we are, but this is a good chance to view their mettle.
It's interesting because it seems that through the years a lot of teams are always holding court so to speak in the same general area. Some staffs always sit on one side of the stadium, some staffs choose the other. Our staff usually sits near Green Bay, although I prefer to roam and stick by wherever is closest to where my position is practicing.
Moving on, over the last two practices, I've been impressed by Daymeion Hughes. He's looked good and has shown his ability. He played safety for Cal and he's got good athletic ability and has a knack for the ball with good instincts in coverage.
During the North practice, I also watched my Rutgers kid Brian Leonard. Everyone gives me a hard time that I'm playing favorites when it comes to the Rutgers since that's my hometown area, but he's a solid kid. He's a really good football player and I'm interested to see how he does this week because he's played some at fullback and some at running back. This will be a week where teams will try to place him as probably one or the other.
In fact, I had lunch with him today just to talk to him some about that. It's kind of like Michael Robinson from a year ago. He probably would have preferred to stay at quarterback, but he really gave us the sense that he was committed to doing whatever was necessary to play in the NFL. Some guys don't feel that way and if their heart isn't in it, they might not pan out for you if you have them playing a role they aren't comfortable with.
But back to my defensive backs. I'm also curious to watch the kid from Fresno State, Marcus McCauley, and I kept a close watch on him today. He's got some high expectations out here for him, so we'll see if he can live up to that in this game.
In between the two practices, I ate over at the team hotel so that I could talk to some of the players. That's an added bonus to having your coaches running things because you get that extra access. I sat down with the Penn State linebacker Paul Posluszny and my Rutgers guy Leonard and spoke at length with both of them. They are both very impressive individuals, and in just sitting and talking to them you know that they are going to have a very good and long career in the NFL.
After lunch, I headed back for the South practice, which we get a better view since we can be on the field with our coaching staff. As I was watching the receiver/defensive back drills, I saw one of the better plays of the day occur right in front of me. The receiver from LSU, Dwayne Bowe went up for a ball and managed to tip it closer to himself so he could come down with it. He showed some good concentration with that catch and was really able to use his size to go over the defender.
We've got a lot of speed on the South squad which doesn't surprise me for the most part. It seems like the SEC always has more speed and that the Northern teams are known more for having big linemen and being more run oriented. We'll see how they match up on Saturday.
One kid who has a ton of speed is the DB from Tennessee, Jonathan Wade. That shows up right away, as well as his athletic ability. That combination really allows him to have good range in coverage and even when he gets out of step, he seems to have the ability to cover and close.
That's all the info I'm giving away for today to our fans, but we did meet as a scouting staff to go over our complete notes and give our reports on guys who looked good, and guys who didn't. For the second night in a row, we went over to Randy's Oyster Bar for some excellent seafood. As a staff, we tend to ride together, eat together and spend most of our free time together while we're down here. It's great because we really approach this as a team and I think that shows up with great results in the draft.