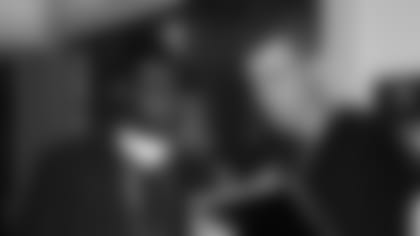 Area scout Todd Brunner continues his blog with updates from Indianapolis, site of the 2007 Scouting Combine. Check out  his Sunday entry which covers today's workouts with the wide receivers, quarterback and running backs!**
This morning started off with breakfast at our hotel with Scot McCloughan and Matt Malaspina before going over to the Dome for the 9AM wide receiver workouts. You always anticipate the receivers and their 40's because you expect to see some very fast guys, and top speed.
The Kansas State kid Yamon Figurs ran somewhere between a 4.25-4.28 (depending on who you ask). I remember him mostly because he took one to the house against the Rutgers. He's a very fast returner and he scored Kansas State's only touchdown on a long punt return.
Two of my guys from Hampton ran and they ranged in the 4.5's which will help them in the draft. David Clowney, who you might remember from my blog, told me he was going to run a 4.3 and he did hit that target with a 4.3 and change. He did well out there today, also catching the football well during the skill drills.
In talking to friends from around the league, there was some surprise over the kid from Washington State, I guess he ran faster than people had expected.
The final group for today was also a position that everyone looked forward to and that was with the running backs. My guy Brian Leonard out of Rutgers clocked well, running in the 4.50-4.58 range with a few people telling me they timed him below 4.5.
Adrian Peterson ran very fast, and it was good to see a guy like that working out. The same goes for Calvin Johnson. Johnson was not planning to run the 40, but word on the street that a 49ers fatherly figure who works for the Raiders is the one who talked him into it. Johnson is a great looking kid, a long strider and a team is going to be very happy having a kid like that.
He did not do the individual drills which I wish he would have. I think guys don't realize that working out means they are all given a chance to compete under the exact same conditions. When guys wait to work at their Pro Days, the elements are different and it's not an even playing field. You'd hope that this opportunity would get their juices flowing and that they'd want to compete and show that they are the best at their position under similar circumstances.
Back to running backs, one of the funnier moments of today was during one of the bag drills. Guys basically run over bags and when they get to the end Minnesota running backs coach Eric Bieniemy was there with another bag that he'd wait till the last moment to pull the bag to his left or right. The player is supposed to cut and go the other way. The premise of the drill is to basically show a player's ability to change direction and to get a better feel for their instincts. On one rep, Bieniemy waited so long to move the bag that a back out of Minnesota plowed straight into him. Being a former NFL back himself, Bieniemy just kept his feet back pedaling and stayed upright.
The workouts went into past two o'clock so it was a long day. After hearing some complaints about how bad the food was that they've had for us at lunch, I opted to place a delivery order. Malaspina and Ethan Waugh have done a great job getting us lunch delivered each day from a local spot. You can't work on an empty stomach!
Tonight we rescheduled our interview with Paul Posluszny. Mike Singletary, Jason Tarver and myself sat with him and we had a great conversation with him. He came off exactly as I expected and was how I wanted our coaches to see him. He benched 22 today and was asking if he should try it again at his Pro Day because he was worried that it might not be enough. Mike told him that there are guys who have done 40 and never been drafted and not to worry about it. I agree because he's not going to get drafted based on that. But he's a good kid, and it's great that he wants to push himself.