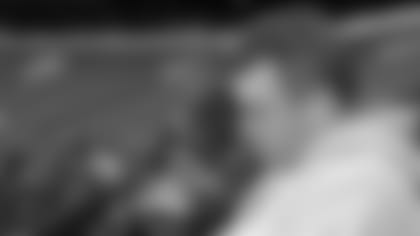 Area scout Todd Brunner continues his blog with updates from Indianapolis, site of the 2007 Scouting Combine.**
I headed over to the RCA Dome this morning about 8:30 to get ready for the first group of offensive linemen who were set to run at 9. As I mentioned yesterday, it's my job to time at the 20. It went off without a hitch! the other scout who times with me, Tim Gribble from the Redskins. We've been together two years so we've got it down.
When Scot McCloughan gets here on Wednesday he goes to a meeting with all of the directors and they have 32 envelopes in there. You can select your envelope and whatever number is in there is basically your assigned row for the 40. We got Row 28 this year, which isn't the greatest but every year that changes based on your draw. Matt Malaspina and Trent Baalke sat in that row at the 40 for us. I was on the field at the 20, while Oscar Lofton sat in the stands at the 20 too. Justin Chabot and Roylin Bradley got the times at the 10.
Some teams prefer just to use the times their scouts get. Some prefer to use the electronic measurements that are set up, and some prefer to use what we get by hand out on the field. It all depends on the team's philosophy, but basically when National does the print up, it will have six different sets of times (one electronic and one field at 10, 20 and 40) for both runs the players do.
For us, all of our scouts will turn in our times to Ethan Waugh who will enter them into our computers, but sitting right behind each station on the field is a guy with a computer who will enter the numbers we get so that National has the times in a split second.
I don't think guys were nervous, but some probably felt they'd do better than they did but I didn't sense anyone really nervous. Since I'm at the 20, I don't get too much interaction with them. The guy who does the starts is probably the one who could tell you how nervous they are before they get going since he'll instruct them on how they've got to hold a second before they go and how they can't roll the start.
The guy in the first group from my area who ran was Levi Brown out of Penn State. He ran an okay time for him, but his 40 time will not dictate his draft position. His play on the field will. Not that he ran a bad time, he jus wasn't the fastest. But, he wasn't the slowest either. He basically ran what was expected of him.
In the second group of offensive linemen, Joe Thomas was featured. It was nice to see Levi and Joe working out today being that they are the two top o-linemen in the country. A lot of times you get top guys who won't work out here, so that was good. Joe ran one of the quicker times and did very well in his 40.
After running, the players do their on the field drills, and so you pay attention to your guys. Especially with offensive linemen, you want to see if they possess the ability from the movement skills they put them through if they can play other positions. Do they have enough range and footwork to play tackle? That's a position that certain people just could not play in the league without those traits.
The third group to run today was the tight ends. It certainly didn't live up to last year's billing which would be hard to do given what Vernon did last year with his 4.3 and change depending on who's clock it was. There were no Vernon Davis' in this year's class but there were a few guys who showed promise with their athletic numbers. Two notable standouts would be Miami's Greg Olsen and Whitworth's Michael Allen (the only Division III player invited). They both broke the 4.75 mark.
The high every year for me is that I get a chance to help out with a TE drill they do called the Gauntlet where they run across the field and catch a pass from 7 different QBs. They usually only have three quarterbacks here, so they ask for volunteers and for the last however many years, I'm one of those guys who gets to relive their past glory. Yes, I was a former college QB, and it's a lot of fun to get out there and fire the ball. I always grade myself and of course give myself an A, but I typically receive serious grief from my buddies. I know without a shadow of a doubt that I'm going to get some serious criticism.
Although I didn't get to go to the Combine when I was a senior, I can say that I've thrown at the Combine for the last eight years. So, I take some pride in that. .
I heard that my guy out of Rutgers, Brian Leonard, did the most reps in the bench press among the running backs, and that's exciting. He's been projected by most teams as a fullback and getting 28 reps shows he's got some strength.