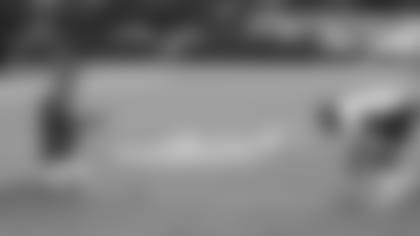 With less than 24 hours to go before the start of the 2007 NFL Draft, area scout Todd Brunner checks in with the 49ers Faithful in this latest blog!**
I left off my blog last week prior to our Local Workout Day. It went very well, everything went off without a hitch. There were some guys who stood out who could very well be part of our training camp. As scouts, we enjoyed being outside and running the drills and getting to see some more of these kids live. None of these kids are that familiar to me from a personal standpoint since I scout the opposite coast, so it was good to learn a little more about some of the kids from the west coast.
Starting on Monday, we began meeting with the coaches. We spent two days with the defensive coaches going over their rankings, our rankings, and meshing them together. If there were differences, we'd watch the tape and talk through those particular guys.
Some of the guys coaches didn't have as much background information, so the area scout for that player would go through the detailed information.
At the end, we got to a point where we set the board to where both sides felt good about it. As Scot McCloughan always says, you don't want to force a guy on a coach if there's a disagreement.
After meeting with the defensive staff, we moved on to the offensive side of the ball on Wednesday and met with those coaches. We pretty much really had these guys ranked the same so we were able to get through the entire offense pretty quickly, since we didn't have to watch as much film to break any ties or sway one side one way.
Thursday morning, I met with the special teams coaches and went over all of the kickers, punters, snappers and returners available in this year's draft which is good because that's one area where a lot of scouts aren't experts. We don't study it on a day in and day out basis the way our coaches do. Also, since we've got a new special teams coach in Al Everest, it was good to hear what he looks for in these positions. That's really the same with all of our new coaches. Sometimes a coach is looking for something specific and that changes the way they stack up on our board.
Every year we go through scenarios for the draft, but this year in particular, there really isn't a clear cut guarantee of who is going to go number one. There are three guys who could be taken at the first pick with which each one, could really impact the rest of the top ten. There are so many teams are looking to move up and down, so we can hope that the player we want comes to us but we just can't guarantee.
Last night, Coach Nolan had the scouts over to his house which has become an annual tradition on the Thursday night before the draft for a cookout/barbeque. That's always nice when you are on the road and have been away as long as we have, to get a home cooked meal versus eating in another restaurant. It's also good to hang out with people away from the office environment.
Today is a day where we usually get last minute calls from agents and coaches and hear from them. We also spend today preparing for after the draft on Sunday when we are trying to sign college free agent kids. We want to make sure we have phone numbers on the guys we've kind of pinpointing and know where they are going to be over the weekend, so we can reach them if needed. It's pretty much the most relaxing day we've had since we've been here because the board is done and now it's just a matter of waiting for things to get started tomorrow.
All of the scouts are in the War Room tomorrow and everyone has a job throughout the week. Every hour, a scout takes a turn on the direct phone line to New York where we have two representatives, Steve Risser and Donovan Dressler, who will turn in the cards for our picks which will then be read by the Commissioner or Gene Washington.
My job is to call the player we are going to take. I basically get to be the guy who tells them we're about to take them and then usually Coach Nolan and their coordinator will get on the phone with them after we've turned the actual pick in. It's fun when the kid gets real excited, like Vernon and Manny did a year ago. I knew Vernon well since he's from my area and he obviously started crying and you could tell how ecstatic he was. You really get to see how it is when they realize that their lifelong dream has come true.
So I'll check in after the draft (or during) and let you know how things are going!