 Area scout Todd Brunner continues his blog with updates from Indianapolis, site of the 2007 Scouting Combine. Things picked up on Friday with the first of the on-the-field work, so find out what Brunner and the rest of the 49ers scouts are up to in Indy...**
Friday started off for me with an 8AM meeting with the Combine people since I'm one of the "station scouts." Basically they ask for volunteers every year to help out with some of the different drills. This is my 8th year working and my job every year is to time the 20s during the 40-yard dashes, which start off tomorrow morning at 9AM with the offensive linemen.
The 20 times aren't something you might hear about it but it is good for offensive linemen and some of the defensive linemen. They are rarely going to be sprinting 40 yards down the field so a 10 and even a 20 time might be more telling when it comes to those guys.
I can remember last year when Vernon Davis ran his 4.37. His 20 time was 2.5 or 2.6 I believe so he really flew on that last 20.
The quarterbacks, wide receivers and running backs weighed in first thing this morning, and then the kickers and punters got the workouts started this afternoon. I sat with one of our scouts, Roylin Bradley, and we helped log the distance and hang time for Coach Al Everest who also sat with us.
I think all scouts pay special attention to the guys in their area. You like to see if the fall grade still looks accurate. Unfortunately in this workout, Daniel Sepulveda (who out of Baylor is not in my area) was the most consistent punter in terms of hang time and distance. Each guy punted 12 balls so it's not necessarily going to tell you everything about a punter, but there is some pressure in performing in front of everyone when you are trying to earn a job.
The RCA Dome is a great place to kick in because of the ideal conditions. It doesn't get any easier. It does put all of the kickers on equal footing because with the ideal and controlled climate, everyone has a fair shot to show their leg strength and accuracy. Now, there's also much to be said for how a guy does perform in less than favorable conditions, and so that's why the game tape is still so important.
I watched all of the punters and then watched the kickers kickoff but then I headed out to catch some of the bench press before getting ready for our all-staff dinner at St. Elmo's. It's the second year we've gone there as a staff and it's nice to get all scouts and coaches and everyone together.
It's a prerequisite that everyone orders the shrimp cocktail there. It's the hottest cocktail sauce you'll ever have because they load it with horseradish. It doesn't hit you until your third bite and then it's overwhelming!
After dinner, we all headed in various directions to catch up with some players for the interview sessions. If a player from your area is set for the main interview room which is with Scot McCloughan, Coach Nolan, the coordinator and position coach for that particular player, than you are supposed to lead the way with the questions. If there are any issues, it's your job as the area scout to gear things towards those issues.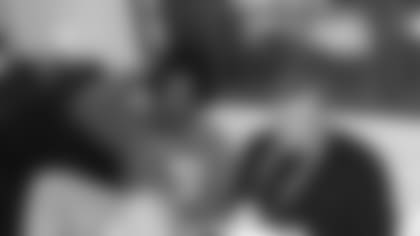 Two of my guys were set to come through but Penn State linebacker Paul Posluszny got tied up over at the hospital for his medical stuff so we had to reschedule that one. I was really looking forward to our coaches getting to spend that time with him so they can see his mental makeup because he's really a football player through and through. But we'll get that rescheduled and I'm sure they'll see that then.
Virginia Tech wide receiver David Clowney did come through. I called it ahead that he'd be early for the interview and he was so I got to spend some extra time with him before we went into the room. He was a very impressive interview. He graduated in 3.5 years and you don't see that very often. It shows commitment on and off the field.
He says he's going to run a 4.3 on Sunday. He's a very fast athlete, a fast wide receiver and he claims to be able to run a 4.3, so we're all looking forward to seeing him on Sunday. In his junior Pro Day last year, he did run either a 4.37 or a 4.39 if I recall correctly, so it's not an empty belief.
Tomorrow will be a full day so I'll recap that in the evening.