Area scout Todd Brunner is down in Mobile, Alabama, site of the annual Under Armour Senior Bowl. He spoke with 49ers.com late Tuesday night to share his insight on the event.
Some of our scouts got down to Mobile on Saturday for the Senior Bowl, but all of us got in by Sunday night. Getting there early only helps getting the interview process started with some of the players we've been scouting.
I got in about 11:30 on Sunday morning and headed over to my hotel. But what I ended up doing is settling in at the hotel and I watched the conference championship games. By the time those games were over we had a meeting with Trent Baalke our director of player personnel and the rest of our scouts.
In the meeting we went over what our roles would be for the entire week. We also divided up which positions each scout would be watching for the rest week. I was given quarterbacks and running backs for both North and South teams and from there I knew I was responsible for watching those position groups out at practice.
Prior to us coming down for weigh-ins and all that, William Homer one of the 49ers personnel assistants, emailed each scout the rosters for both teams in the Senior Bowl. With the rosters, we go through and see if there were any guys on the list that we felt we needed to talk to so we could finalize our reports on them. Those guys get earmarked and then when we get a chance we sit down with them, dot the I's and cross the T's on their background. The Senior Bowl setting, and all of the college all-star games, just give us another chance to finalize our reports from the past college season.
Monday Morning had the weigh-ins for the players on both teams. It was around 9 o'clock, and literally, the whole league is in the room. Coaches, general managers, and scouts from every team filled it.
Both teams came through and we saw all the guys before they went out to practice. It's a big deal these days. I remember when the Senior Bowl had no camera crews broadcasting it live or any major sponsorship deals attached to it.
It just speaks to the popularity of football and how it's the greatest sport. People are watching practices. I mean, people are watching the Combine too. It's funny to me, because those aren't the most glamorous things to watch. But it's now become part of the game, and part of the process of the NFL Draft. It's crazy how football has become so popular. It really is the greatest game in the world.
On Monday both sides practiced at the same time, so the North team practiced at Ladd-Peebles Stadium and the South team went to Fairhope Stadium which is on the other side of the bay.
I went to the North practice because I have a lot of guys from my scouting area on that team. I was pleased with what I saw from the quarterbacks and running backs.
Out there, I was taking notes on the guys just like I would if I was at their school during the regular season watching them practice. The only difference is I'm not watching tape, I'm just going off what I see live. My notes usually consist of what I think a player can do and what they can't do. I also make observational notes if I see certain things.
It was also the first time I watched the Alabama players practice and it was almost like the Beatles came out to the field. All the fans were out in droves to support them in their home state, especially after they won the BCS Championship. They were yelling every time someone from their team caught or pass or did something. Anything from an Alabama player gave them incentive to yell.
Although we're there to do a job, it's fun to see the enthusiasm for football that the people have in Alabama. It really felt like the Beatles showed up and reunited.
Furthermore, people go even more nuts if they see one of the coaches or recognize an NFL person in town. They absolutely go crazy if they see someone they recognize at the hotel or walking into the stadiums. It's cool to see that enthusiasm. And it's also nice for me to see the other scouts and coaches from around the league. I'm friends with a lot of the guys and this is a time for us within the scouting profession to visit with each other.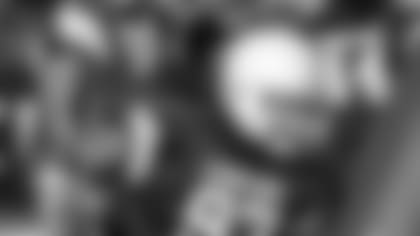 It's nice to run into scouts who have the same area as me from other teams. We see each other all year and it's fun to run into them again as well as old scouting friends from other areas.
After Senior Bowl practices like Tuesday's I try to talk to guys on my list who I'd like to follow up with. Sometimes you're able to talk to them after practice on the field and sometimes you have to go back to talk at the hotel. We did the same thing after Monday's practice too, but it was harder to do it because it was media night. The national media came in to interview the players and so that made it more difficult to do those one-on-one interviews for our purposes. But I was able to get a lot more of those talks done on Tuesday.
One thing I've learned in this business is that the talent will always be different from year-to-year, but it's not a bad thing. Every year there are certain position groups that end up being more talented.
From what I've seen so far, I'm happy with the talent out here in Mobile. I like the direction we are going in as a scouting department and we'll continue to discuss what positions we need based on what players are available.
Coach Singletary and our general manager Scot McCloughan came down to Mobile to meet with Trent early in the week. As a staff we didn't meet with Singletary and McCloughan, but they talked with Trent about whatever thoughts they had for the week. We'll meet next Wednesday night and go over everything we saw based on all the practices and the game. We'll rank all the players by their position and by their team.
For example we'll rank the quarterbacks from the North and South 1-through whatever, based on how they performed. This year, Trent wants us to draw a line as to where we think the cutoff between players we think will be drafted and the players who will be undrafted free agents.
I'll be leaving Thursday night but there are two more days of practice to dissect. Fellow 49ers area scout Ethan Waugh will update everyone on the happenings from Mobile for those days.
Thanks to everyone for following my blog, I look forward to updating it again at the Scouting Combine at the end of February.