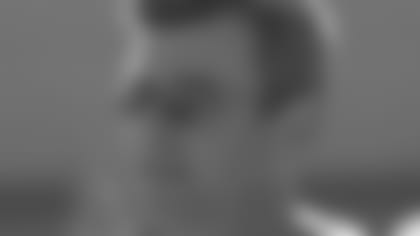 49ers area college scout Todd Brunner is back with his latest blog. Find out about his first game as a former college starting quarterback as well as where his work took him to this past week!**
On Monday, I went to Fordham University. Fordham stadium was the place where I made my first college start as a quarterback so that brought back memories of that time in my life. We won that game by the way. I was fortunate enough to throw five touchdown passes in a 42-7 victory.
After reminiscing for a few minutes, I went in and watched tape on their prospects. They have a running back, a linebacker and a defensive end that I needed to review. One or two of the prospects have a chance of making an NFL camp. There's a new coaching staff there so they are in the rebuilding process, and they are doing a good job.
Tuesday was Halloween and I'm always home for Halloween. I never schedule anything on the road on that day because I want to make sure I'm home with my kids and there to take them trick-or-treating. So, I did housework that day. I mowed my lawn and did all my yard work, hopefully for the last time until the spring because it'll stop growing about now. That night was a lot of fun because I really enjoy watching my kids. They absolutely love trick-or-treating so much. It's like a sprint for them to get from house to house!
On Wednesday I went back down to revisit Delaware because they have a transfer tight end from Duke University playing now for them. He's having a pretty good year so it was worth the trip going back in to evaluate him. When I was there the first time he hadn't played a game for them yet, so I watched game tape of him and will use that to round out my report on him.
On Thursday I went to Rutgers, to reiterate, the number 12th team in the country. I took a look at twelve prospects, and after watching the tape, there's a reason why they are the 12th team in the country. They've got a handful of players who will be drafted or signed as free agents this spring. As I stated before in my column, the whole New Jersey area is really looking forward to this Thursday night's game against third-ranked Louisville, a game that I will be in attendance for.
I was back home on Friday. I stayed home with my daughter that day since my wife had to work, and I basically used that time to type up those twelve guys from Rutgers.
There weren't any games locally this past weekend for me to attend, but I channel surfed through a bunch of college games. I watched Penn State and saw Joe Paterno break his leg when a player ran into him on the sidelines. That's always a concern because at his age, those kind of injuries can be hard to rehab. I hope he comes out okay.
I had a big drive on Sunday, 544 miles over to Marshall University in Huntington, West Virginia. I listened to ESPN and the NFL stations and listened to our game, so that made the trip easier. It was a good win day for my family – the 49ers beat the Vikes and my sister ran the New York City Marathon in four hours and eighteen minutes.
So, that wraps up my week. I leave you now and I'll check in again next week!