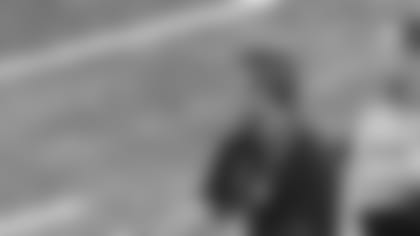 Check out area scout Todd Brunner's final blog from the NFL Scouting Combine in Indianapolis.**
The final day of the Combine on Tuesday featured two groups of defensive backs – 55 players total. Just like with the receivers, you always anticipate the 40's because you know they tend to post very fast times.
This year's group did not disappoint. Three standouts in the 40 were Chris Houston out of Arkansas, Leon Hall from Michigan and LeRon Landry out of LSU. They ran very fast times, as did my kid from Maryland, Josh Wilson, who ran a 4.39.
Houston had a good Combine, also bench pressing very well and leading the way among the DBs with 27 reps. There was actually a friendly wager between Oscar Lofton and Dave McCloughan regarding Houston's height. Oscar won that one and enjoyed his bragging rights.
There were only a very few guys who did not work. I think in the first group there was three guys who opted out, and all were due to injuries. The second group my guy from Pittsburgh didn't run. I think they said it was by his own choice, but I had talked with him and it was because he's been hampered by a quad injury. So for the most part, everyone pretty much worked who could and I think that was very good to see.
One thing that I think has helped with that has been the presence of the NFL Network. I think guys want the chance to be seen on national television because it just adds to their exposure. Outside of the flying cameras that you have to get used to when you are timing, I think the Network being there is a positive for everyone involved. It was different too because you go out to dinner and you get to watch the replays of everything and see it one more time while it's already fresh in your mind.
The guy I was timing with, Tim Gribble, was a little upset though. He asked me how come I didn't tell him that he had a bald spot versus having to see it for himself on NFL Network. He wore a hat thereafter!
With the on-field drills for this group, you look for their speed and quickness in the drills, their ability to change direction and if they are smooth in their transition, if a guy has good bend in their knees or if they are more waist benders. Lastly, you want to check their hands and see whether or not they can catch a football because obviously turnovers play a big part in this game.
This was one position where I had good knowledge of most of the players since I had to grade all defensive backs at the all-Star games this year. As opposed to primarily knowing my area guys and bits and pieces of these other guys from our draft meetings, I've studied the DBs more closely.
In the past we'd have three groups on Tuesday which also included the tight ends. This year they bumped those up much earlier so that they worked out with the offense. It's nice for the scouts because it means we finish up slightly earlier, and it's also nice for the offensive coaches because then they can pretty much leave after the running backs go as opposed to having to stick around three more days if they need to see the tight ends work.
The crowd had definitely dwindled for this last group because all of the offensive coaches had headed out, and only a few head coaches stuck around along with the defensive coordinators and secondary coaches. Even those who were there, you could tell they were all ready to bolt. It's a long week especially for guys who are there the entire time, and I think everyone looks forward to that final whistle blow.
After we wrapped up the workouts, we headed back to our hotel and had out final Combine meeting as a scouting staff. We basically went over all of the Pro Days coming up and each of us set our schedules for the next several weeks. I've got about 15 Pro Days I'll attend as of now, although every year extra ones seem to pop up. For instance, I've got a kid from New Hampshire who broke his leg during the season and is still going through his rehab. There's a chance he may be ready to run his 40, so that would be one I'd need to make sure I made it to. That's the same basically for all of the scouts. We always want 40 times on guys coming off of injury, just to make sure their speed has not been hindered.
When our meeting ended, we all headed out to catch our various flights. I was dead to the world on the way home. After three weeks in Santa Clara for our draft meetings and this long stretch at the Combine, I was ready to get home!
Overall, the Combine went well. I think we have a better idea of what route we are going to take, where we want to focus our attention, and going into the Draft we will have a real strong opinion of our areas of need, and we'll address those. I think speaking to the players we did was very beneficial. We pinpointed 60 of the right guys and found out what we needed to do. I think the week helped us tremendously.