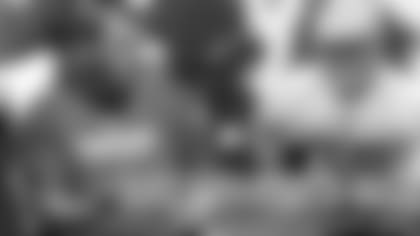 49ers area scout Todd Brunner checks in with his latest blog update. Brunner has been quite busy since the 49ers broke for training camp. In this column, Brunner recaps his first month of college scouting as well as his thoughts on the 49ers 2-1 start.**
I'm in Pittsburgh right now covering California University Pennsylvania, which is a Division II school. They are a nationally ranked team and have been in the top-10 and top-5 for the last couple of years. They get some players in there and they get a lot of transfers from kids who used to play at Division I schools. You have to make a stop because of that. I'll also make a stop at Pittsburgh University and West Virginia University in the coming days.
I had the chance to listen to our game against the Minnesota Vikings on the radio while I was driving up to Pittsburgh, PA. I was screaming and yelling at the radio the whole time. My wife kept calling me. It was just hectic and crazy for those final eight minutes. But, it is what it is. It's the third game of the season. We've got 13 more to go. I think we're moving in the right direction though.
So far, my assessment of the team is that they've taken on the identity of their head coach. There is no moral victory when looking at how you played for 59 minutes and 44 seconds of the game yesterday and saying that you should have won the game. But, Brett Favre is Brett Favre and he's done that his whole career. It wasn't a fluke thing.
Needless to say, it was an intense weekend for me and it came after the past weekend where I took things a bit slower. I was able to watch a whole different kind of talent.
It was my first chance in over a year to watch my son play soccer. He's 7-years old and its fun seeing him run around out there. Whenever you get a chance to see your own kid play sports it's always a lot of fun and on the top of the priority list.
Before that I had completed a Division I-A swing where I covered Brown and Harvard, a couple of Ivy League schools. I went to the University of Maine and the University of New Hampshire. I also went to the College of Holy Cross. In my eyes there were some players who stood out.
Harvard has a big left tackle named James Williams, who has a chance because he's got the body and frame to play in the NFL. I ran into our director of pro personnel, Tom Gamble. He was in the area scouting the Atlanta Falcons for us. Together, we went to Harvard's game Friday night had some back and forth on Williams.
Probably one of the biggest games I've got the chance to see is the Penn State versus Syracuse game a couple weeks ago at Penn State. It was interesting to see the former Greg Paulus, a former Duke point guard play quarterback for Syracuse.
You can tell he's been away from the game for the past four years, but the guy has tons of athletic ability. And, from everybody you talk to his leadership skills are second to none. He walked onto that Syracuse campus and within 48 hours everybody looked up to him and respected him. He won the quarterback job right away and I think he's a team captain as well. The guy's got something about him. He was a team captain at Duke his senior year for their basketball team, but he wasn't even the starter there.
It was actually my first time in a while seeing Penn State play at home because the Big 10 rescinded their policy that prohibited scouts from being in the press box. Before, we had to sit in the stands. That makes it hard because you never knew where you are going to sit. Plus, when you go to a school like Penn State where there's 110,000 people in the stands with you, it makes it a little harder to do scouting work compared to being in the privacy of a press box. Everyone would always ask me questions like who I was looking at, which I don't have a problem with, but I also need to get my work done.
Speaking of Penn State, they had a tough loss this past weekend to Iowa for the second season in a row. And no one would have predicted that outcome after seeing Penn State easily take the lead, early in the first quarter on the long pass play for a touchdown.
It gets really hard to follow all of the action going on over the weekends. There are so many games going on at the same time. I try and do what I can as far as staying up to date by watching scores on the bottom of the television as the ticker runs across. I'm also always on my blackberry checking scores. Then, I'm left with trying to catch the recap shows or reading about it the day after in the paper.
Scheduling is kind of like a puzzle where you are trying to align everything to fit nicely together, but of course I am going to miss some good games here and there. The hard part is not just balancing your own dates but making sure they don't conflict with days when certain school's do not allow scouts on certain days. You kind of set it up so you go to schools that are grouped around each other. It's in training camp when I'm trying to fit it all together and it always seems like it takes me three times to work it all out. There's what I want to do and what I can do. Obviously, what I can do is what turns out to be my final schedule.
My first weekend in September was very busy. I hit three games in that first weekend; Friday, Saturday, and Monday. One of those was Cincinnati at Rutgers. It was a Big East matchup that had a lot of questions with many of the conferences seniors having graduated. It was a good matchup on paper heading in to it, but once the game started you could see that Cincinnati has a pretty good team. Since I am covering Rutgers, it was actually good to see them play against a quality opponent gives. I was able to have a better evaluation of some of the players I was looking at, because of the level of talent they were going against.  
That's all for now. I'm hoping for a good game Thursday night between West Virginia and Colorado. Then, it's off to Edinboro, another Division II school in the area. I'll watch their game Saturday.