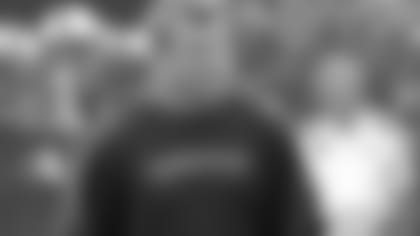 Area scout Todd Brunner is back on the road scouting players in the Northeast region for the 49ers. Brunner recently spoke with 49ers.com about the end of the college football season and previewed the bowl games featuring teams from his area in the latest edition of "Brunner's Blog."**There are a ton of Big East teams in my area, and although a lot of people say the conference is down this year, there are a lot of quality players in it. I'll start with UConn, which won the Big East this season. They had some big wins down the stretch over West Virginia and Pitt which really put them in the driver seat of the conference. Their head coach Randy Edsall has done a tremendous job and he put together a nice coaching staff that knows what it is doing. Also, they have upgraded their facilities, which helps attract a lot of recruits.
Although the big FBS schools are the ones that get all the headlines, I spend a lot of time at smaller schools too. One that really stood out to me this year was Lehigh. Now I might be a little biased in talking about them because that is my alma mater, but that's a school that doesn't offer athletic scholarships, yet still put together a nice program.
Coach Andy Coen has done a great job, and this year they went out and won the Patriot League. In the playoffs they flew out to Northern Iowa, which every year is one of the top FCS schools in the country, and beat them on the road. Then they ran into a strong Delaware team and lost, but Delaware is a very good team and they have NFL players like Joe Flacco. So I am impressed with what Lehigh has done. These kids aren't on scholarships, but the coaches get them ready to compete with traditional FCS powerhouses.
At the end of the season we have to turn in reports on all the players in our region, and those were due last Monday. All of the scouts flew into San Francisco this weekend, and after watching the 49ers beat the Seahawks on Sunday, we're going to have meetings at the Santa Clara headquarters to discuss players in the upcoming draft.
We'll talk about the All-Star games and bowl games and how we'll handle those. We don't always go to all of the bowl games, if we do it's usually just to get one last look at some of the top-tier players. What the NFL has done, they allow each team to go to three or four bowl games, and then we can request to go to others if need be. I'm not sure what the plans are right now, but we'll figure all of that out as the week progresses.
One thing I always do at the end of the season is look back at my schools and see which programs impressed me, and this year one that jumped out was Navy. Year-in and year-out they're a great program. They recruit guys who fit their system. They don't get the biggest or the most athletic guys, but they find guys who fit their system. Some of their players probably didn't get any scholarship offers from the bigger schools, but they go and play at Navy and they beat some of those big teams. For example, I think Navy has beaten Notre Dame three years in a row.
I also like to look back at some players who might have flown under the radar, and this year I immediately thought of two guys from West Virginia, running back Noel Devine and wide receiver Jock Sanders. Both guys are undersized – Devine is about 5-foot-8, 180 and Sanders is about 5-foot-7, 180 – but both can flat out fly.
With bowl season right around the corner, I'm excited to see all of those games, especially the ones in which school from my region are playing. I know there are a lot of bowl games, but these are all quality football teams. They had great years and they competed in high-level conferences.
First of all, I know my schools aren't in it, but I'm excited for the BCS National Championship game. I've only seen Auburn and Oregon on TV, but they're impressive. I think it's just going to be a tremendous game. The final score could be 7-6 or 55-54, you never know.
But as far as the schools I do follow, here are some things I'll be watching for in some of their games.
12/29 Military Bowl – Washington DC: Maryland vs. East CarolinaWhile most bowl games take place in warmer weather, it will be pretty cold in Washington DC when Maryland and ECU take the field. But both schools are used to it. For Maryland, this is basically a home game as DC is only about 30 minutes from their campus.
The Terrapins had a great year this year and the program took a huge step forward. After winning just two games last year they were competing all season and had a chance to win the ACC. Ralph Friedgen has done a great job and those kids have played very good football. They could have gone into the tank after last year, but they turned it around and played hard. They were a game away from being in the ACC Championship Game, and they have a lot of young talent.
12/30 Pinstripe Bowl – New York: Syracuse vs. Kansas StateSyracuse head coach Doug Marrone went in there and turned that program around. It's their first bowl game in a few years, and it's great because they're just traveling a few hours south to New York City. I expect them to have a big following. Yes it will be cold on December 30, but I think people will go. Plus, Yankee Stadium is always a draw. It's new Yankee Stadium, but it's still Yankee Stadium and it is special because of the mystique.
That's the one bowl venue I'd love to go to. To go to Yankee Stadium and walk on that field would be a memorable experience. It's not the House That Ruth Built, but it's still Yankee Stadium.
1/1 Outback Bowl – Tampa, Fla.: Florida vs. Penn StateAfter winning the Rose Bowl last year, Penn State lost a lot of talent, but they haven't stopped competing. They have a young quarterback playing now, he came in off the bench earlier in the year, and he's played well.
If you would have said earlier this year that Penn State and Florida were playing in a bowl game and it was going to be one the coaches' final game, everybody would have said, "Oh, its Joe Paterno's last game." Nobody would have guessed Urban Meyer. But it is understandable that Meyer would want to spend more time with his family, because family is the most important thing there is. It will be interesting to see how those kids respond.
But Paterno knows how to win bowl games. I think he has the record for most bowl victories with 24, and he will want to add to his legacy. His team will want to give him that silver anniversary 25th.
1/1 Fiesta Bowl – Glendale, Ariz.: Connecticut vs. OklahomaUConn was not expected to be in a bowl of this magnitude, but once they shake off the initial excitement of getting there they'll be ready to go. Coach Edsall will have his guys ready to play some good football and they will do well in representing the Big East. They hear what everyone says about how the Big East is down and that UConn isn't a BCS-caliber team, but they will want to go out and prove what their program is all about.
I expect this game to be closer than what a lot of people are predicting.
1/3 Orange Bowl – Miami: Stanford vs. Virginia TechVirginia Tech bounced back from two early losses this season to win the ACC. They started the year with a tough loss against Boise State on a Monday night, then they had to take a four-hour bus trip back to Blacksburg and they didn't get in until about 5 a.m. on Tuesday. So they lost Tuesday, got a little practice on Wednesday, looked at some things Thursday, then Friday was the day before the game. The following day they went out and lost to James Madison from the FCS. I don't want to give them any excuses, but they were in some tough circumstances there.
I was impressed with how they rebounded and won their next 11 games – they went 10-2 in the regular season then won the ACC Championship Game. They're a good football team, and their quarterback Tyrod Taylor can do some special things.
1/8 BBVA Compass Bowl – Birmingham, AL:  Pittsburgh vs. KentuckyI don't think Pitt coach Dave Wannstedt's stepping down affects this match up. I think the kids will come out fired up and take care of business. Pitt is another team that was ranked in the preseason and fell of the radar due to a couple of losses, so they'll want to end the season on a positive note.
Right until the last week of the season they still had a chance to win the Big East, so expect them to show up ready to play.
1/9 Kraft Fight Hunger Bowl – San Francisco: Boston College vs. NevadaIt's always tough when you have to fly across the country, but BC played in this game last year so they know how to adjust and they know the routine. I believe that coaching staff will put together a good game plan to stop Nevada quarterback Colin Kaepernick, so it'll just be a matter of executing.