College area scout Todd Brunner sums up the final day of the 2007 Draft in what could be his very last Brunner's Blog. Enjoy...
Day two of the draft obviously started off an hour earlier so we were all here bright and early on Sunday. Going into it we had four picks in the fourth, one of which we traded before things got started for Seattle wide receiver Darrell Jackson. You look at that as a pick, and that was a good 4th round pick for us.
We were the sixth pick of the second day so we had earmarked six guys who we wanted to take and fortunately Jay Moore was there so we chose him which was great because of those six, he was our first preference.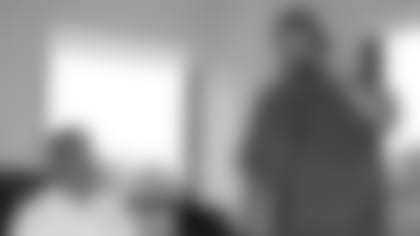 The second day when you talk to guys, they are just more relieved than anything. I think having to wait overnight makes them a little anxious. Moore was laid back when I got a hold of him. He was with his mom and dad at the time, and I think they were all excited, but again there was that sense of relief.
The next pick we took was Joe Cohen. That was the funniest call I made all Sunday. The first number I called I got an answering machine, and the second one he kept saying "Bruno, Bruno." I knew he couldn't be talking to him, but I guess one of his buddies was there and that's who he was hollering at. At first, I think he thought it was a hoax, but then when they see it come across the television they believe it and realize they really have been picked. He apparently had a bunch of people over and it was very, very loud and boisterous.
With our compensatory in the fourth, we chose Dashon Goldson. He was with his mom and dad and he too was real excited, glad to have another Pac-10 player in his draft class in Jason Hill.
We got to Tarell Brown in the fifth round and when I called him up, he had his six month old daughter in his lap and he was very, very appreciate of the fact that we chose him and were giving him an opportunity. One of the things he said was that we would not have to worry about any issues with him and that he plans to come in here and prove that. He was very thankful. One day, he can tell his daughter where she was at the moment he got drafted, and I think that's pretty special.
Our last pick was Thomas Clayton. I think he's looking forward to his opportunity to play here. He had just come out last week and we all had met with him so I think knowing he's going somewhere he's got some familiarity of was a positive for him.
The Turk is the what they call the guy who cuts the players, so they should come up a name for the guy who calls on draft day. I don't know what that would be exactly, but let us know if you have any suggestions. I can say that it's a much better task than having to end a guy's dream.
After the last pick was made, Coach Nolan had all coaches come into the room, which was still in the middle of the sixth-round and John York gave a little speech for and about Oscar since it was his last draft with the team. That was really nice.
Since we were done picking, we turned our attention to guys we thought could fall through the draft who we'd like to bring in as free agents. We made initial calls to them just to let them know we were interested in having them as free agents because once the draft is over, that gets really hectic. It is kind of crazy because you have 32 teams doing the same thing and it becomes a bidding war. A kid may say yes, but his agent has already said yes elsewhere so it can get confusing. In the end, we got verbal agreements from a handful of guys who we hope to be in for mini camp later this week.
Overall, we're very happy with the draft. You won't find too many teams who would say otherwise, but for us, we truly feel that way. We really earmarked a lot of these guys and everything really worked out the way we had hoped. We wanted them to be part of the team and they really fell right where we wanted them to fall. You can't really grade a draft until a few years down the road, but we're happy. We feel confident that we went in the right direction. Since Scot and Mike have been, we've set forth a plan and the type of player and we don't sway from that plan.
When the day was over, the scouts all went to celebrate our "Super Bowl."
We were back in Monday morning just wrapping up everything, and now it's about time to go home and become a dad and a husband for a few weeks. We'll get some tape in early June of guys in our area for next year and we'll start writing early reports on next year's class.
Hopefully, by then you'll be hearing from a different scout because I'm sure that year two of a blog from the same guy covering the same area would be boring. But, we'll see.