In his final offseason as an NFL defensive tackle, Perry Brooks and his wife gave birth to a baby boy. His name was Ahmad and he's a man now.
In the 27 years since, Ahmad Brooks has grown a mean set of muscles. But in the 19 months since his father passed away, he's grown even more.
Perry Brooks' life was cut short at the age of 55 in March 2010. Nowadays, whenever Ahmad puts on his No. 55 jersey, the name on the back serves as a reminder for his father's legacy.
"My life has changed dramatically," Brooks said. "You really don't know what you have until it's gone. I think about him every day, I miss him every day, I wish he could be here with me. But that's life, man. I've accepted it, but at the same time, it still hurts."
The elder Brooks played for seven years on Sundays for the Washington Redskins, winning two Super Bowls along the way. Now in his sixth year as a pro, Ahmad Brooks is working towards getting his hands on a Lombardi Trophy of his own.
From the looks of it, Ahmad is certainly Perry's son. He has the same sharp cheek bones as his father and the same strong jaw line. It also looks like Perry passed down those football genes to his sons, Ahmad and Perry Jr.
As the high school football coach of Perry's two boys, Bill Brown befriended Perry Sr. To this day, the personality of Perry Sr., lives strong in the memories of those he touched.
"He was so much fun to talk to," Brown said. "He had a personality that just won every body over. He used to hug my wife and lift her up off the ground – her feet would be dangling. He just laughed all the time."
Following his NFL career, Perry Sr., still worked on the weekends to provide for his family. For Ahmad, this meant dad couldn't be around to watch his Pop Warner games on Saturday. Not in person anyways.
Thanks to Ahmad's mother, Vergie, who videotaped the games, Ahmad would get his first taste of film study. Only he wouldn't be in a classroom with coaches, he'd be on the couch with his dad.
"At night time, I would show him what I did," Brooks said. "He would give me pointers on what I should do or shouldn't do. I used to brag, 'Hey dad, I scored four touchdowns. I got an interception and took it to the house.' Things like that I remember."
As a kid, Ahmad and the two Perrys would attend Redskins games. By the team he reached high school, it was clear Ahmad was going to try to follow in his father's footsteps.
The first time Brown heard about Ahmad, he heard it from Perry Jr., who was a solid prep defensive lineman in his own right. Brown, then coaching at C.D. Hylton High School in Woodbridge, Va., heard that Perry Jr., had a kid brother on the way to his program.
"I asked him, 'Perry, is he as good as you?'" Brown said. "He told me, 'Oh no, coach, he's better than me.'"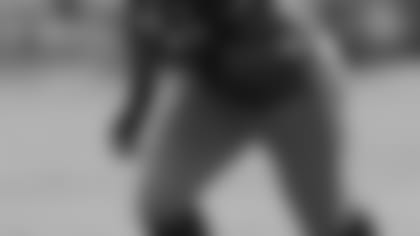 Brown would find out first-hand during Ahmad's freshman year. Brooks started out on Hylton's junior varsity squad, was elevated to varsity mid-way through the season and was the team's starting outside linebacker by the time they won the state championship game.
His sophomore year, Ahmad moved to middle linebacker, racked up 202 tackles and led Hylton to back-to-back state titles. In the championship game, Ahmad had a fourth-quarter interception and the game-winning touchdown reception, giving Hylton a 28-27 victory.
Ahmad suffered an injury and missed all of his junior campaign, but was named the National Defensive Player of the Year by USA Today during his senior season.
As such, Brooks earned a scholarship to the University of Virginia, where he quickly rose to national prominence. Named a First-Team All American as a sophomore and a top three finalist for the Butkus award, given to nation's top linebacker, Brooks seemed to have limitless potential.
Then things started to turn.
Brooks' junior season was marred by injury and he was eventually picked by the Cincinnati Bengals in the third round of the 2006 supplemental draft.
"He had a lot of stumbling blocks from his junior year of college until now," Brown said. "There's no question I knew what Ahmad Brooks could do – or anyone who had ever watched that kid play or knew what he was made of. He just had not gotten to that point."
Brooks played in 11 games his rookie year, starting five, but it was evident he was raw. The 49ers claimed Brooks in 2008 and it seems he's become a new man since moving to the Bay Area. Teammate Madieu Williams played with Brooks for his first two years in the NFL, and said Brooks has changed for the better.
"He's just a lot more mature than what he was back then," Williams said. "He's growing in the league, he's coming into his own. And he's just a more mature person."
Jump to this season, Brooks is one of the most explosive athletes among the 49ers' robust linebacking corps. You'd be hard-pressed to find a more talented quartet than Brooks, Joe Staley, NaVorro Bowman and Parys Haralson.
"Those are my guys," Brooks said. "Just over time, our friendship has grown. When game time comes around, the communication level is there. It's not like I'm playing for myself or they're playing for themselves. We're playing as a team; we're playing for each other."
This is where Brooks is supposed to be. He's supposed to be a starting linebacker at the NFL level. He knew it, too, and that's why he changed things up this offseason.
Brooks didn't play a snap in his first year with the 49ers, and had been used almost exclusively as an extra rusher during passing downs in the following two seasons. This year, though, is a completely different story. Brooks has started all five games, earning consistent praise from coach Jim Harbaugh along the way.
This wasn't an accidental transformation.
Instead of return to his offseason home in Virginia, Brooks made a detour to Atlanta after last year to ramp up his offseason workout regimen. Working out four or five times a week, sometimes twice a day, allowed Brooks to push himself in ways he'd never done before.
"It was time to take it up a notch," the 6-foot-3, 259-pound Brooks said. "I realized that myself. The things that I was doing before obviously weren't working. I had to find something else that could take me to the level that I want to be at."
A new level Brooks has reached.
If the Bengals forgot what they lost, Brooks gave them quite the reminder in Week 3. Marching down the field toward the end zone on their opening drive, the Bengals look primed for a touchdown.
Brooks, however, had other plans.
On a first-and-goal at the 49ers 6-yard line, Brooks stuffed Cincinnati running back Cedric Benson on the door step of the end zone. He did it again on the next play, stopping Benson for a two-yard loss. Last, but not least, Brooks chased Bengals quarterback Andy Dalton out of the pocket and forced a third-down incompletion.
He was practically a one-man goal-line stand.
"Ahmad has been huge for us," said Willis, the 49ers' defensive captain. "I'm glad we have him on our side. He's going to continue to grow and get even better, so that's what we're looking forward to. I hope when it's said and done, he can be that guy that people are talking about."
Brooks is not solely a third-down defender any more. Watch him on game film and you might get dizzy. One play he'll be lined up on the left side, the next he'll be on the right and the next he'll be lined up as a defensive tackle. It's clear defensive coordinator Vic Fangio wants to keep Brooks, and his pass rushing ability, on the field.
"I knew my time was going to be coming," Brooks said. "I paid my dues. I always feel like I can contribute to the team, regardless. Somebody else might not feel like that, but you can never have somebody else shatter your dreams."