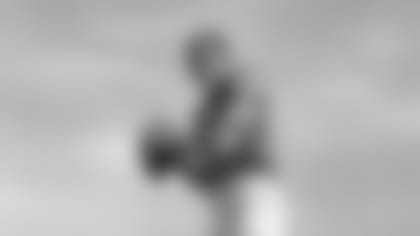 The San Francisco 49ers will continue to recognize its alumni by selecting an honorary game captain for each of its home contents during the 2008 season at Candlestick Park. Honorary game captains reconnect with the 49ers family, while also participating in the coin flip prior to the start of the game. This Sunday, former quarterback John Brodie is serving as the Honorary Game Captain. Check out this feature story on the former player.**
Many people of this generation are familiar with the name Brodie – as in the first edition of NBC's "For Love or Money" when bachelorette Erin Brodie was trying to convince Rob Campos to choose her. To make a long story short Campos did choose her but Erin chose the money instead.
Smart girl!
That was in 2003 but in 1957 Erin's father John became a household name after he was drafted No. 3 overall by the San Francisco 49ers as a quarterback out of Stanford University.
For 17 seasons he donned the famous red and gold uniform of the 49ers and was the only constant in a revolving door of ever-changing football faces. Brodie did, however, have the honor of throwing to some of the NFL's best receivers: Bernie Casey, Ted Kwalick, Dave Parks, Gordy Soltau, Monty Stickles, Gene Washington and Billy Wilson, to name a few.
"I can't pick out just one as my favorite receiver," Brodie said when asked that question. "I had a good relationship with all the receivers I played with. Most of them fit in with what I liked to do – throw the ball."
Under John's leadership, the 49ers won two NFL Divisional Playoff games, while John was a two-time All-Pro, played in two Pro Bowls and was the 1970 Associated Press NFL Most Valuable Player. He considers himself lucky to have played in San Francisco.
"Football was a great experience," he said. "I was fortunate to be a part of it. I met some great people playing for the 49ers and was lucky to be able to play in my hometown and stay here for 17 years as a professional. All I can say is that I enjoyed the hell out of it!"
Brodie remembered fondly a moment late in his 1957 rookie season when the 49ers were losing to the Baltimore Colts, 13-10, with less than a minute to play. Brodie was called upon to replace an injured Y.A. Tittle in a do or die situation. Back then, quarterbacks called their own plays. John went into the huddle and asked if anybody had a play they wanted to run. Veteran Hugh McElhenny answered the call.
"Throw me a pass out towards the sideline," McElhenny said.
"I never even saw the pass," Brodie said. "I got buried by Art Donovan as soon as I threw (the ball). I heard the crowd respond – that was about it. Anyway, 'Mac' scored and we made it to the playoffs."
Fate seemed to repeat itself in the 1972 season. Brodie was nursing an ankle injury throughout most of the campaign and 49ers second-string quarterback Steve Spurrier was having a tough day against the Vikings in the season finale.
John got the call with the 49ers down 17-6 in the fourth quarter and in the final nine minutes, threw for two touchdowns – including the game-winner to Dick Witcher – and sparked the 49ers to a 20-17 victory and a playoff appearance.
In 1965, Brodie became the eighth recipient of the esteemed Len Eshmont Award, given annually to the player who best exemplifies the inspirational and courageous play of Len Eshmont, an original member of the 1946 49ers team.
It was John's best year with the 49ers as he completed 242 of 391 passes for a career-best 3,112 yards. The 242 completions were also a career-best as was his 61.9 completion percentage and his 95.3 quarterback rating. The 49ers averaged more than 30 points a game that season but fell just short of the playoffs.
Upon retiring from football in 1973, John became a sports announcer with NBC and anchored daily sports reports on KRON in San Francisco. After 12 successful years with the network, he joined the Senior PGA Tour at age 50, where he competed for 14 years and was once again successful with a tour victory and 12 finishes in the Top-10.
In 2000, John suffered a stroke but is recovering very well.
Recently, he was asked if he missed the game of football.
"I miss the guys and all the fun we had," he responded. "But to me, the most important thing was that I survived it."
And just for the record, John's daughter Erin was invited back to "For Love or Money" television – once again as a bachelorette. But this time the winnings were double or nothing. And this time, she won the guy and a cool $2 million.
"She's really a chip off the old block," John's wife sue said. "That's exactly what John would have done!"