Less than 24 hours removed from a season-ending win over the Arizona Cardinals, the locker room at 49ers head quarters was full of mixed emotions. As players exchanged goodbyes and packed up personal items, the physical act of moving on was tough to do.
The end of the season had become a realization.
The exit day scene was most frustrating for one player in particular, a rookie who just had his breakthrough moment. However, he didn't appear as upset as his teammates that day in the locker room. Instead, he had a look of satisfaction.
By the coaching staff's count, NaVorro Bowman finished with 15 tackles, eight of which were solo stops, in his first professional start. It was almost as if his season had just begun. At that very moment, ending the year was difficult to do.
"It felt good to have that success, especially against the Cardinals knowing they're a team we'll be facing twice a year," the 6-foot, 242 pounder said after he called the plays from the defensive huddle in a 38-7 win. "I look at the game like it was a cheat sheet."
When needed, the linebacker selected 91st overall out of Penn State was often up to task, contributing to the 49ers in a variety of ways. As a backup at both inside linebacker positions in the team's 3-4 defensive scheme, Bowman learned two positions in his first NFL season.
It might have been a daunting task to some, but not to Bowman.
"A lot of people think it's difficult, but I'm the type of player who loves the game so much that I was determined to learn both."
Initially, he began practicing the weak-side position with the plan of serving as Joe Staley' backup. But after Scott McKillop suffered a season-ending knee injury in training camp, Bowman was asked to learn Takeo Spikes' strong-side position too.
In season, Bowman was a major contributor on special teams where he led the team with 26 special teams tackles. He also had a sub role on defense, where he gained valuable experience primarily on third downs. But throughout the year, Bowman waited for an opportunity to play an expanded role.
His chance came in the season finale, when he filled in for the injured Willis, who was sidelined with a broken hand. Bowman made the most of it, putting together impressive, Willis-like results that left the four-time Pro Bowler thoroughly impressed.
"Bow played well," Willis said, smiling at his protégé's success. "It was fun to watch him out there making plays."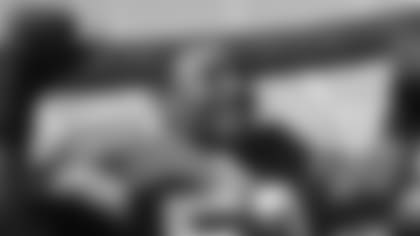 It's safe to say most rookie linebackers weren't as fortunate as Bowman. Playing behind two of the game's best linebackers might have been a blessing in disguise for the eager rookie, who wanted to show the world how hard he'd been preparing behind the scenes.
Bowman spent an entire season watching two talented linebackers work at their craft. All the hours on the practice fields and in the meeting rooms added up.
He finished the season with 35 tackles and three tackles-for-loss, which he credited to the starting duo for helping him along the way.
"Having those guys to learn from was a huge advantage," Bowman said.
With Spikes set to become a free agent, its unknown what the 49ers will do long-term at the position.
"Those two guys ran the defense, worked together and that's the type of relationship I want to have with Pat later on down the road," Bowman said.
And as he finished packing up his belongings and rehashing his rookie year, Bowman truly looked like he wasn't ready to move on. But for now, all he can do is focus on getting better and spend time with his son back home in Baltimore.
"I gained a lot more confidence knowing I can play at this level," Bowman said. "I can't wait to get started for next year, just to start from the beginning and see what we can do."
And with Bowman's home city being a destination for his second season in the NFL, the mere mention of playing in front of friends of family clearly has him refocused for what's to come.
"I'm coming back home," he said with a smile. "I'll be ready."