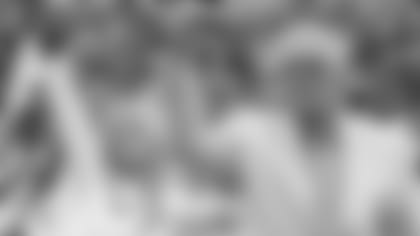 Throughout the offseason, 49ers.com will continue to chronicle the members of our 10-Year Club. Check out our latest feature on former 49ers Hall of Fame tackle Bob St. Clair, who played for the team from 1953-1963.**Born and raised in San Francisco, Bob St. Clair spent part of his college career at the University of San Francisco before fittingly playing his entire pro career with the San Francisco 49ers.
The Hall of Fame tackle is also a member of the 49ers 10-Year Club, something the Bay Area product did not envision when he started playing professionally in 1953.
"I never really thought about playing ten seasons," St. Clair admitted. "I just played year after year, and it was a way of life. But I also never thought of retiring either."
The Hall of Fame tackle enjoyed an 11-year career in all, blocking for the 49ers "Million Dollar Backfield."
"I made them famous," St. Clair teased.
It's no secret that The 49ers talented backfield made a lot of impressive plays in the 1950s, and St. Clair did in fact have much to do with it.
"It was always a challenge. I tried to do the best I could and luckily most of the time it was good enough for Y.A. Tittle to throw the ball or allow big runs for guys like Joe Perry, John Henry Johnson and Hugh McElhenny," St. Clair said. "I knew if I made my block pulling around the end and took out the linebacker coming up or the defensive back that one of the guys behind me was going to make a lot of yardage."
Like everybody else, St. Clair found himself checking out the impressive running styles of the 49ers talented running backs.
"I especially liked watching McElhenny run with the ball," St. Clair recalled. "I learned as the years went by that after I made my first block on the line to immediately get up and chase him downfield, because more than likely he was coming back and I would get an opportunity for another block or a good blindside. As linemen, we really enjoyed those."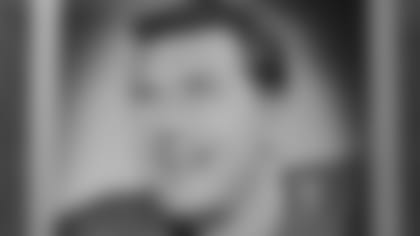 As fun as it was for St. Clair to block for some of the NFL's top runners, the actual act of blocking in the 1950s was much more different than how it's done in the modern game.
"We couldn't use our hands like you can nowadays; your hands had to be into your chests." St. Clair said. "It was a real disadvantage in pass-blocking. But I really enjoyed run blocking and making that contact."
Not being able to get your hands on an opponent especially became difficult against talented pass rushers such as Gino Marchetti of the Baltimore Colts.
"It was a real challenge against guys like Marchetti," St. Clair remembered. "He was probably one of the best defensive ends the game has ever seen. He had a field day if you were trying to block him. He was so quick and he could put his hands on you, but you weren't allowed to do the same."
But St. Clair had a trick to limit Marchetti's production.
"I used to put Vaseline on my jersey so his hands would slip off," St. Clair revealed. "I got caught a couple of times, but I always hoped that I wouldn't get caught. If I did, I'd have to go in and take off the jersey and change into a new one."
Despite his unique tactics, St. Clair earned the respect of the entire league, being named to five Pro Bowls in his career.
Unlike today when the winning team takes home $40,000 for a tempo game that is more reflective of the preseason, St. Clair had to prepare for a battle at every All-Star contest.
"When we played in the Pro Bowl, the money wasn't like how it is now," St. Clair said. "My first year in the Pro Bowl the winner got $500 and the loser got $350, and we played hard. This was no take it easy type of bologna like they do now. We played our tails off to try and get that extra 150 bucks."
Besides being a bruising blocker, St. Clair had an impact on the defensive side of the ball, blocking ten kicks in 1956.
"I would line up over the center, and one of the reasons I was able to block so many was cause of my height," St. Clair pointed out. "I would leapfrog over the center a lot."
St. Clair also used mind games when it came to blocking kicks.
"The first couple of times, I would duck my head and plow through the center and run over the top of him with my cleats. The next time, I looked at the snapper and instead of him getting turned over backwards again and having my cleats running over his chests, he'd go down automatically on all fours. Once they did that, I'd leapfrog over the top of them and I could jump straight up and usually I could block the field goal, extra point or punt."
Most of the time St. Clair was able to cleanly block the ball, but one time he was the recipient of a swift kick to the face.
"I blocked against Norm Van Brocklin, who was playing with the Rams and I knocked the ball away from his foot," St. Clair said. "I was in there so quickly that he kicked me in the teeth."
St. Clair lost five teeth as a result of the play.
"I went over to the sideline and they shoved cotton in my mouth and until it got so bad I had to take Novocain in my mouth, but I kept playing."
In 195,7 St. Clair again displayed his unbelievable toughness.
After breaking his shoulder in the 49ers first game of the season, an injury that required surgery, St. Clair, the team captain, surprised his teammates with his triumphant return seven weeks later.
"I busted in on the team meeting the night before in the hotel and I yelled, 'Moses has returned from the dead to lead you guys to the Promised Land!'" St. Clair said with a loud voice reenacting the moment. "We were underdogs, but we beat the New York Giants 27-17. I think I had a very good blocking day. And they presented the game ball to me."
The victory sparked a three-game win streak to close out the year and earn a playoff spot, but their season ultimately ended at home with a 31-27 loss to the Detroit Lions.
It was the closest that St. Clair and the 49ers came to winning a championship. For the next six seasons, the team had up and down records and ultimately St. Clair decided it was time to leave after finishing the 1963 season with a 2-12 record.
"It had nothing to do with the record, I was hurt. It was the second time I had torn my Achilles tendon and I figured that was it," St. Clair said. "I thought I was indestructible and then all of a sudden I hurt my other leg and I thought I just couldn't do it anymore."
Leaving his teammates and the life that he knew for the last eleven seasons was difficult.
"It was tough. I went to training camp for a couple of years after I retired, showing up and staying overnight with the guys, because they were like brothers to me."
But as his career was winding down, St. Clair got involved with politics and became the Mayor of Daly City from 1961-62. Following his days as Mayor, St. Clair got involved in the business world by doing sales and public relations work for Clover, one of the largest milk providers in Northern California.
With his work keeping him busy, St. Clair didn't give much thought on whether or not he deserved to be in the Pro Football Hall of Fame.
But in 1990, he received the good news that he in fact would be joining his "Million Dollar Backfield" teammates in Canton.
"I guess after a few years they looked and saw the 49ers had the 'Million Dollar Backfield' in the Hall of Fame and all of a sudden a light went off and they realized somebody had to be blocking for them all those years," St. Clair joked.
Although it came with a little bit of a wait, St. Clair was happy to reach the pinnacle of success in professional football.
"Making it was a dream come true," he said. "There isn't anything higher you can do in your profession – that's it. That's the epitome. That's the top of the line."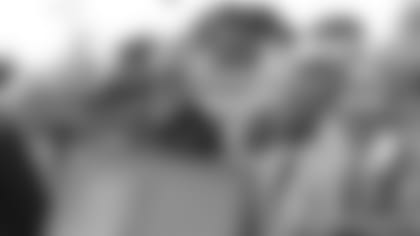 Eleven years later, St. Clair was bestowed with another honor when Kezar Stadium, the former home of the 49ers, named their playing field after him.
"That was mind-boggling, because usually you have to pass away before they name something after you like that," St. Clair said. "It was great and that was a very humbling experience."
St. Clair was also privileged much earlier in his career with another naming ceremony, just with much-less fanfare. Bruno Banducci, a teammate of St. Clair in 1953 came up with a nickname for St. Clair that lasted for his entire career – "The Geek."
"He came up with that name because there was a film where there was a character in a movie, called, 'The Geek.' They put him in a cage and fed him live animals."
The nickname applied to St. Clair because of his unusual habits of eating uncooked meat.
"My teammates weren't used to seeing anybody eat raw meat like I did. I didn't cook red meat. I would eat it raw, preferably cold and those guys would always move away from me when I was eating."
St. Clair's affinity with raw meat started in his childhood when his grandmother would throw slabs of raw meat in his direction.
"She'd be chopping pieces of chicken or meat and she'd throw pieces to me and the dog, and I would fight over it," he said.
St. Clair's raw meat eating legacy lives on still today. As of mid-season of 2008, "The Geek" and his son set up the "Bob St. Clair Tough Tailgater Club."
"On gamedays, I challenge fans to eat a piece of raw steak and if they do it, then I put them on my tough tailgater team and we give them an apron with a picture of me eating raw meat," St. Clair said.
While raw meat eventually spoils, St.Clair's Hall of Fame legacy and 10-Year Wall achievement will last forever in the minds of the 49ers Faithful.