They both play completely different positions on opposite sides of the ball, but Adam Snyder and Dre' Bly have looked impressive at the 49ers training camp as they each battle for starting positions.
Since he was selected in the third round of the 2005 NFL Draft, Adam Snyder has yet to find a permanent home on the offensive line. But throughout the offseason, the versatile 6-6, 325-pound lineman has lined up solely at the starting right tackle position and has played well throughout.
"I think Adam Snyder is doing very well," head coach Mike Singletary said after the first of two Monday practices. "I'm very pleasantly surprised with him. He's making great strides."
Singletary revealed that Snyder is simply doing the things he said he would do if given the opportunity to compete for the starting job at right tackle.
"I told him that once I get the opportunity to learn and focus on one thing that would be where I would play for the next ten years," Snyder revealed. "That's what I expect of myself. Hopefully I get that opportunity."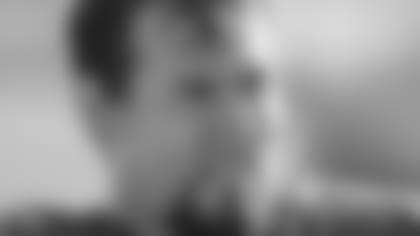 But Snyder isn't consumed by his position battle with free agent addition Marvel Smith. Instead, he's concerned with using it to make himself and the team better."Right now, I'm focusing on becoming a better football player," Snyder said. "The competition is there, it's motivating me and it's pushing me."
While several of Snyder's teammates on the line have been playing together for a couple of years, he remains the only one who has taken snaps at both guard and tackle positions on both sides of the line.
"I'm willing to step into the role of playing multiple positions if that is what I have to do for the team," Snyder said. "Right now getting the opportunity to play one position for the team is huge for me. I think moving around for an offensive lineman is kind of a double-edged sword. You don't get to lock in and focus on what you're doing at one position."
Now that he's been working only at the tackle position, Snyder has been dialed in throughout camp, showing an ability to generate running lanes on the right side of the line as well as protecting the pocket from edge rushers.
"I feel more comfortable at tackle, primarily because that's where I played most of my college career and most of my NFL career's been at tackle," Snyder said. "You're dealing with guys that have size and power when you're inside playing guard. And you've got guys who can run a 4.6 on the edge. So, it's just a different transition. Luckily, I've done it before and I can do it again if I have to."
On the other side of the spectrum, Dre' Bly has also looked sharp at camp as he competes with Tarell Brown for the starting cornerback spot opposite of Nate Clements.
"He's a professional (and) he knows what he has to do," Singletary said of Bly. "He really fits in well with our team. He's been great in the locker room for our guys. "
In his first camp with the 49ers, the veteran ball-hawking defensive back has fit in with his new teammates quite nicely.
"It's going good," Bly said of his time in the Bay Area so far. "There's a lot of stuff that we have in our defense that I've played in different systems."
It's also Bly's first time in a 3-4 defensive scheme. The 11-year veteran is confident he can adapt to the terminology of defensive coordinator Greg Manusky's scheme.
"I've been in this league pretty long and I can adapt pretty fast," Bly said. "It's a lot of stuff thrown at me and I'm moving fine. I'm getting a chance to get out there and participate and make plays."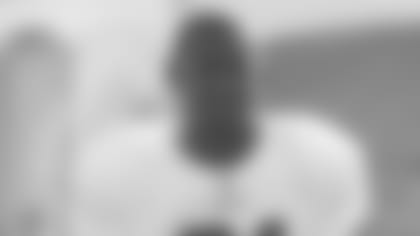 One of those plays occurred when Bly perfectly timed a cornerback blitz that would have allowed him to easily bring down the quarterback had practice been full-contact.
"We're not allowed to touch the guys with the red jerseys (on offense), but it's very important that we try to get our timing," Bly said of his blitz. "We have to show that we could have made the play."
So far at camp, Bly has shown the ability to get into the passing lane and break on passes headed his way. He's also shown that he can fit in with the 49ers veteran cast of defensive backs.
"We have a lot of camaraderie guys have a good time and guys joke," Bly said of the dynamic of the 49ers secondary. "To be here in camp, you have to be able to have fun and laugh around and joke and that's what we do. That helps us get though the day. I think when you have a group like that, when you're doing what we're doing, it makes the season along smoothly. It makes working with guys go along smoothly."
For now, Bly is penciled in at the other starting cornerback position until Brown recovers from a toe injury. But once Brown returns to practice, Bly understands the competition between the two will truly begin.
"There hasn't been much (competition) since he's been hurt. I've been in and got a lot of reps," Bly said. "But he's a guy who's been in this system and whose up and coming. He has a lot of potential and a lot of upside. Hopefully when he gets back he can add to what we have back there. It would makes things smoother and much more fun."
Two fumbles occurred in the early stages of Monday's afternoon practice. Tight end Joe Jon Finley was stripped from behind during 7-on-7 work by Michael Lewis and the ball was recovered by Jeff Ulbrich.
Later, running back Thomas Clayton was stripped on a draw play by Bly and the ball was recovered by Kentwan Balmer.
But the most noticeable turnover happened during the final team session when Alex Smith's pass was batted at the line, then bounced around several times until Marcus Hudson came up with the interception.
Prior to the series, Singletary informed the offense that whoever turned the ball over would take a seat on the man-made training hill adjacent to the practice field. After Smith's interception, he walked over to the hill and took a seat.
"Coach put it out there that the next person who turned the ball over was going to have to sit on the hill. He challenged us with that and unfortunately I had to hold up that end," Smith said after practice.
Although it was an unlucky play that saw the ball bounce around several times, Smith took responsibility for the turnover.
"You can't turn the ball over that's the bottom line. That's the point coach is trying to make and that's the right point," Smith added.
After Smith sat on the hill, several teammates on the offensive line joined him once their series of plays concluded. Once the team period had ended, Smith walked down the hill towards Singletary and the two shook hands and exchanged smiles.
Rookie quarterback Nate Davis took his first snaps with the first team and completed a touchdown pass to Michael Spurlock.