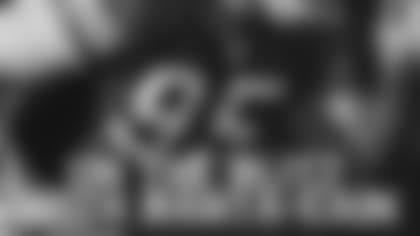 Linebacker Tully Banta-Cain will trade off every other week throughout the 2007 season with quarterback Alex Smith to offer you his review of Sunday's game in his 49ers.com column On the Blitz.**Here are his thoughts from Sunday's loss to the Steelers.
I thought we played well at times, but playing well at times wasn't good enough and won't be good enough as we go forward. We have to play a full four quarter game. We had a lot of opportunities to make plays in key times during the game and we didn't make them. They were a good team, a good offense and when we play good teams like that we have to capitalize on all of our opportunities.
Willie Parker was the first guy to get over a 100-yards on us on the ground. He is a very speedy back, very fast once he gets to the corner and if you don't get him wrapped up and handled at the line of scrimmage or behind the line of scrimmage, he has a good burst to get the extra yards. Even when we were tackling him, he was still falling forward for an extra 2 or 3 yards, which is a credit to him. He's having a good year. We did have opportunities to stop him and to not allow those big runs he was getting. It was a matter of missed tackles at times or a guy being out of place on his assignment, even myself, I was out of position a couple of times and he was able to slip thru and get some extra yards. I think if we would have tightened up, he wouldn't have the day he would have had. We didn't play assignment football, and he was able to take advantage of it.
Hannibal Navies came in for us and got the one turnover with the forced fumble. I think with everyone talking about how big the loss of Manny Lawson was really made Hannibal feel like he was second fiddle, but we trusted him to get the job done. I was actually expecting him to have a big day and make some plays and he did that early in the game which was a good sign that he was ready to play and step in and fill that role that we lost with Manny.
Ben Roethlisberger is a good quarterback. He's known for getting out of the pocket and making plays down the field when the receivers get uncovered. We just flat out didn't make the play when they were presented. Some of that is on us, and some of that is to the fact that he is a big quarterback and you can't expect to take him down like any other 200 pound quarterback. You really have to warp him up and when you do get to him, you have to realize he's not going to go down easy. You've really got to bring some thump and get a tight grip because he will break out of it. We didn't do a good job in that department. We got him down a few times, but we left a lot of sacks out there, especially me.
Heath Miller is a good tight end. He can pretty much do it all. They really base a lot of their offense around him, they normally run to his side and when he's out on a passing route he's one of the main reads for the quarterback. They have Hines Ward and Santonio Holmes and Cedrick Wilson, but he's just as good of a receiver as those guys, as well as a good blocker. He made some big plays on us, in tight coverage situations. It wasn't like he was just wide open, he just made a good catch. There were also other times we'd have pressure and if we didn't get him down, he would be uncovered and Roethlisberger would get the ball to him. So, it was a combination of him being covered and still making the catch, and then other times not being covered as tight when we should have had the quarterback down and we made the job harder on guys covering him. He definitely made some good plays on us.
The one gadget play they tried with Wilson, that was a very big play by Nate Clements because everybody else had kind of ran to that side of the field on the reverse because you aren't planning on him to cut it all the way back and when he did, a lot of guys were out of position. Nate shot threw like a bullet and made the play and had he not, Wilson would still be running right now. That was a huge play because it prevented an explosive. Nate has been working real hard on getting his weight down so he's always on the treadmill and getting in tip top shape, and that right there was a testament to his hard work.
The touchdown run at the end of the game, that play was on me. They ran a fake reverse run, so you either play the reverse or the cutback and it was my assignment to play the cutback and I was over-thinking it and I was in the middle of both the run and the reverse and he was able to cut it back inside of me. He was able to go ahead and take that thing to the house. When we get to the fourth quarter and the game is maybe out of reach, we still have to play good defense and not allow big plays like that to really let the game get to where it's really out of hand. At that point, if we had gotten the ball back, we could have potentially scored, maybe got an on-side kick with a few seconds left, so you never know. You can't allow that and I'm disappointed about that so I owe the team 39 yards and a touchdown.
A lot of what the offense does reflects on what we do because it's a field position game and when they came out and drove the field to start the game, it let us know they came to win and they came to play. As the game went on, there were some tough calls that kind of put an end to some drives that could have kept us in the game. I thought they played better, but they are not playing their best football. I think they know that, and they have all the tools to get it done. The same goes for all of us. I think we haven't put our best game together. We are 2-1 but we are not playing our best football. It was a good game to learn from and I think after watching the film everyone saw we left a lot of big plays out on the field and we have to really use that game to make us play better this week and the following weeks.
It's an emotional game and everyone wants to win. That was a game where we really wanted to make a statement and show that we could play amongst one of the better teams in the league and we didn't get it done. Guys were upset about it, but at the same time the way I see it, it's still early in the season. It's not a good thing to lose, but you can take a positive out of everything, even the loss. I think it's a wake up call for everybody that we really have to play our best football if we want to win every week. You lose and it gets everybody focused back on what we want to do. I hate to talk about New England but same situation came up my second year there. We were 2-0 and went to Pittsburgh and got blown out. Ours on Sunday wasn't a blow out, but it was a pretty convincing loss. It was the same situation but worse when I was in New England, and we ended up regrouping and coming back and winning the division and going all the way to the Super Bowl. We actually played Pittsburgh in the AFC Championship game and killed them. I really believe that had it not been for that loss to get everyone alert and awake that we really had to tighten things up, we wouldn't have had the season we had. You can't win them all, but you want to win as many as you can and when you lose you've got to learn from it, and that's what we have to do. I look for that game to light a fire in all of us for the rest of the season.