The Washington Redskins defense represents one of the more stingy units when it comes to scoring prevention in the NFL, surrendering only 17.9 points on average, good for a fourth overall league ranking.
But the 49ers defense expects to be the Grinch who stole Christmas this Sunday when they close out the season at Candlestick Park.
"They have a great defense and when you are coming in playing a team of that caliber, you want to outperform that team," said cornerback Walt Harris. "It's definitely going to be a lot of pride going into this last game. I'm sure they are going to be up for it, and we will be as well. We just want to play a whole lot better than their defense plays."
San Francisco ranks 21st in the NFL with a season-long average of 23.8 points surrendered, but in the last month of play they've allowed less than an average 12 points a game.
"On defense, the main thing, more than yards or rushing attempts, sacks or anything – it's keeping the scoring down," said defensive end Justin Smith. "The last few weeks we've been pretty effective with that and this week is going to be no different. We're going to have to make sure they don't put points on the board in order for us to win, because they have a heck of a defense as well."
In the last eight trips inside the 20 by an opponent, the 49ers have allowed only three touchdowns and two field goals, boosting their red zone defensive standings to a 7th overall league ranking.
"Greg Manusky, our defensive coordinator comes in and says to us, 'I don't care where they get the ball, even if it's in the red zone, hold them to three points or less.' And that's what we try to take on, 'three points or less,'" said safety Michael Lewis. "If we can get a turnover, that's great. But we try to eliminate any touchdowns or anything like that. We just want to hold them to three points."
On paper this weekend's matchup appears favorable for the 49ers doing exactly that, considering the Redskins recent offensive scoring struggles. The unit hasn't mustered more than 13 points a single game in their four previous contests.
But games aren't won on paper, and the 49ers will have to defend their home turf come Sunday, and that starts with keeping Pro Bowl running back Clinton Portis under wraps, who is by far their most productive player. Portis' 1,407 rushing yards are good for third in the NFL, while his 1,625 total yards from scrimmage rank him second in the league.
"It all starts with him and I think with any good team, anytime you can rely on that running attack, the defense really has to worry about that and it opens up other stuff," said Smith. "For them, that's definitely the case. They want get the ball in his hands."
Portis is also the most likely candidate to score. He leads the team with eight touchdowns, having ended a seven-week scoring drought with the Redskins only touchdown last week against the Eagles. In addition to his rushing scores, Portis has also caught three touchdown passes.
"I think Clinton does an exceptional job running the ball, as well as being a buy out for the quarterback," said Harris. "Whenever there's a passing situation and no one is open, he checks the ball down to him."
But he's not their only scoring threat.
Wide receiver Santana Moss also has six touchdowns on the season and is capable of getting behind a defense on any given play. His ability to stretch the defense is a concern for the 49ers as explosive plays are something that they've been susceptible to this year.
"Santana is a playmaker, he's very explosive and sometimes more dangerous when the ball is in his hands," said Harris. "He can turn a five yard play into a touchdown if you are not sound as a defense. He definitely will be a guy we'll have our eyes on and make sure we keep those big plays to a minimum. "
From spending two seasons with the Redskins, Harris also knows what to expect first-hand from Pro Bowl tight end Chris Cooley, who has been the recipient of the most catches on the team with 77, for the second most receiving yards on the team with 792.
"Cooley does a great job at the top of his routes getting open. Just watching him when I was there, there's nothing flashy about him but he just picks up that yardage and catches the ball well. He's an intricate part of the offense and a guy who Jason Campbell relies on in tough situations."
While Cooley helps his team move up and down the field, he's only reached the end zone once on the year.
If the 49ers have their way, once will have to suffice.
"The end zone is your home," explained linebacker Joe Staley. "You don't ever want anybody to just open your door and walk right in, let alone have it locked and they just beat it down. It's a matter of just saying, 'this is our end zone and we don't want you to get in.'"
Parys Proving Pass Rush

The Redskins offensive unit has surrendered 37 sacks on the year, including a season-high 7 sacks in early November against the Steelers.
Those numbers should look appealing to outside linebacker Parys Haralson, who needs just two sacks to get into the double digits for the first time in his young NFL career.
But Haralson insists he's worried more about his team responsibilities versus his personal achievements.
"I go in and just play our defense. I don't go in thinking this or that. After the season you just go back and see if you reached your goals. The main goal is going and getting the wins. Whatever is called, I play it. I play within the defense and if a play comes your way – you make it."
Still, getting after Redskins quarterback Jason Campbell will be a major factor in Sunday's outcome. Campbell seldom turns the ball over, having thrown only six interceptions on the year after starting off with 271 straight passes without one.
"We have to get some pressure on him and get him to move around a little bit to take the timing off some of their passes," said Haralson. "He started off the season really strong and we have to do what we can to not let him get back to that."
And whether he's talking about it or not, Haralson has enjoyed a solid season when it comes to rushing the passer. His eight sacks tie him for the second most among NFC linebackers.
Only Cowboys DeMarcus Ware has more sacks with 20 on the year.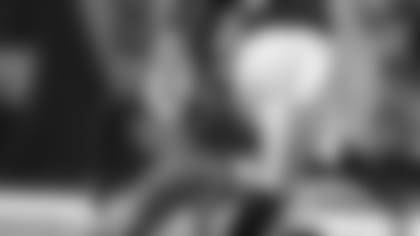 Cornerback Walt Harris would rather be playing still in January, but a chance to close out the season against his former team isn't bad either.
Prior to joining the season in 2006, Harris spent two seasons playing for the Redskins.
"I think it'll be fun. I've had that experience before, going back to Chicago after being in Chicago," said Harris. "I think it will just be good being out there and seeing the guys again. I have a lot of friends there, guys who I played with and it'll be good to be out there, especially the last game of the year to see those guys again. They are way out on the east coast, I'm on the west coast and you don't get much chance to play against them or talk with them."
Two of the guys he most often keeps in touch with are cornerback Shawn Springs and defensive end Phillip Daniels, who is currently on injured reserve.
In fact, Harris' friendship with Springs is one of the reasons he's been such a consistent performer since joining the 49ers.
During their playing time together, Springs convinced Harris to head to Arizona for the off-season and work with his trainer. Worried that a bothersome knee injury might be career ending, Harris decided to give it a shot and since then has changed up everything from his on-field training to his diet to the overall maintenance of his body.
"He got me out there in Arizona and helped turn some of my issues around."
Injury Front

The 49ers look to be in solid shape for Sunday's game with all of the players on the injury report being listed as probable, including running back Frank Gore.
"He's looking good," said Mike Singletary of Gore. "I mean, he did a nice job today, and when he carried the ball, he ran well. He cut well. So, it was nice to see."
Gore needs only 22 yards to reach a 1,000, but Singletary said that goal isn't going to make or break the decision for his running back to play on Sunday.
"I think the bottom line is he needs to talk to me and let me know how he feels because I want him to be fair to himself. I don't want him to re-injure anything trying to get 1,000 yards. When he's healthy, he'll get more than his share of yards. I just want him to be smart about it, but he looked good today. Obviously, I'd be very happy."
Safety Mark Roman did not practice due to a knee injury, but it was more for precautionary reasons only. He is expected to play on Sunday.
Tackle Adam Snyder is probable for the game, but he probably won't start. With Snyder still coming back from an ankle injury, Singletary expects to leave Barry Sims in place as the starting right tackle.
Although Ahmad Brooks is also probable for the game, it doesn't look like the linebacker will get to play this year after all.
"Probably not, the back is still sore," admitted Singletary. "It just wasn't meant to be. It seems like for the last four weeks every time I had a shot at it, something came up. So, it's just one of those things that probably tells me that he needs the offseason to really get ready."