At the 49ers league approved Local Pro Day on Friday, 30-plus draft eligible prospects auditioned in front of the 49ers scouting department and members of the coaching staff.
Players who either grew up in the Bay Area or attended local colleges were eligible to take place in the workout.
"It's a great opportunity to be able to showcase your talent and let them see what you can do," said running back Yonus Davis, a San Jose State and Skyline High School product. "I appreciate them giving me the opportunity to come out here."
Davis was among the group of participants at the Pro Day, which featured players from several well-known football programs like California, Stanford, USC, UCLA, Oregon, Hawaii and Kansas.
For the 49ers scouting department, the workout served as one last opportunity to spend time with players they might draft or sign as undrafted free agents.
"We've been evaluating these guys for 12 months now, so this is our last opportunity to see these guys, see what they're about, see them move and really it's our last chance to see them in person," 49ers personnel assistant Kyle Strongin said after the workout.
With each area scout designated a portion of the country to evaluate players, the 49ers Local Pro Day allowed the entire staff to view the local talent in person.
"Our only scout who has seen the majority of them is our West Coast scout, so it's an opportunity for our other scouts in other parts of the country to come in and spend some time with them," Strongin explained.
After arriving at the 49ers team facility, the local players went through testing on the practice field just like the NFL Scouting Combine and their school's Pro Day. The tests included height and weight measurements, the 40-yard dash, three-cone drill, short shuttle drill and positional drills.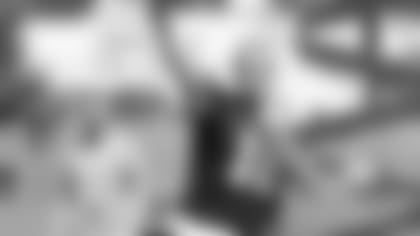 "I felt like everyone came out here and competed well and we had a good afternoon," Cal quarterback Nate Longshore said. "You just try to put your best foot forward all the time out here. You have to stay on top of your training and be ready to compete and show what you're capable of."
In addition to catching up with his college teammates, Longshore took comfort in being able to work with some of his receiving targets during the passing drills.
"It's always fun to see everybody and see what they're up to," he said. "It was good to have familiarity with some of the receivers too."
As important as the Local Pro Day was for the prospects to leave a good impression on the 49ers scouting department, the talent evaluators will use all of their gathered information to factor in on their decisions when making selections and signing undrafted free agents.
"When Draft day comes around we accumulate the body of work we have for these guys," Strongin said. "Some of the guys went to the Combine, so we were able to see them there, interview them there, which was nice. But I think there are going to be quite a few guys here at our Local Pro Day who will get drafted.
"If you look at the history of the 49ers Local Pro Day, guys always get drafted and play many years in the league."
That's news to ears of some of the draft hopefuls. Many of them hope to hear their name called Draft weekend and can't wait to find out where they're going to spend the beginning of their professional football career.
"It's real stressful, not knowing where you're going to be," Davis said. "But I'm praying and hoping that I get an opportunity to come to a team, be picked up and showcase what I can to. Hopefully I'll make the team and be able to play in September. That's my whole goal at this point."