INDIANAPOLIS – When it comes to this year's top NFL prospects coming out of Bay Area football programs, the buck doesn't just stop at Cal running back Jahvid Best and Stanford running back Toby Gerhart.
Besides the two headline grabbers, there's a host of other local talent being represented at the 2010 NFL Scouting Combine. But there's no question that much of the nation's awareness of Northern California college football in 2009 mostly involved the exploits of Best and Gerhart.
Best rushed for 861 yards and scored 12 touchdowns in his junior year at Berkeley, but might not have been the best back around. Best's final season of college football might forever be remembered for a scary fall around the goal line against Oregon State that ended his season in early November because of a serious concussion sustained on the play.
"It could have wound up being a lot worse than it was," Best said. "Thank God I'm able to bounce right back, and I'm healthy now."
A healthy Best in 2008 (1,580 yards and 15 touchdowns) was almost as productive as Gerhart's impressive 2009 campaign that saw the bruising Stanford runner finish second in the Heisman Trophy voting. Somehow posting an amazing stat line of 343 carries, 1,871 yards and an NCAA-best 27 touchdowns wasn't good enough to earn hardware.
But that won't slow down Gerhart's vision for his future. Even if some might think he's suited for fullback, the 2009 Doak Walker Award winner as the nation's top runner disagrees.
"I see myself as a running back at the next level. If that's what's asked of me, I'll do it. But I firmly believe that I have the skill-set to play running back in the National Football League."
Gerhart's production in 2009 just goes to show the increasing development of Bay Area college football programs on a national level.
"I think it's awesome for the Bay Area. It gives something for people to look forward to," Gerhart said of the attention he and Best are receiving. "With Jahvid and a few guys from San Jose State here, it's exciting and it's nice when we see each other walking around the hotel, we're telling stories and we're just having fun together."
Gerhart's opinions were backed up by Best's teammate at Cal, wide receiver Verran Tucker.
"There are a lot of great players coming out [of the Bay Area]," said the 6-1, 204-pound wideout who caught 29 passes for 453 yards in 2009. "I feel like sometimes we're kind of overlooked a little bit, especially guys who don't perform at a high level, guys who play their part like me. So I think this opportunity to be here and to be around great guys who performed for a lot of great schools is a blessing."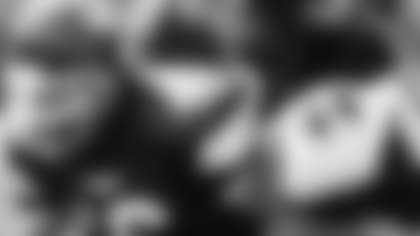 Another teammate of Best that might be overlooked nationally is defensive lineman Tyson Alualu. But rest assure, pro scouts know all about him.
The 6-3, 295-pound versatile lineman might not have earned national praise, but those who know him have all the respect in the world for him.
"Tyson's a loyal guy and he's a leader," Tucker said. "I don't think it's asking a lot to have Tyson lead by example, because that's naturally what he does. He's a great man."
Alualu might be even more attractive to NFL teams because of his familiarity with the 3-4 defense. As a lineman who played nose tackle on pass rushing downs and defensive end on base downs, Alualu was fortunate to play for one of the few Division-1 teams to implement that scheme.
"I think it's definitely a great advantage for me. [My] Coaches put me in the right position to succeed on the field, whatever scheme we were playing [they were] putting me in the right position. The film will speak for itself, the way I play and the way the coaches set up our defense."
Another attractive aspect of Alualu is the fact that he's a family man, married with two children.
"I'm blessed with two blessings, wonderful kids and a wonderful wife. I definitely have a lot of motivation for myself."
Like Alualu and every other NFL hopeful, UC-Davis wide receiver Chris Carter is itching to compete this weekend at the Combine.
Unfortunately, for the Great West Conference Offensive Player of the Year, he's recovering from offseason knee surgery which will cost him the chance to work out in Indianapolis and at his pro day back at Davis.
"I originally tore my PCL in my sophomore season in 2007, and about halfway through the season, my knee started to really bother me," Carter explained. "I wasn't able to practice and I finished the season without practicing in the last couple of weeks. I was just playing in the games. I went and got it checked out and they did a reconstruction of the PCL and fixed the cartilage problem."
Despite the setback it might have on his draft status, Carter is pleased have had the surgery.
"It's something I had to fix for my career and I'm glad I got it out of the way."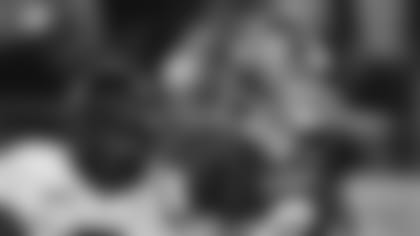 Like Carter, San Jose State wideout Kevin Jurovich is also missing out on performing in the Combine due to a turf toe injury. Nonetheless, the 6-0, 190-pound slot receiver has still enjoyed the Combine process even if he can't fully compete.
"It's been a unique experience, long days and a lot of doctors yesterday, took care of a lot of things like that."
While being checked out by doctors, Jurovich even learned something new.
"I learned about bone scanning. I got one of those yesterday, every team is taking everything precautionary and kind of going over your whole medical history. They're just checking to make sure everything is ok and there's no loose ends and that I'm ready to go."
Jurovich said on average he's been sleeping five hours per night while in town for the Combine, because of the long days and numerous interviews with various pro teams. But that hasn't stopped him from finding a small window of time to share his Combine experiences with loved ones.
"[With] the mom and dad, I have to tell them everything that's going on and my good friends from school. I try to keep it brief, but I know they love me and they want to know what's going on and everything I'm going through."
And while the nation might not be familiar with the exploits of players like Tucker, Alualu, Carter and Jurovich, it's more than likely that Bay Area football fans do.
If they have their way, someday the nation will too.