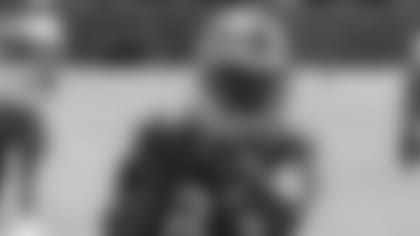 WR Arnaz Battle catches a touchdown pass in Monday's practice.
49ers wide receiver Isaac Bruce missed Monday's OTA session, but the team still had plenty of bodies at wideout with the arrival of receiver Arnaz Battle.
Battle missed the first week of voluntary practices due to personal reasons.
"I was in Dallas training and taking care of some business that I had," said Battle. "There was some lack of communication and that's behind us. I'm here now, and looking for opportunity to have a role in this offense."
Battle said he contacted head coach Mike Nolan midweek to explain his absence.
"My plan was to come in," said Battle. "Kind of a big deal was made out of it and I felt it shouldn't. It was just one week. I'm here now. I'm practicing. I'm healthy. I'm here with my teammates working out and learning the offense and trying to get better."
Battle's absence led to media speculation that the veteran receiver was unhappy about his role on offense after the off-season pickups of Bryant Johnson and Bruce.
Battle indicated otherwise on Monday, saying, "Every year since I've been here they've brought someone in to take a role in this offense as a receiver. I don't look it as any different than the past. It's just an opportunity for me to do what I do and play a role in this offense."
Monday's session was closed to the media, but Battle said that Ashley Lelie started at flanker while he worked at Z and then also some at flanker.
"I just worked my way into the offense and tried to get back to a comfort level," said Battle.
Although Battle admitted he might not have as many reps as some of the other guys in this new Martz offense, the veteran receiver doesn't feel he'll have a problem catching up.
"I played quarterback and I feel I have the intelligence to come in and learn the position and be able to get out there and make plays and make things happen," said Battle. "Definitely, you miss some time, you are going to be a little behind but if I'm given the opportunity, I can make up for that ground, and there's a lot of time left."
While Battle plans to be part of all remaining 7 sessions, Bruce is not expected to take part in the final two weeks of OTAs, an agreement between the 15th-year veteran and Nolan.