In the hit movie Shrek, the audience is re-introduced to all of its favorite fairy tale characters and by movie's end the crowd is reminded that happy endings do exist, even for the not so perfect ogres like Shrek and Princess Fiona.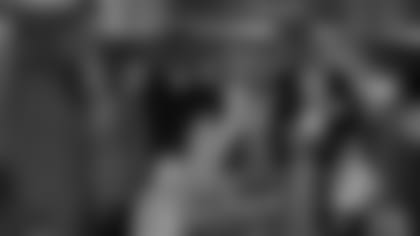 Selecting the musical version of Shrek as their latest Night at the Theatre fund raiser, held in Seattle on the eve of the 49ers road game against the Seahawks, seemed a most fitting theme for former 49ers Harris Barton and Ronnie Lott, as the pair are hoping to give happy endings to those affected by brain tumors.
Through their foundation, Champion Charities, they plan to raise $10 million by 2010 to support brain tumor research and treatment programs at the University of California's San Francisco Medical Center.
"It is like playing with a great team," said Lott of the foundation. "You want to be a part of it, you want to be associated with it, and better yet, you know 20 years from now you are going to look back and say we did some great things."
Brain tumor research is a cause very near and dear to Barton's heart, having lost both of his parents to brain cancer.
"In 1994 my father passed away from brain cancer. It was diagnosed when I was in a senior in high school," said Barton. "He lived 13 years with it and in 1994 before the 49ers won their fifth Super Bowl my dad died. We got our lives back together and I met a wonderful woman, and we had our first child in 2003. Then, I got a phone call from my brother who said, 'Harris, you have to come home. Mom also has brain cancer.' I went home to Atlanta, Georgia. My mom had what Ted Kennedy has. She died a year later, in 2004, almost ten years to date that my father had passed. Ronnie came to the funeral and said, 'Hey, we've got to do something.' So we set up a foundation."
In less than five years, Champion Charities has already done great things with almost five million dollars raised through their unique fund-raising concept, an idea that came to Barton when he thought about what his parents enjoyed doing in their lives.
"My parents were big lovers of the theatres, and so I thought hey what a great way to get kids involved, get them to the theatre, raise money, and offer something where everybody can have a great time," said Barton.
Kids especially seemed to be enjoying themselves at the recent *Shrek *musical in Seattle, particularly at the swamp decorated reception which featured a host of Shrek characters for them to interact with, as well as a few sports celebrities to meet.
Barton and Lott teamed up with former NBA players Detlef Schrempf and Wally Walker, former MLB player Dave Henderson, and Hall of Fame quarterback Warren Moon as co-hosts of the Seattle production. The group signed autographs, posed for pictures, and mingled with the guests.
Team owners John and Jed York joined former 49ers players Kevin Gogan, Guy McIntyre and Keena Turner at the event to also lend their support to Champion Charities.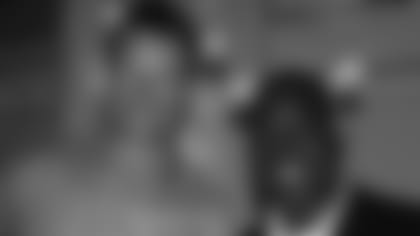 "I think what Harris and Ronnie have done is tremendous and any time I can help them out, I'm more than happy to do so," said McIntyre, who even donned a pair of Shrek ears during the party. "The kids are running around wearing their ogre ears and tiaras, playing pin the tail on the Donkey, and just having a wonderful time. It's a great way for Harris to honor his parents, and a great way to raise dollars to wage a fight against brain tumors."
In addition to supporting brain tumor research, Champion Charities mission is to help support families and children in need, which is why part of the proceeds from the Shrek musical were donated to Treehouse. Since 1988, the Seattle based foundation that helps to fill the gaps for kids in foster care, providing services that no other agency addresses: money for extra-curricular activities and summer camp, professional educational support services, resources to fully participate in the everyday activities of growing up, clothing and supplies to help them fit in at school.
Prior to the Shrek musical, Champion Charities has previously hosted The Lion King, Wicked, The Color Purple, and Jersey Boys in San Francisco as well as Jersey Boys in Chicago.
On the horizon will be Dirty Dancing in Chicago on October 4 and another showing of Shrek in New York City on November 20, events that should help Champion Charities create future fairytale endings for families like Barton's, who have been so deeply devastated by brain tumors.