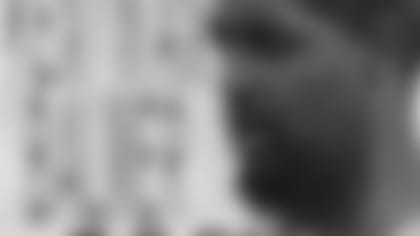 Rookie Kentwan Balmer continues with his Rookie Diary, sharing with fans his thoughts on the 49ers last two games, buying fried chicken for the veterans and his favorite Christmas memories. **In my last blog I left off before we played Brett Favre and the New York Jets, a game we won 24-14.
I had a great time in that game going against their great offensive line that has guys like D'Brickashaw Ferguson and Alan Faneca.
And being on the field with one of the best quarterbacks of all-time was fun too. Like I mentioned last time, I really respect him and enjoy the way he plays the game.
I think he's the type of guy who lets his play do the talking for him. We were getting pressure on him and he kind of winked at us a couple of times, and you could tell he has the heart of a warrior.
It felt good to beat a playoff team like the Jets, but it was frustrating last week to lose a close game to the Dolphins.
But like Coach Singletary keeps telling us, we have to keep playing. But Miami was definitely a disappointment, because we all felt like we should have won that game.
I can't forget to mention the hotel we stayed at down in Miami. It was extravagant. It was a five-star hotel with a beautiful view of the beach. It was a vacation spot I'd like to take my future wife to someday.
At this point in the season, it's really been mentally taxing on me. This has probably been the most mentally fatiguing year of my life. They don't lie about that, when they warn you at the NFL Rookie Symposium. But luckily for me, I'm surrounded by a bunch of great veterans. They look after me and it's been a blessing having them there for me, and I'm getting through it.
I can't really say that my body has gone through "the rookie wall." Aches and pains come and go. But I don't think I ever really hit the wall. I have good veterans who are always pumped up, guys who are focused and who take their jobs very seriously. I can't come in and kill the mood of the guys or be the guy that has everybody else moping.
One thing that I do to lift the spirits of our vets is buy them food before we travel for road games. The guys make me buy Popeye's fried chicken on Fridays when we get on the plane for road trips. It's part of the game and part of being a rookie. At one point, everyone has gone through it and it's just my time.
This Friday is the last time I'll have to do it and I kind of have mixed emotions about it. I enjoyed doing it because it was my time, but you know what they say – times change.
Usually I just have it delivered here and pay for it, but one time when I went to go pick it up personally, I was so scared that I wasn't going to make it back to the facility in time to make the bus to the airport. I was so nervous that I was going to be late that I forgot some of my stuff that I wanted to take on the trip. I had the chicken, but I forgot some of my own stuff.
Two of our vets on defense, Justin Smith and Takeo Spikes, have really been great leaders for our defense. They are both high energy guys and they let their play do a lot of talking. I see them on Sundays and in practice busting their tails the same way. They give it their all every play, so if they say something to the rest of the guys, you have to take it to the heart. I think they were very deserving of the team awards that they won this week.
I was also really happy to hear that Joe Staley was named to the Pro Bowl again. I told him that's my goal going into the offseason. And Pat told me how he prepared for his second season and I told him that I wanted to do those same things that worked for him.
Before the seasons over, I'm planning on doing something with the rest of the defensive line guys. We're trying to set something in stone so we can get together and enjoy each other's company.
I enjoyed being around some of my boys from back home who are visiting on my day off this week. We went to a go-kart place and I had to show them all how to drive. They have bigger go-karts too, so I was able to fit with no problem and it was a fun time.
Since I won't be home for December 25th, my family has decided to hold the holiday until I get home so we can exchange gifts then.
As a kid, my family didn't have the money to buy us the best things. But we always had each other and that's what Christmas is really all about. Being together is what makes Christmas special in my mind. Of course, we always ate a big meal and that was the best time in my opinion. It's not about who got the best gifts.
However, I think I got some pretty good gifts growing up. It's hard to say which one was best. My mama did a good job with that. I can remember my mom just watching us opening up our gifts and running around playing with all our toys. We don't have too many traditions in our family, although on my dad's side of the family, they have their own eggnog recipe, so I'll be looking forward to having some of that.
This week when we play the Rams in St. Louis, I'm expecting a loud, hostile environment. They have some of the best fans from their "Greatest Show on Turf" days. We know we have to come in and play on all-cylinders if we want to win the game and we're looking forward to the challenge.
We know we let one get away last week but we have to keep going and get ready for St. Louis. We know those guys aren't going to lie down and let us win the game.