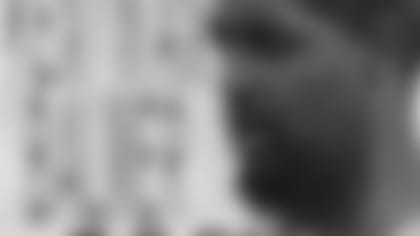 Rookie Kentwan Balmer will continue this off-season with his Rookie Diary, sharing with fans what it's like to have an off-season. In this entry, Balmer sums up his NFL rookie season, and some of his best and worst memories. **It's hard to believe that my rookie season in the NFL is over. I did an Up Close interview on the Monday after the season ended and they asked me what it is I know now that I wish I knew back when I first came in, and man, there's a lot. I wish I knew the discipline it took to be a professional as far as dieting and resting. I thought I had an idea in college, but it isn't anything like that at this level.
I would be lying if I said I didn't feel any pressure of being a first-round pick, but I got that out of my mind early. so that wasn't a big factor. That's just hype, the slot I was drafted. I know the player I am and I know the player I want to be, so I'm going to work to get there. The guys around me understand that. I understand it, so it was just a whole lot of hoopla. I don't even think about it anymore. I just want to be the best player I can be for the 49ers.
I'd say the worst part of my rookie season was riding the pine. Boy, that's tough. But me and my coach, we talked a lot and I understand where he was coming from and that I had to learn some things first.
I did get to play a lot of special teams, and that took me back to high school. I was hungry for it, because I wanted to get out there and do something. Fielding kickoffs was fun. It was a learning experience. I got a kickoff return on Monday Night Football, that's one thing that stands out about my rookie year, but there were many. Talking to Randy Moss, that was another moment I'll remember. Getting to see Jason Taylor play, I watched him a lot over the years. But, the list goes on. Playing against Walter Jones, getting to see Jon Runyan up close and personal, got a little bit of him and then Orlando Pace, I got a little bit of him. It's been a full year for me. There's been a lot of good things that happened. I did some things I never thought I would do. I thought a lot of those guys would be retired, especially Brett Favre. It was a year well-spent, but I, and we as a team, have to build on it.
Defensively, I would say right after the Giants game it slowed down for me. I played 50 snaps that game, I was out there a lot, and I really got a chance to feel the intensity of it and the details. I was out there enough to feel the game and get an understanding. My eyes slowed down and I think my physicality sped up. That was a good thing.
It's been a good year. It didn't turn out the way I wanted to, but I think a lot was learned in all phases of the game.
Coach always talks about being one. And I think we became one, especially on defense at the end of the year. We trusted each other, no matter who was on the field or what play was called, we knew somebody was going to make a play. I think that really helped us out a lot.
I'm excited, real excited about Singletary as our head coach. I said this in a lot of interviews, "Mean" Joe Greene was my favorite player growing up, but being around Singletary, I think he's going to be my favorite coach. Just being around him, I've become a better person and a better player. I'm looking forward to having him and what he's building.
Even though it cost me a lot, one of my favorite nights of the year was when we went out as a defensive line for dinner. The food was good, expensive, but good. We had a good time, just laughing and joking and kicking it, so I wasn't really tripping about having to foot the bill.
One plus about my rookie year being over is that I no longer have to worry about getting Popeye's before we took off for our road games. The guys look forward to the chicken and when their order gets messed up they're like, "Ohhh." Those days used to be chaotic, but they were funny to me. I kind of enjoyed it, but I'm glad it's over. I don't have to run around like a chicken with my head cut off. I remember one day the wide receivers stuff and the d-line stuff got mixed up, and me and Josh Morgan were in there fighting over it. It was just chaotic, but we had some funny times too. I'm going to miss that, but it's no longer my responsibility – I'm done.
As much as I love these guys, I'm glad that we get some time apart and it's not the ending, just the beginning so I'll see them all in a few months.
I don't really have too much planned this off-season. Last Thursday I headed back to Weldon, North Carolina and have been hanging with my family and relaxing.
I'm going to head to Chapel Hill on Wednesday and get a few days of work in with my old strength coach. He is a real good guy, and was always like a father figure for me when I was at school. They start their official workouts next Monday but I'm going to get some one on one time in first, and then I'll probably continue working out there until mid-February.
I just want to become the best football player I can be. That's my main objective. I've never been big on talk. I let my play do the talking for me, so when I come back, I think everyone will see the difference in me as a player.
I've watched a little bit of the playoffs, but it's not fun to watch other NFL teams play when you aren't.
It's been real strange not having to go into work. I don't know what to do with all of this dang time. I work out, get home, play some video games, and find myself with nothing to do. It's been rough. I had no idea it would be like this, but hopefully being back in Chapel Hill will keep me busy.