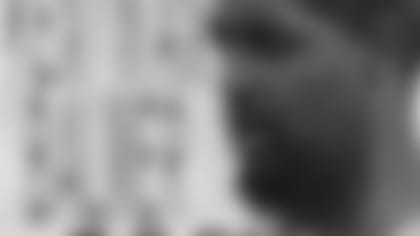 Rookie Kentwan Balmer continues with his Rookie Diary, sharing with fans what the plane ride home from Buffalo was like, his thoughts on Brett Favre and what's on his shopping list. **
It was tough not being home with my family for Thanksgiving, but some of my boys on the defensive line came through my spot to kick it for Thanksgiving, which made it a nice holiday.
Everybody brought stuff, so we had a combination of things to eat. We had some catered food and Atiyyah Ellison's wife cooked too. We had a real good time and it was fun to hang out with everyone.
We all took turns getting on the sticks and playing my Nintendo Wii. The game of choice was Mario Olympics, and of course I was the best. I beat Ray McDonald and Aubrayo Franklin, and I'm pretty sure just about everybody else.
In between the video games and eating, we made sure to watch some football. But Thanksgiving is really a time to just be with your family, and even though I wasn't with my immediate family, these guys out here have become like a second family to me.
It was tough especially to be without mom's cooking on Thanksgiving, because there isn't anything like my mama's cooking, especially on Thanksgiving. It's hard to say which dish I was really missing from back home, because they're all so good, but our family drink was definitely one of them. It's lime flavored Kool-Aid, mixed with pineapple juice and sugar. We call it "Lime," and it was tough to have Thanksgiving without it. That's definitely the Balmer family drink. We go through about, honestly, five gallons of it on Thanksgiving.
Since I wasn't with them, I made sure I called my family, so I could speak to them. I think they were more worried about me and what I was doing without them. I think it was the first time I've been gone on Thanksgiving. I've been gone during Christmas, but never missed Thanksgiving. It was different for them and different for me too, but its part of life for me now. Things have changed for me, but I was happy to spend time with my teammates.
After experiencing my first Thanksgiving on the West Coast, we were able to pick up a big W on the other side of the country against the Buffalo Bills last week.
I think that it was great to be the first West Coast team to win on the East Coast, but mostly, it was just big that we were able to get a win period last week in Buffalo. It felt like a big morale boost for our entire organization, and we've been waiting for a road win like that.
We went into somebody else's home field and won the game under the worst conditions we've played in all year. It was raining, it was cold and everything was wet. But even through all the adversity, we overcame it all and played great in all three phases of the game, offense, defense and special teams. I think it was big for us as a team heading into the last four games of the season.
As far as my own performance, I was happy to get in the backfield and deflect one of Trent Edwards' passes in the first half. It felt good to make that play, because it's been a frustrating year for me on the field. I feel like I haven't played as well as I should, and so it felt good to get out there and make a contribution in our road win. Hopefully, they'll be a lot more to come in these next couple of weeks.
The Bills did have a pretty big offensive line, I think it's the biggest in the NFL, but I'm getting to the point where I've seen enough big offensive line guys. It doesn't matter how big they are to me. I have to come out with great technique and execute my assignments. I can't worry about what offensive lineman I'm going against, or how big he is.
The flight home was pretty sweet since we were all excited over the victory. It was such a long flight, so I was able to do a combination of things. I took about an hour nap, got up and talked to some of the older guys and then I watched a little bit of Next Friday on the plane. It was a good ride back, as it always is when you get a W.
On my off-day, I woke up pretty early, came in and watched the film of the Bills game. I worked out after that and then did some boxing. Then I went home to just chill out. I like to get my work done early, so I can go home and relax, and that's become my Tuesday routine.
This week, we have another tough matchup against the New York Jets and their future Hall of Fame quarterback Brett Favre. The fact that I'm playing against him and trying to sack him, I don't really know what it's going to be like. If I get the chance, I'm definitely going to sack him. But while I'm sacking him, I might just sneak in a, "Can I get your autograph after the game?"
I grew up watching Favre play and I remember the Super Bowl he won with Reggie White, and he was running around with his helmet off after he threw a touchdown pass. I watched his career as a young buck growing up and now I get a chance to play against him. That says a lot about the type of player that he is.
The biggest thing I respect about Brett Favre is his toughness and his leadership. I feel like he's a model player. He exemplifies what it takes to be a great player, and at the end of the day, he still has fun with it. To me, that's what makes him one of my favorite players.
If we want to beat Favre, we have to come out and execute. They have a great offensive line and a great running back, with probably the greatest quarterback of all time, not to mention that they have a solid defense and a good special teams unit. So, it's going to be a good challenge for us. I think we really have to come out and execute in all three phases of the game and then we'll see what happens.
One thing that has been on my mind is that I think I need a new car. I think I want a '95 Chevrolet Impala, so if anyone reading this has one for sale, holler at me!