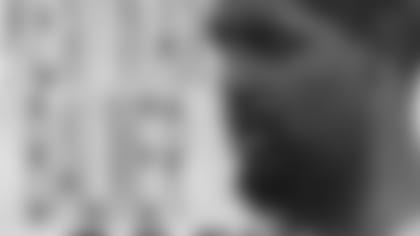 Rookie Kentwan Balmer checks in again after playing in his first ever NFL game. Catch up with the 49ers first-round draft pick in his latest Rookie Camp Diary...**
The first preseason game against the Raiders was exciting. It was the first time I put the uniform on, and the first time I'd been in a hostile NFL environment. When we were warming up, the fans were definitely heckling us – telling me I sucked and that Justin Smith should have gone to the Raiders. Most of the stuff, I can't repeat. But they were having a good time and being good fans to their team.
It was my first NFL game ever last week – and not just playing. I played in an NFL stadium one time – at the Buccaneers stadium but the first NFL game I actually saw live was also the first game I played in. That was kind of a neat feeling.
The game is so much faster at this level. I'm one person who appreciates preseason because there is a lot you need to learn.
It was still the first quarter when I got in there. I wasn't nervous because the older guys kept talking to me and keeping me level headed. I got some butterflies when I first ran out there, but it was mostly just a tremendous feeling. It was sort of like a reality check – you know – a "hey you are in the NFL now." I don't know if I had grasped how big it was until I got out there and got into the action.
I can't remember the first play, but I do remember the second play. It was a stretch play and I got reached, but I was able to come underneath and make a tackle so Coach didn't chew me out too much. He told me just to keep my head up and shoot my hands quicker.
I came in watched the game about three times before we really had to watch it as a group – just trying to see what I could do better and what tips I could pick up from that game to help me in the next. I graded myself pretty hard. I'd say I probably had a B minus. I wasn't getting knocked around, but I felt like I could have shed my blocks faster and made some more plays.
I did play on special teams and I thought I did pretty good on that. I was the wedge captain on special teams.
Overall, there was a lot of good things done out there, but a lot of bad ones as well. I understand this is a long road and that I'm definitely not where I need to be so I'll just keep working to improve in all areas.
My body was sore afterwards. It was a rough game. As I've said before, it's not for the faint of heart. So I was banged up but I came in and got in the cold tub and the hot tub and then I was good to go. I try to play the tough guy routine like I'm not hurting, so I only get in usually about once or twice a week, but I definitely needed it after the game.
Other than that, I just sat around the room most of Saturday since we had off. My roommate was gone all day, so I just chilled alone, ordered some fried food via room service and watched some television. I moved around for a little bit later in the day and then just rested some more.
The last few days have gone by quickly. We had a couple of practices on Sunday, Monday and Tuesday and they are kind of a blur.
Baas Reuben, a martial arts guy came in and spoke to us last night. It was interesting – very enlightening. I actually met him when I was training for the Combine and he's a pretty cool guy. His message was basically about being mentally strong and focused. While our two sports might be different, he still believes that being mentally strong applies all across the board.
We practiced this morning and Coach Nolan basically pulled us together and told us if we went hard, he'd cancel practice. You come out here every day with the mindset to get your work done, and to grind and make yourself and the guy across from you better. But, it's great to have a coach who does what is best for his players and rewards you for that work. He's a very enthusiastic coach, yet he's also very hard on us when he needs to be. I think he's a great players' coach and he gets guys to respond well because you don't want to let him down. I haven't been here very long, but that's my take.
It works nicely for me because my mother and her best friend are coming in tonight, and so it gives me more time to spend with them. It'll be nice to visit with them and relax. She's coming in to see my game, which will be her first NFL game ever!
I'll be back next week for another diary….