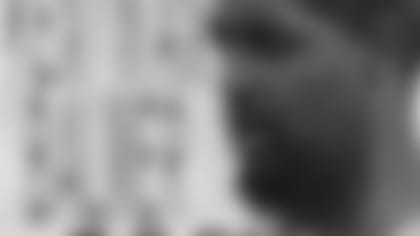 Rookie Kentwan Balmer continues with his Rookie Diary, giving you some insight on which offensive lineman has been the toughest for him to go against, his postgame routine, and having to pick up those pesky dinner tabs.**
In my opinion, it's tough to say who the best offensive lineman is that I've faced out of all the games we've played this year because to me, it seems like every offensive lineman I go against, is one of the elite in the National Football League.
I mean, this is the highest level of football you can play in, so the guys you face every week have a lot of talent. We're all playing on the biggest stage, so everybody I've faced has been tough. Every week, our opponent comes ready to play, and I find that guys come out of the blocks playing low with sound technique.
When I get out on the field, I'm so focused with what I have to do on the play that I can't stop to think about who I'm playing, but there are times now and then when I've been like, 'Wow, I'm going up against this guy.'
I was definitely thinking about that when we first played Seattle and Walter Jones.
Because I've been playing mostly on the inside, I didn't get to go against Jones directly but he's still Walter Jones, one of the NFL's best tackles. He's going to be in the Hall of Fame and I have a ton of respect for him.
It was the same way when we played the New Orleans Saints and their left tackle Jammal Brown. He's a Pro Bowler and it was fun to see how I matched up against him.
Really the list of good offensive linemen goes on and on.
To be honest, I still can't believe I was on the same field as Randy Moss, two weeks ago when we played the New England Patriots. Stuff like that, still blows me away.
At the same time, I really try my hardest to focus on the things I've got to do to get better.
You'd think that some of these teams would heckle a rookie, but no one has talked much trash to me in a game. My own teammates do more of that to me around the locker room – all in good fun.
The guys have also been making me pick up the check at the team hotel after we eat dinner.
Takeo definitely likes to make me pay. Most of the time when we eat at a hotel on the road, they'll make me pick up the tab. They don't order a ton of food, so they take it a bit easy on me which is good, but I can see how this can add up as the season goes on. I'm really already looking forward to next year, when our rookies will be picking up the tabs for me.
As well as falling into a groove in picking up the road tabs, now that we are in week six, I've also picked up a routine for Sunday nights and Mondays.
On Sunday nights I simply head home and try to get some sleep. I always end up thinking about the game and what I could have done better before I go to bed.
Then on Mondays, I come to the team facility early, watch film, get a lift in the weight room, and then watch more film to see what I could have done better in the game.
I've also been doing a lot of work on our blocking sleds. Our d-line coach Jim Tomsula, is always telling me I have got to get better with my hands and my pad level. I think the extra work has helped.
But I'm not on the same level as my teammates. Guys like Spikes have eleven years and I'm not on their level yet, so I have to do extra work just to make sure I'm able to compete and I don't let those guys down.
On Tuesdays I've been doing some boxing with guys like Nate Clements on our turf field. Our strength coach Mark Uyeyama holds pads and we work on our hand speed by punching them. It's interesting to me because I consider myself a boxing fan. My favorite boxers of all-time would have to be Mike Tyson or Roy Jones Jr. I think it applies to football, because it works on shoulder strength and hand quickness. So, I make sure to take time out of my off-day because I think it makes me a better football player.
On our defense, I really believe we have a lot of guys out there who can play. I've really been impressed with everybody, especially their work ethic, attitude and approach to the game. Guys like Patrick and Takeo have done a great job inside, and we've got Nate Clements on the outside and Michael Lewis in the secondary, Aubrayo Franklin, Justin Smith, and others. We just need to go out and have the kind of performance we know we are capable of having this week against the New York Giants.
I'm looking forward to traveling up there to compete against last year's Super Bowl Champs, well everything that is but that hotel tab.