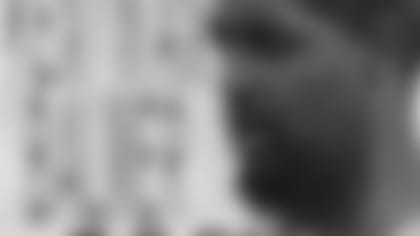 Rookie Kentwan Balmer continues with his Rookie Diary, giving you some insight on what the 49ers did on their road trip to New Orleans, the latest developments regarding his new home and his favorite recipes from his mother.**
It was nice to back in the South over this past weekend. Especially because the weather was warm and New Orleans has really good food.
Since I'm from North Carolina, I had a couple of close friends and family members out visiting me. They came from back home to see me play and it was an overall good experience, though we didn't get the job done that we wanted to accomplish.
When we got to New Orleans, one of the first things I wanted to do to was eat some good Southern food, so I made sure I ate a big bowl of gumbo, and it was delicious.
Other than that, I didn't do so much sight-seeing, because we went down there for one reason: to win the game. And that's where my mindset was.
The night before the game I watched The Love Guru with Mike Myers and Jessica Alba in my hotel room. I have to admit the movie was just alright, not too funny, but Jessica Alba looked good in it.
The next day was gameday and I was really excited. At one point late in the game, I fielded my first kick since week one against Arizona. I didn't think about pitching it back to Allen Rossum, once I caught it. I think once the ball was in my hands, I was thinking about securing it and making sure not to embarrass myself or the team. I haven't had the ball in my hands in awhile, so it felt good. I had like five to ten yards on it. I think my average will keep going up in the future.
New Orleans has got it man. They have the food and the jazz music, and it's a great place to go see. It's unfortunate we didn't leave town with a win. We didn't come out and play the way we wanted to in the game.
On my day off on Tuesday, I finished up decorating my first house, which I was in the process of finalizing the deal on when I wrote my last diary. Now I have the house, and I'm looking for a good-sized TV, and I've been looking at some plasmas. Having a good TV is important, and I need to get one set up quickly so I can watch my boys at North Carolina play ball.
I've been keeping in touch with them, and my relatives back home. Sometimes they call to check on me, and sometimes I call to check on them. For some of my former teammates, I try to give them advice and help them out, because the goal ultimately is to get to the National Football League.
I miss my friends back home, but I'm building new relationships and friendships with my 49ers teammates. I'm getting a lot closer with these guys and they make me feel welcome. I definitely miss my boys back home, but being around these guys makes it better.
In addition to looking for a quality television, I've also been busy buying the rest of the furniture, and it's been a headache. But, my house is coming along and the kitchen should be full tonight, because I'm going to get groceries. My mother is coming into town, so I have to keep the fridge stocked so she can cook some stuff up for me.
As soon as she gets settled, the first thing I'm going to have her make me are some pig's feet or some hamburgers with mashed potatoes and gravy. Pig's feet is one of her specialties. Usually she boils the pig's feet for about three hours and seasons them really good. When she takes them out, and you pick them off the plate, the meat falls off the bone. That's one of my favorite dishes of all-time.