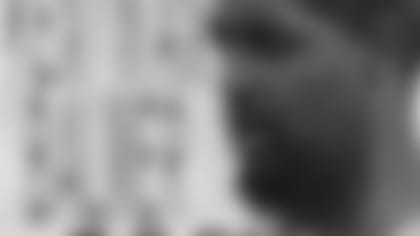 Rookie Kentwan Balmer continues with his Rookie Diary, giving you some insight on his favorite players in the NBA, his thoughts on hitting the "rookie wall," and his plans for the bye week. **
I have to start by saying how happy I am that the NBA season has finally started. In my hometown, basketball is big, particularly since UNC has a well-known basketball program. But, I consider myself a huge basketball fan all around.
I got a chance to watch the first game of the season on Tuesday night with the defending champs, the Boston Celtics and the Cleveland Cavaliers. I thought it was a good game, with the Celtics winning by five. It was nice to be able to sit back, relax and watch other professional athletes perform at the highest level.
I don't really have a favorite team, as much as I just enjoy certain players like Kobe Bryant and LeBron James, who are great to watch. But probably my favorite player is KG, Kevin Garnett. The reason is, he's kind of the most versatile big man in basketball and that's kind of how I'd like to be as a football player.
Being out in the Bay Area now, I think I'm going to support the Warriors since they are the local team, and because they have Brandan Wright, who also went to the University of North Carolina. I'm definitely looking forward to seeing him play. If there's any chance he's reading this: Brandan, I need some tickets dog.
Last week I played a lot more than I had because Ray McDonald was out for the game. It felt good to get in the game more often and it felt good to make some plays out there. I got in the backfield and made a tackle once for a loss and it felt good to get the monkey off my back, and get a chance to celebrate with my teammates.
It was fun to rejoice with them. I didn't even hear them announce my name over the speakers in the stadium after I made the tackle, because Aubrayo Franklin came up to me and he was jumping on me and smacking me. That really made everything special, because everyone was fired up, and when we get fired up, that's when we become dangerous. Making a play felt good for myself, but it felt even better because I was able to help my teammates and our defense. When we're all fired up and on the same page, I believe the other team has hell to pay.
Because it's my first year, I've been asked a lot about hitting the "rookie wall" and I honestly don't know what that even is. I think it's a myth. Everybody is going to get down on themselves about their performance or feel down about a game, but that's just the way it goes. I feel like I've got guys around me who are always teasing me, saying funny stuff, pushing me, and they're always doing stuff to keep me motivated and I don't think people understand that. I have a bond with these guys and they make things a lot easier for me as a rookie.
With this being my first bye week, I'm learning it's a week to get better, it's not a week off. We're still working on technique, we're still working on things we need to do to get better. But it's also a week to take care of each other. People are banged up and we need to understand that we need everybody.
It's crazy how right now, we've basically played an entire college football season. I've talked to some of the guys back home, who are still in school and they were like, 'We're 6-2,' and all this and all that. I'm just like, 'We still have eight games left. We'll still be playing when ya'll are in a bowl game.' It's different, but I think the guys are helping me transition very well.
This week we focused on technique and paying attention to detail. We've been in a lot of games and the detail things we sorely lack, which kind of hurt us. Coach Singletary told us it's all about the little things. That's what he's harping on and that's what he's instilling in us to do, do the little things and the big things will come.
This weekend, I don't plan on traveling anywhere. I'll probably hang out with Chilo Rachal or maybe some of the older guys on the team. We'll probably go out to eat around town or something like that.
I'm basically planning on chilling at my house. Just to update you on things, it's not really where I want it to be, but it's getting there. I still have two more rooms that need to be decorated, but it's coming along slowly. For the most part, I've done all of the decorating myself. I just go with whatever looks clean and classy. I've never been a flashy guy, so I try to keep things simple, and I'm not in a rush to get it finished because I want it to be nice. I plan on being here in the Bay Area for awhile, so keep that in mind Coach Singletary, if you're reading this.
So pretty much, I'm going to be laying low over the weekend, trying to get ready for our next game against Arizona. And let me tell you, I'm really excited for the game, because it's on Monday Night Football. The older heads on the team have been already talking about how important the game is. They've told me that I won't really experience the game until I've played on Monday night. They said the intensity level goes way up and everyone tries to play their best because their friends and families are watching the game on national television. I'm excited about the game, and I've been telling everyone to watch it. I hope I'm out there making plays to help my team, and I'm just really looking forward to having that experience.