As a youngster, Kentwan Balmer may have watched the 49ers of old, but he certainly never dreamt he'd one day be one.
Those dreams arrived much later.
But back when his father commandeered the wooden television set on Sundays and tuned into the 49ers, Balmer was more interested in running around outside with his three older brothers.
"We'd maybe watch a few minutes as we wrestled around on the floor, but then we'd usually be off running outside," said Balmer. "Eventually we'd get hot, come back in and catch the end of the game because he wasn't going to let us change the channel."
Playing football was still off in the distance, but the process of getting toughened up was already well on its way.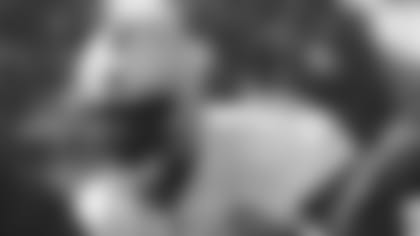 QUOTE OF NOTE: "You have to be relentless. There can't be any faint of heart down there. It's man on man down there, sometimes man on two men. You have to have want to, and a strong heart because there will be some broken bones, dislocated toes, fractured thumbs, and some stingers. It's not for the faint of heart. It takes a different type of dude to play d-line."

MOTTO: "Hold My Own." I feel like anything you do in life you should hold your own, my thing is football, and so I try to hold my own. My momma raised a man, and as a man you have to stand on your own two, in any situation."

ACTIVITIES: I'm just a chill type of guy. I like to sleep, like to play the game, fish, swim. I actually like soccer a little bit. I like racquetball. It's good cardio work and it's fun. You chase this small ball and you have to work on your change of direction. I haven't played since I've been here but during college I'd swim a few times a week and play racquetball once or twice a week.
"My brothers and my cousins were all older and they all beat me up a lot. I was kind of fat, and so they used to torture me a little bit. If the suit fits, you have got to wear it and I was fat, pretty chubby," confessed Balmer. "In fact, my older cousins on my daddy's side, they used to call me FAT. They lived out in the country and when I'd be over there they'd throw me in hay, or hang me up. You know how someone holds your arms up and someone punches you in the stomach – that was usually what happened."
A few pounds over the weight maximum actually kept Balmer out of football in the sixth grade, but by seventh grade at Weldon Middle School he was rolling…for one glorious play anyhow.
"I'll never forget my first game at Enfield Middle School," said Balmer. "I was playing left defensive end. We ran a 6-2 defense and had standup ends and they ran a sweep my way. I bulldozed two guys to the back and knocked them down and made a tackle on the guy for a 3-yard loss. But then we switched to a 4-4 or something on the next play and I had coverage responsibility. It was play action, I bit up and they scored a touchdown. So, it was the best feeling followed by the worst feeling. I won't say I was completely sorry, but I wasn't good either."
Balmer hit a growth spurt, outgrew the fat nicknames, and eventually lost the sorry completely when it came to his football game.
In the 11th grade he attended a camp at North Carolina where he crossed paths with former Tar Heel, Julius Peppers, who had already been selected as a first-round pick by the Carolina Panthers.
"He was signing autographs and I just kind of walked by and sized him up. He was a lot bigger than me then," said Balmer. "After he was done, Coach Browning (assistant coach at North Carolina) introduced me to him. He said to me, 'you remind me a lot of myself, little man, and if you keep working hard, maybe you can be the number two pick too.' I always kept that in mind, and from that point on it was just 'this is what I'm going to do.'"
Following the camp, Balmer committed early to North Carolina, where he carried out his plan to follow in the steps of Peppers.
"Coach Browning coached a lot of great NFL players – Peppers, Vonnie Holiday, and Greg Ellis, and he really taught me the game when I got there," said Balmer. "I was still pretty naïve and just playing off raw ability my first few years, but I really started to understand the game."
Balmer moved into the starting role for the final three contests of his second year with the Tar Heels. He collected eight starts the following season in 2006, and recorded 16 tackles, 2.5 sacks, one pressure, two deflections and a pair of blocked PAT's.
But his banner year came in 2008, coinciding with the arrival of former NFL head coach Butch Davis and his array of NFL experienced coaches, including defensive line coach John Blake.
"When Coach Blake came in, I don't know what he did, he put some voodoo on me or something," said Balmer. "He pulled me aside and said he had watched my junior year of tape. I had a high ankle sprain that year, but he told me that he thought I could be something special if I stayed healthy and just did what he told me."
Balmer bought in and started all twelve games in 2007. He ranked second on the team with 59 tackles, 3.5 sacks, four quarterback pressures, and 9.5 stops for losses to quickly work his way up to the top of the talent pool for the 2008 NFL Draft.
Although he didn't tie Peppers for that coveted second overall pick, the 49ers were thrilled to land him in the first round at 29th overall, believing that the versatile defender was one of the top premier tackles in the Draft.
The Draft worked out well for Balmer too, who eventually fell completely into his father's way of thinking when it came to the 49ers.
"I'd say by the year they went to the Super Bowl against the Chargers I was hooked," said Balmer. "Back home everyone was talking about San Diego because of Natrone Means being from North Carolina, but in our house, it was all about San Francisco. I can remember when they stopped Means from scoring, we went crazy."
Upon his arrival in San Francisco on Sunday of the NFL Draft, Balmer greeted his new teammates with joy and humility, and then hit them up for their autographs.
"I wanted to take something back for my dad, but I was excited about meeting these guys," said Balmer. "I had followed this team for a long time."
In recent months, he's looked to the older veterans for more than just autographs.
"These guys have been here. I trust them to guide me in the right direction, and I love being around them, hearing their stories and learning from them," said Balmer. "I may have a bad day out there, but these guys lift me up, make me laugh, and encourage me. It's great to have that camaraderie and to feel like we are a family."
Despite the harassment he took from his older siblings while growing up, family rates at the top of Balmer's priorities, and has been the hardest thing for him to leave behind now that's been transplanted to the west coast.
"With my family, we always had love. Whether times were good or bad, we always had each other and that's something I'm proud to say," said Balmer. "I might not have had the best car or the best clothes in high school, but I had my family. We had some tough times - no lights, sometimes no water, no heat. That's anybody. That's no sad story, that's just life. It got rough, and hard times come and go, but I grew up with a family who loves me through thick and thin. I hope I have that here in San Francisco too with the 49ers family."
If Balmer lives up to his potential, he'll likely be the next 49ers rookie to also earn the support of the rest of the 49ers community – the fans. In fact, his selfless and willing attitude to chip in wherever needed has already been well noted by the Faithful in several posts on the team's message board.
"I want to show the fans and everyone around here that I play with passion," said Balmer. "I hope they see that I play hard and that I'm competitive. I want to let people know there is smoke in the stack. You've got fire inside, you should see some smoke and that's what I intend to show out there."
Balmer knows it won't come instantly, but in time, he hopes to be a force on the 49ers defense that everyone can look to in crunch situations.
"I want to be the guy everyone can count on, where when it's 4th and 1, everybody is looking at you," said Balmer. "I always wanted to be that guy. Right now I'm at the bottom of the totem pole, but that's something I want to be, no doubt about it. No one wants to be Robin, everybody wants to be Batman. I know it's going to be a long road because there are guys here who have the experience and who are just as hungry. So, it'll be a grind, but I'll get there."
Given that wish list, it's no wonder that Balmer pushed his agent to get him signed and in on time for the start of training camp.
"It's a big sigh of relief to be here," said Balmer. "It was a big thing for me to be here on time so that I can take advantage of every practice. My agent kept saying that it was close and that we were going to get it done, but it was crazy. The organization did a great job and my agent did a great job and I just commend both sides. Now, it's time for business and I'm ready to settle in and get back to what I love doing."