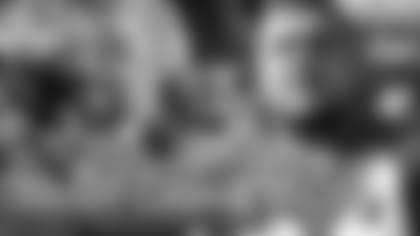 Each year when training camp rolls around, 49ers.com presents a new veteran training camp diary with a different tenured member of the team. This year, starting left guard David Baas assumes that role. So without further ado, here's Baas' fourth training camp diary entry.**
It feels great to be back on the field with my teammates after I missed a few weeks with a foot injury. I'll admit it, I was a little rusty. But it feels awesome playing again, rusty or not.
Being back, you get that little bit of chemistry with your guys out there on the offensive line, which is cool. As much as you try and run and do stuff when you're injured, it's never the same. You get out there on the football field and you can study a whole lot. But, it's just not the same.
I have to say, this week has been good for me. I started off doing individual drills and then the other day I got back into team drills. It's good to be back just in time for the start of the regular season.
Technically, we're out of camp, since we moved out of the hotel. I think most guys are glad about that. And the wives and families are glad about that too.
Now I get to go home and sleep in my own bed, even though my son decides to wake me up constantly. He's teething right now, so he's waking up every hour and so am I.
Coach Singletary gave us a night off the other day. It was good because we had a real good time with each other. We had the rookie show and there were a lot of memorable skits. The defensive backs, somehow they snuck in there again and did well. I don't know how they did it. They got a lot of 8's from the crowd. While our group, the offensive linemen got 9's and 10's. But somehow, the db's ended up tying with us.
But, Kyle Howard, Jacob Bender, and Alex Boone did an awesome job representing us. They imitated a "Joe Show". It was so funny, because it was spot on. They imitated some other guys like Wragge, Brit Miller, and Justin Smith. It was funny too. Singletary was even up there on stage having some fun. It was probably the best one we've had since I've been here, as a collective whole.
On our end, the guys who represented the O-line did a great job. Everybody had a little bit of their own to add to it. But, there were a few surprises. Al Everest, or "Big Stud," as we like to call him, sang a song from 1985. I was four-years old. But he sang it. And Joe Nedney sang a song too while playing a guitar. I didn't know he could play the guitar that well.
There are a lot of things we didn't know about each other which we got to find out, which is awesome. It's the whole point of the talent show. I liked it. It was very entertaining.
We just played the Dallas Cowboys in their new place and it's a really nice stadium. They did a really good job, even though there were only three stalls in the bathroom, in a billion dollar stadium…
And you couldn't find anywhere a display of who had timeouts left. The screens were enormous enough to where when I would look up to see an instant replay; I'd get a headache, every time. It's gigantic. It's bigger and better in Texas. But overall, it's a very nice stadium.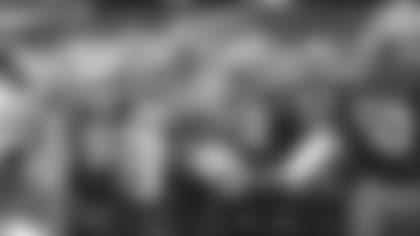 I think it was fun just to see those guys go down there and come from behind to get the win. And it was good to hear Tony Wragge with his pep talk before the game!
They played some jazz music when we came out, trying to get us with the whole psychological thing and Tony went AWOL and had a nice little speech before we broke it up. But I can't say any of it. There would be too many beeps. It was certainly entertaining.
Now we have to wear suits on road trips, but honestly, I absolutely hate wearing suits. I've got to get some new ones because everybody was making fun of me because I wore my suit from 2005. Let's just say it was a little tight. It doesn't fit me anymore, barely could get the buttons tightened up.
As I'm putting this together, Parys Haralson just walked by and called me "fresh legs." For some reason, I've been getting called that a lot.
Anyway, back to where I was before I was interrupted. I didn't know how to tie a tie. But before that, I couldn't even find a tie. So I grabbed a tie from my tuxedo. I had this shiny black tie. I had a black shirt that I couldn't button the top button because my neck is too fat. My pants are too short. The only things that fit were my socks and shoes. Everybody kept calling me Johnny Cash. The fat Johnny Cash.
So, it was a little embarrassing. I think I'm going to buy a new suit and probably give my old one to one of rook's who doesn't have anything.
Now that we're a day away from playing the San Diego Chargers, my focus is on getting ready for the season. I want to play on Friday, but we'll see how this week goes. I'll let the doctors handle it. I feel great though.