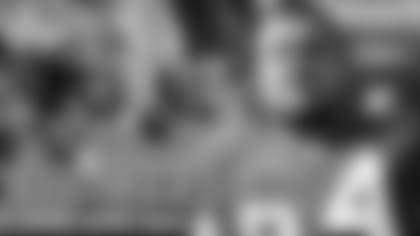 Each year when training camp rolls around, 49ers.com presents a new veteran training camp diary with a different tenured member of the team. This year, starting left guard David Baas assumes that role. So without further ado, here?s Baas? third training camp diary entry.**
Right now we're up here in Napa Valley. Just want everybody to know that my foot is getting better every single day.
I keep missing football more and more especially out there today watching the guys getting playing very physical and working hard. They're doing a good job and I know they're happy to hit someone else besides their teammates. That's the point, to come up here and get better but in the process get to hit someone else.
It's been fun too because when we got up here some of us had to be roommates and I'm a huge snorer. On road games, Adam Snyder can hear me snoring through the wall because we usually get rooms right next to each other. So for the Napa trip, once he found out that we would be rooming together, he gave me a call and said he was going to throw pillows at me if I snore as loud as I usually do. Lucky for him he's a pretty sound sleeper so he can sleep through a lot of things. If it was someone else as my roommate, we would be fighting a lot.
The rooms are cool, but our beds are about three feet apart so it's basically like we are cuddling. It's different than back in Santa Clara where we have our own schedule and wake up when we like.  It's different here having a roommate but at the same time it's cool because we get that bonding experience. If it were more than two days it would get really annoying to have a roommate.
Snyder is one of my good friends and I'm glad he's doing really well this camp. It's funny because we don't talk too much about football. Last night we checked into the hotel, got the room list and immediately started prank calling people. Some of the guys are really easy to get. We got Bear Pascoe on the phone and I told him I was a reporter named Bill Cummings from the Napa Valley Press. I don't even know if there's a Napa Valley Press. Pascoe said, "Did you check this through PR? I didn't hear anything about this." It was ten o'clock at night; he should have known that of course no press can get through to the players. He did very well deferring to PR and eventually figured it out.
We kept calling a bunch of teammates. We couldn't even get through the opening line because we were dying laughing. It's the little things like that which are fun and lighten the mood. When we came down for breakfast this morning everyone knew it was us. It's important to have some fun times even though we are here to work.
This trip up to Napa to scrimmage the Oakland Raiders for two days is really good for our team. In training camp we establish our identity. In Napa we go out and do the things that we need to do, not based on Oakland or their game-plan. I think the guys are really going out and having some fun. It's a great environment and I'm glad that the team does this because I think it really helps us in the long run.
I think that the Denver game last Friday night went really well. It was a step in the right direction and there were a lot of good things that we executed. However, we still have a long ways to go.
It's tough sitting on the sidelines and watching the guys go at it, but everyday I'm getting more and more pumped up about getting out there. When I finally get out on the field I'm going to go crazy!
Ok, now I'm going to turn it over to my co-author Tony Wragge who can fill you in a little bit better on the on-field action...
Everything went extremely well up here in Napa. With David not playing right now, I am able to contribute to the offensive line and it has been exciting. No matter who is in, the level of play cannot go down. I'm comfortable at several positions on the offensive line but when I'm playing left guard, I'm in a starting role. When I step on the field I have to be mentally focused. When I'm in I must play consistently well and with intensity.
I wanted to come up here to Napa and really work on my technique while practicing against Oakland. Now I can't wait to play them on Saturday night, not only because we practiced against them but also because I feel like I have improved on my technique and built my confidence at left guard.
After almost three weeks of training camp, I feel like the team is becoming more confident and mature. We're growing in the right direction with coach Singletary leading us. A lot of the leadership skills are starting to come out in players like Alex Smith, Shaun Hill, and Joe Staley. Even though it's only his third year, Joe has taken a leadership role on this team. Adam Snyder has always been there as a leader also.
I feel like we're starting to play together as a unit and be productive, which is the most important thing. The intensity hasn't worn off and that's a hard thing to do during the grind of training camp. You're not always going to be fresh during camp, be we want to be fresh when we start to get ready to play Arizona.
I would definitely have to say that with two-a-days, living in a hotel, and this trip up to Napa, we're spending a lot of time together. For many of us it's starting to grow into a strong brotherhood. You learn what makes each guy tick and what sets them off but it's been such a good experience.
Up here in Napa we all had roommates. My roommate was our new fullback, Bill Rentmeester. He's a cool guy to talk to and he's from the Midwest just like I am. We both enjoy hockey so we spent last night talking about the sport. He told me about playing in the Big Ten at Wisconsin. He's eight years younger than me so we talked about him being a rookie and where he's at right now. It's really cool to stay with other players because you learn their story of how they got to the NFL. Everybody has a story, you just have to sit down and talk with them.
Camaraderie is huge because we're in full pads twice a day together and we sleep under the same roof. We grow together and develop as a team. The offensive line has thrown pool parties and that didn't change up here in Napa. Baas talked about some of the prank calls and I was one of their victims.  They got me pretty good. I attended an NFL Broadcast boot-camp this year so they called me up the other night. They made it sound like they were from the NFL and wanted to ask me some more questions.  It sounded pretty legit. Towards the end of the conversation I started to catch on and realized that it wasn't real. You have to be on your toes, everybody is getting everybody. It's a good time.
In regards to the Oakland game this Saturday, the main things for the offense are execution, maintaining responsibilities and everyone being on the same page. These are staples that help us win football games. Playing sound football is easy to say but hard to do.
I can't wait to notch the intensity up a little bit and knock some guys down. I think I execute well but at the same time I need to challenge myself. I do my job and I do it well but I need to impose my will on my opponent. Instead of just locking a guy up, I need to take him out of his game. On Saturday I will be relentless with anyone I go up against.
Dave and I will check in with you all next week after this Saturday's game.