**Dan Audick, T-G, 1981-82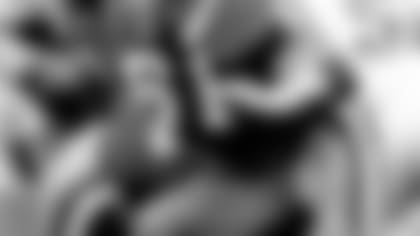 The first time I met Fred was in San Diego. I can still recall all the noise the other players used to talk about him. They would say, 'That's Fred Dean? He's only like 6-2, 225-230 pounds.' He'd walk into the weight room, put 400 pounds on the bench, bench it and walk away from it without ever really working out. He was exceptionally strong.
It was in training camp where I had a chance to go against Fred Dean in practice, in one-on-one Oklahoma drills. It was a drive-block, and I can still remember the collision upon striking him helmet-to-helmet. My head burst as though fireworks were going off in my head. There were stars flying everywhere. I immediately got an idea of what sort of impact Fred could make when he was hitting somebody. The humorous part about it was that I had to line up against him again to finish the second shot and the stars were still flying around my head. That gives you an impression of how explosive Fred could be when he was attacking an offensive lineman.
They had outlawed the head-slap at the same time of Deacon Jones, and that was fortunate for me and all the rest of the offensive linemen that came into the league before Fred Dean. Because Fred had this club move, where he would pound you so hard, that when I thought about it years later, I still remember how it was like getting hit by an anvil.
Despite his demeanor on the field, he was very friendly, and easy to meet. He didn't say too much, but he was a good person off the field to be with.
Kool's were his favorite cigarettes. Part of the humor of the guys who laughed at that, was that he'd always smoke a cigarette and go right on the field and still dominate. But, that was back in a different age.
I was traded from the Chargers on August 17, 1981 to the 49ers and Fred had still not come into camp in San Diego. He was holding out until about the fourth or fifth game of the season. I remember Ray Rhodes came into the weight room one day after practice and said to me, 'We're thinking about picking up Fred Dean, how good is he?' Ray was in his first year as a coach and I can remember specifically saying to him, 'Two words – He's legit.' That was the best way to express it.
I played the left tackle position, I played the right tackle position and also both guard positions and got to see some of the best physical athletes ever, Gary Johnson, Fred Dean, "Mean" Joe Greene and Lyle Alzado – the thing that made Fred exceptional was his extraordinary quickness off the ball, acceleration to the quarterback and explosive strength.
I couldn't be prouder to know someone like Fred. Nobody in my mind is more deserving of the Hall of Fame. It's been a long time coming to get that sort of recognition. From my mind, he was the final link in the chain that made it possible for us to get over the hump and get to Super Bowl XVI. Had he not joined the team, it's very questionable as to whether the 49ers would have made it over the hump.
I won't be going to Canton for his induction, but I'll definitely be tuned in and watching. I try to follow the induction ceremonies every year. When we run into guys we all talk about the great ones and Fred is always top on the list. Everyone will always remember Fred.