We've collected your questions for WR Arnaz Battle and gotten some answers to a few of them in this latest Ask a Player feature. If your question wasn't selected this time around, try again with our latest player, CB Walt Harris.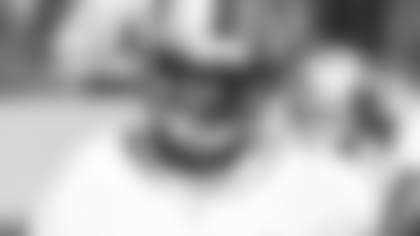 Q: What kind of drills do the wide receivers do during camp in San Francisco and in you're opinion what is the best way to increase you're speed? - Brett Killon**
A: That's probably something a speed coach would have more information on, but throughout my career I've done things from pulling sleds, to running with parachutes, to working on my get off, to working on my stride. There are a lot of things you can do to work on your speed. As a football player, it's more about learning how to play fast every rep, being in top condition and thus able to maintain that fast tempo throughout the game.
Q: Has having a history of playing at QB made you a better wide-out? - SSgt George P. Dunseath, USAF
A: I think it has. I think as far as grasping the playbook and the terminology, I understand it a lot easier and quicker. When you see a quarterback pressured, I definitely know how that feels too. As a quarterback you want your receiver to win his battle as soon as possible so now that I'm a receiver, I focus on trying to win that one-on-one match up as quick as possible. So, I think it has really helped me in my transition because I know what a quarterback wants in a good receiver.
Q: My question is concerning your transition from quarterback to wide receiver. Was it a difficult transition? If so, what was the hardest part of the transition? I am a high school backup QB right now, and I am thinking about moving to WR and I want to know what I need to work on to help to guide my team to victory. - joe9erfan
A: It wasn't easy, but the hardest part was actually getting in receiver shape, so that I could really run as a receiver. Being an option quarterback, I didn't have the stride it takes to be a receiver and to open up in and out of your routes. I was kind of choppy in my steps. Just putting all of that together, being in shape, getting my muscles toned and stretched so I could extend my running form and run like a true receiver was probably the most challenging part of making the switch.
Q: First of all, you are still one of my favorite Irish quarterbacks of all-time, and the switch to receiver almost prompted me to do the same, but this brings me to my question - do you ever want to go back to being the go-to signal caller? -Tyler Garner
A: I think I've let those days go. I'm very comfortable being at receiver. Coming out of high school, there were colleges like Notre Dame or Nebraska where I could play quarterback or schools like Tennessee, Georgia or Oklahoma where I could have gone and played DB or WR. I was an athlete at some schools and a quarterback at some schools who recruited me. Back then I chose the quarterback route, but that has changed for me now. It's worked out for the best for me as a receiver these days and I'm glad about playing that position.
Q: Do you think that this year, you will be able, and given the chance, to use more of your array of skills? i.e. WR passes and other trick type plays? - Nick Haas
A: I think I will. We've got a lot of guys who have the ability to do a variety of things,
Michael Robinson being in the backfield can do some things. Antonio Bryant is a great athlete. I think opportunities will come down the road. Right now, I'm just focused on running the game plan that we have and when that time comes for those trick plays, I'll be ready to execute.
Q: How productive can you be now that you have opposing defenses targeting two other, possibly more serious threats in Antonio Bryant and Vernon Davis? - Dane
A: It definitely helps my productivity. Defenses key in on guys like that and it leaves me or another receiver out there in one-on-one matchups against maybe a number two or three corner. That definitely opens up things, and we are looking forward to spreading the ball around and opening things up on offense this year. I think everyone will get a chance to contribute.
Q: Since you've been a kick returner, I wonder if you could explain the difference between kickoff returning and punt returning. Why do most teams have different players in each role? What skills does each role emphasize (speed, vision, ball handling, etc.)? - David DesRoches
A: A kickoff returner is more of a straight line speed guy who is able to get the ball upfield vertically and make the quick move and maintain speed. Punt returners, you've got guys coming at you and you've got to have more of a burst to start and stop and make guys miss and get upfield. KOR is also different because you are catching the ball and defenders are still 20 yards away, whereas at punt returner, guys are right up on you as you try to field the ball, so it's a different technique and style of running.
Q: I am a wide receiver for the Murrieta Valley freshmen football team. At my practices we do a drill where our coach or quarterback stands 15-20 yards in front of us and we run full speed at him then he throws the ball toward us. I don't know why but I am having trouble catching the ball during that drill but in all the other drill I do perfectly fine. I was wondering if you have any tips on how to help me catch those passes or any other tips about the wide receiver position would be greatly appreciated. – Chris
A: That's really the best way, keep practicing that drill. A lot of guys have fear of coming back to the ball because your momentum is taking you full speed going forward and the ball is coming at you so the impact is definitely greater. A lot of guys move their head or try to catch it with their body, but once you keep doing it correctly and take a lot of repetitions, you'll start to get comfortable and not afraid of the ball. Then, you learn how to attack the ball and have those soft hands. You just have to keep working through it, there's no way around it.
Q: I was wondering how Alex Smith is coming along as well as Vernon Davis? Ben Seiler
A: Both are doing well. Vernon, being a rookie and coming in as a first-round draft pick, it's kind of like a deer in the headlights but he's handling it well and adjusting. He's definitely going to have a lot of opportunities to make plays this year. Alex is coming along well. He had a rough rookie campaign but he's worked hard this off-season and he's really taken to what Norv Turner wants him to do. He's done a great job and I expect great things from him.
Q: One of the numbers everyone looks at for a wide receiver is yards after catch. Some wideouts seem to get more than others. What is the key to getting the five or ten extra yards on a relatively short pass? - Bob Cook
A: I think it's just determination. Having that mindset and willingness to get upfield and break tackles and the ability to make guys miss. You see a lot of guys who are great YAC receivers, they were usually great punt returners. Take Steve Smith in Carolina, he came in as a great punt returner and made that transition to a wide receiver and just had that knack to make the initial guy miss and get upfield.
Q: As a die hard 49er and Notre dame fan I have followed you through your career. I was really excited that you have made it with the 49ers and I was wondering if you feel like you are still in a learning process with playing receiver or if you feel like you have finally developed into a formidable force in the NFL as a receiver. Also what is your prediction for the Blue and Gold this year? - Brian J. Dougherty
A: I definitely still feel like I'm in the learning process. A lot of people think I've been playing WR for four years, but I had a year and a half in college at the position and then came here as a rookie and I was primarily on special teams my first two years. My third year was actually my first year really getting an opportunity to play receiver so I really still think I'm learning.
I'm thinking National Championships for Notre Dame. We were number two but they dropped us to number four after we snuck past Georgia Tech. There are going to be some good games this year. We've got a tough schedule, Penn State next week and then Michigan. Every game is a rival. A lot of teams don't have the opportunity to get the national televised experience but playing Notre Dame, every game is televised so it's a big game for other teams wanting to get some exposure.
Q: How is your knee doing, do you expect it to hamper your performance during the regular season? How is it working alongside Antonio Bryant? What are some of the strengths you see in this year's receiving corps? Have you seen improvement from Alex Smith, and have you been able to develop your timing with him? - Eddie Sheng
A: I don't think so, there were some doubts early on but with the help of training staff and doctors, the swelling sealed off. It's feeling good right now. I've got one more series of these shots, it's this chicken cone gel they shoot in there. It's like an oil change. That's helped tremendously. Every day I'm feeling better and better.
Antonio has brought a lot to our group - attitude, his work ethic, and then just his athletic ability. He pushes the rest of the guys to go out there and be physical in the running game and make plays in the passing game. We've got all the faith in Alex that he's going to make the right reads and get us the ball and lead this offense and I'm expecting good things out of the receivers.
The timing is going well. Preseason we were keeping things simple and I think you'll get a true indication where we are this week against Arizona. They are a physical team who tries to intimidate you so we've got to stay focused and execute our offense.