Thanks to our fans who sent in questions for our new receiver Bryant Johnson! We've selected a few questions, and Johnson has answered. Check 'em out!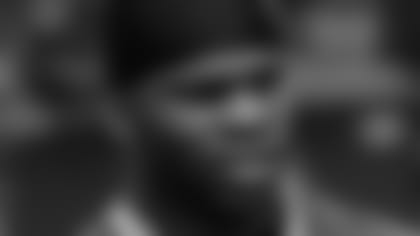 Q: Hey welcome to the 49ers Mr. Johnson, my question is when facing the 49ers in the past which player stood out to be the one you wanted to avoid on the field? -Thanks, Darrell Wetzel **A: It wasn't really just one person out there to avoid. The defense overall was always good when we played against them, so it was a just tough task going out there period. There were a lot of wonderful matchups. I thought we had some epic battles against the 49ers. Now that I'm part of this team, I hope we are the ones making defenses around the league want to avoid us.
Q: Coming from Arizona, are you looking forward to getting on the field against your former team? -Morgan NightingaleA: Not so much looking forward to, although it'll definitely be exciting and a new experience. Playing against guys who I've played with for about four or five years is going to be a new experience for me.
Q: Welcome to the 49ers family. What do you think you bring to the 49ers game that they didn't have before you were signed on? -Thanks. Steve McNeal , San Angelo, TX (formerly from San Mateo, CA)A: I am just another receiver who has been around for awhile and has been playing the game for the past five years. I plan to use my size, speed and my ability to be able to stretch the field to make contributions in this offense, and I also hope to bring some veteran leadership.
Q: Hey Bryant Johnson. I have two questions. Now that you have had some time with the offense, what is your take on the new system? - Also which quarterback has shown in your opinion, the best skill set to run this offense like we all know it is capable of? -Mike T AlabamaA: This offense is a great offense. It's an attack offense and definitely a receiver-friendly offense. As a receiver, you love to be in this type of offense, where you just attack, attack, attack against the defense.
I think all of the quarterbacks have shown good leadership but we'll have to wait until we finish camp to find out which quarterback is going to be chosen as the starter. That's really not for me to decide.
Q: First of all as a fan of the 49ers I want to welcome you and look forward to seeing you out on the field! My question to you, for those of us who don't know much about you, who could we compare your playmaking abilities to in the NFL? And how do you prepare yourself mentally before a game? -Thanks. Erik O. Portland, OR.A: I don't know who I can compare myself to really. I just like to play my game. I'm sure coaches or scouts may compare me to other guys in the league when they do their evaluations but I just like to play my game. Mentally, I prepare for the game by studying film, studying tendencies of the defense, and by trying to get well-rested for Sunday's.
Q: Are you excited to be able to step out of Arizona and into San Francisco, where you can finally show people your talent, with veterans such as Isaac Bruce and Arnaz Battle also helping you along the way. And then the Martz offense will definitely give you many opportunities to shine. So, although this is a new situation and a new team, I can't help but think you're excited. Also, how is the team chemistry? Do you feel that everyone is beginning to get back into football mode, and everyone is starting to get on the same page? -Jake (Santa Cruz, CA)A: It's definitely an exciting feeling to be able to step out and be able to display my talents - and I'm looking forward to it. I have a veteran guy, Isaac Bruce, who has been very consistent throughout his career, and can help me and the other receivers get better and be productive on the field.
I definitely feel like we have chemistry. With mini-camps and then the OTA's, I think we did a wonderful job of building that chemistry and working together as a team – all towards the goal of becoming a winning football team.
Q: How do you feel about leaving Arizona, a very warm, dry region for the San Francisco Bay Area, a much cooler, windier climate? -Cary Sekoff, San FranciscoA: I got used to the heat, being there in Arizona five years, but it's definitely refreshing and a new feeling to be out here, where it's not 100 degrees all the time. The weather (here) is conducive to a lot of things.
Q: If you play well this season… and the 49ers offer you a contract, will you be willing to stay? -Eddie GarrettA: Yes, I definitely would be willing to stay. I like it here and I think a lot of the guys like me here. I wouldn't want to really go anywhere else.
Q: How good does it feel to be the "go-to-guy" for the first time since your time at Penn State? And how good can this team be with a new serious threat at wide-out? - -Jack DiserensA: It feels good to come in and have people believe in you, and to instill that go-to receiver mentality. I do think this team can be good, not because of one person, but because we've got a lot of talent and a great coordinator on offense. Like I said earlier, I always thought this defense was tough as well so definitely we've got a chance to be a competitive team.