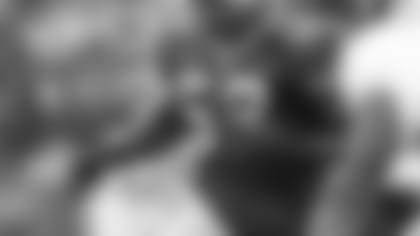 Fans asked, and rookie linebacker Patrick Willis answered! Find out his responses to several of the questions we received from the 49ers Faithful.**
Q: Why the # 52? - Dan Crossley, Knoxville, TN
A: That was the best number they gave me to choose from. Then when I thought about it more I realized there were some great linebackers who have worn this number. Also, currently right now there's a linebacker who I would like to mold my play after and bring the energy that he does to the game – Ray Lewis. So, I thought it would be fun to wear this number. I like to compete and when I get a number, I want it to be known as my number some day. So, I hope to do that with 52.
Q: What is the biggest thing you look forward to coming from NCAA to the pros, the competition level increase or gaining experience from the vets?
A: Both. I wouldn't say the competition in college wasn't hard because it was. I practiced each day and wanted to be one of the best to play college football, and especially in the SEC conference. In coming to the next level, obviously the competition increases so I'm excited about that, and I'm also soaking up all the knowledge I can from the veterans here. I watch them and try to take parts of their game and put them into mine.
Q: My question is, what kind of a season do you think the Rebels will have this year? Is a bowl game in the cards? Coy Meeks
A: I have talked to some of the guys who I played there with and they've been in camp too and were working hard. I know Coach is getting them right and I think they'll do well. They just need to play together and use the talents they have.
Q: Patrick, given the suddenly high expectations for this year's 49ers team based on the moves during free agency and the success in the draft, do you feel like there is any pressure on you to perform like a superstar instantly? -Jeff Orlando, Somerville, NJ
A: I'm not saying there isn't any pressure, but I don't really pay attention to what others expect because sometimes that's just what they wish they could do if they were in your shoes. All you can do is what you can do. That's all I focus on, and that's coming out here each day to practice and being the best I can be and giving my teammates everything I have. I think my own expectations are as high as they can be, so most of the pressure is just what I put on myself.
Q: What has been your biggest adjustment since joining the 49ers, and how do you like playing the mike position in 3 - 4 defense? Ron Miller - Lincoln, Calif.
A: My biggest adjustment has been learning a new scheme. I played the 4-3 in college for two years and all of the sudden I came to a 3-4 and it's different. You don't really have to deal with linemen where in 4-3 you were a finesse linebacker and you could be fast and play one-gap but now you have to be able to stand strong and hold up in this 3-4. That's probably been the biggest difference.
Q: I would like to know what are your goals for the 2007 season - whether that be to lead the team in tackles or sacks etc. I would also like to know do you think you can become an instant vocal leader in the 49ers defense since you were such a high draft pick this year? RENE RODRIGUEZ LAFERIA ,TEXAS
A: My goals are just to come out and prove not only to myself that I should be here but show others that I deserver to be here, give back to the organization and give everything I can to my teammates and hopefully help continue this program going in the right direction. As for being an instant leader, that's a tough question. I'm not too much of a vocal guy. I like to lead by example. I'm a believer that actions speak louder than words. I just try to show by the way I play. I'm sure at times I will be vocal but just to rally the guys around me, not ever to point the finger at anyone.
Q: Are you the type of player who can bring "nasty" to the 49ers defense and put our D on the "nasty" radar of the NFL. -Matt (Santa Clara)A: I guess it depends on how you define nasty, but I definitely hope to help get our defense on the radar period. I don't really like to be too crazy though. I like to do my job, and get the job done correctly. Do I play with excitement yes, but being nasty and doing illegal stuff, no. I like to play the game in the way it is supposed to be played – within the rules and with class. Nowadays you can't too much crazy stuff because you'll be fined like crazy. I'm just going to bring what kind of defense I know how to play and that's physical and hardnosed and everything I've got.
Q: How do you mentally prepare yourself before a big game? - Eric DreesA: I don't get rowdy and lose a whole lot of energy before I play. I don't jump around or scream. I sing to myself and listen to slow songs, music that calms my soul because once I step out there it's time to go. I don't like to use all of my adrenaline before I get out there on the field. I like to save that. I guess I'd describe myself as silent but deadly. In the locker room I'll be chilling and people might not think I'm ready to play but as soon as the ball is snapped, it's like wow, where did that come from?
Q: I was wondering do veterans such as Bryant Young or Walt Harris offer some good advice to rookie players such as yourself and Dashon Goldson or players who are new to the 49er organization like Michael Lewis or Tully Banta-Cain? And also, is there any chance that you are a fierce competitor on Xbox Live considering I heard you like video games? -Shawn Posey San Francisco, CA
A: They all do, there are times when I get frustrated out there and the older vets will tell me to calm down and that I'll get it. They tell me the biggest thing is just to go for it every day. With Walt Harris especially on 3rd downs, I'm really looking to him to help me with the keys and make that a sure call. It's a great feeling having veterans out there willing to help you and not giving you a hard time for not knowing everything. Sometimes you get overwhelmed and they help you instead of looking at you like you are a mess. It's great to be out there with guys like that, and it makes it more fun.
I'm not too much of a big Xbox guy. I'm more of a Play Station guy and I do like to compete as if it's real life.
Q: Who is the first player you want to tackle, sack, and/or intercept a pass and why? - Chris **A: The first quarterback I play against, because it means I made a play right away.  
Q: I am very excited about the up coming season and all the potential that the 49ers have this season, but aside from football what have you done here in the Bay Area? Do you like it here? Sandro Shane Burgos
A: The Bay Area is tremendous. It's a fun place to be. The people out here are nice. So far, I've had nothing but positive things to say about the Bay Area. I haven't been here too long but everyone seems anxious, hungry about the season and supportive. Hopefully they stay that way even when we have rough times because it is easy to be a supportive fan when things are looking good. From what I hear, we've got good fans either way.
Q: What is something you would tell college linebackers to prepare for in the NFL? Or, What is one skill they could work on to help better themselves as a potential NFL player? Kimberly N. ByrdA: Be physical! Be physical as much as you can in college because once you get to this level, you never know what scheme you are going to end up playing in. If you are lucky, you'll get somewhere that's the same scheme you had in college, but if you are not so fortunate you might find yourself on the other tracks like I am. This defense has a lot of potential to make plays so I'm happy to be part of it, but it is a work in progress for me as I learn everything, so I'd say just be physical.
Q: Whatever happen to that orange pinto you use to drive back in High School? - David Thomas
A: I'm going to have to call you on this one! That was my first ever car. The transmission was bad and any time I parked it and left it for more than an hour, the fluid would leak out and I'd have to pour new fluid in there so I could go anywhere. My daddy eventually sold it and last I heard my brother saw it on the race track somewhere.
Q: What linebacker role, (run stopper, pass coverage, pass rush) , do you think you are most effective at, and in a similar vein, which role will you need to put the most effort into as you make the transition from the college to the professional game? - Dan Murray, New HampshireA: I like to think of myself as a well rounded linebacker whether it be run defense or covering the pass. I have to prepare myself for the run defense because in the two gap scheme we've got with the 3-4 each play can be a different assignment, so that's probably the biggest thing I'm working on.
Q: How different is Coach Singletary's coaching of you, as compared to all of the past coaches (postion or just your DC's) you've had, especially in intensity and complexity? -Jordan in Santa Rosa
Well I had four different linebacker coaches in college, but my college head coach and Coach Sing are very similar guys in many aspects. They both want you to give your best and that was the good thing about having Coach Orgeron the last two years. He wasn't my linebacker coach but he wouldn't let you give anything but your best and that's the same as Coach Sing.
Q: My questions are the following: Who is the NFL linebacker (present or past) that you most admire and who you believe your style of play most resembles? Brian ChangA: Whoever asked this question put me on the spot! There would be no doubt Coach Sing is right up there because I loved watching him play back in the day. I'd watch those classic games during the week and watching the '85 Bears and Sing's play was phenomenal. My junior year every home game, I'd watch Beyond the Glory, and I think Ray Lewis is right up there. I also like the linebacker from Seattle from USC. I'd watch and wish I could play like him. I really like the way he plays.
Q: Have you or any other rookies on the team experienced any rookie traditions? -Kevin Maclean
A: I had to take the inside linebackers out the other night for dinner, but I'm sure the whole linebacking corps is going to get me. Other than that, I've carried some helmets in and that's about it.
Q: Let me first say congratulations on being picked in the first round. I couldn't think of a more deserving player or person. Being a middle linebacker and the heart and soul of the defense, what goes through your head on 4th and inches near the goal line? PS. I along with the rest of the 49er faithful have witnessed your punishing goal line stop against LSU and let me say… WOW! Matt Moone
A: Thanks. I just am thinking about being the one to make the play. Sometimes I find myself wanting to find the ball carrier so bad so I can make the play, I don't do everything I'm supposed to do exactly right. My mentality is just make the play.