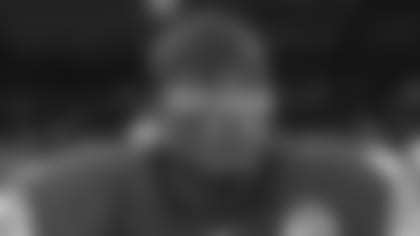 Safety Mark Roman took some time during the off-season to check in and answer some questions we've been collecting from our fans. Enjoy reading his responses in this Ask a Player Feature!**
Q: Out of all your years playing in the NFL, what's your greatest memory from playing and what team were you on? -- Johns Burns
A: It would probably be when I was with Cincinnati in the first game I ever started. It was about negative 20-degrees or something like that. I'll never forget that first game as a starter.
Q: What do the 49ers need to improve on in order to make the playoffs? -- Kevin MacLean
A: We just have to work on our chemistry and build on our winning attitude. We ended the season with a pretty big win against a team that had to win to get into the playoffs. I think we need to build on that and understand that the team that won that game is the team that we are.
Q: How do you deal with all of the pressure while you're on defense in an important game and you need to make a big stop? Do you have an adrenaline rush? -- Aleksandr Ryabov
A: In every game, our defense wants to be on the field the whole time. Everybody in the defensive huddle, we want to be on the field no matter what. We want to put each game on our backs. People questioned our defense all season long and we took every opportunity down the stretch to answer those questions. We wanted to prove that all the critics were wrong. We want the game to be on our backs and we want to win it. That's the pressure we put on ourselves each and every game.
Q: What do you do before a game? Do you have any rituals? -- Jordan
A: I listen to Michael Jackson. I've been listening to Michael Jackson before every game since I was in high school. That all started when I was running track in high school and was listening to music on my headphones and I a had a Michael Jackson CD in. I said, "Man, this sounds good!" I started singing along with it. I ran the fastest quarter mile that I ever ran so I knew I had to keep listening to it. Other than that, I always try to take a bath the night before a game and I eat the same thing every morning - oatmeal, an omelet and a quarter of a waffle.
Q: Who do you think you guys should pick in the draft? -- Vadilljones
A: It's hard for me to answer that question because I feel like we can get the job done with the guys that we already have on the team. I don't ever really look at that. I just focus on the guys who I know are going to be here and try to build good chemistry with those guys. You can't build any chemistry with guys who aren't even here yet. You can't worry about that. Our coaches are very good about bringing the right guys in and I know they'll do a good job once again.
Q: How hard is it to play in the NFL? Do you still love to play the game? -- Jamal Jones
A: It's a tough job but I love it. I love the challenge each and every week of going out and trying to figure out what the quarterback is trying to do to you. All offenses treat it like a big game of chess. You have to read what they're trying to do and attack that. I really like that challenge. As far as my love for football goes, I probably love it even more now. I'm finally at a place here in San Francisco where I'm feeling appreciated and wanted. I know that I'm training to be better in this defense and get more focused. I have aspirations of going to the Pro Bowl. I want to focus on things like that during the off-season instead of just worrying about my situation with the team as has been the case in the past. Now, I feel comfortable and appreciated.
Q: What defense do you think fits your team the best? A 3-4 or a 4-3? Also, what do you think of your new defensive coordinator Greg Manusky? -- Peter
A: I haven't had a chance to meet coach Manusky yet, but I look forward to it. As far as the 3-4 or the 4-3 goes, I think we now have the personnel so that we can do either. It's always good to have some versatility because the more looks you can give an offense, the better off you are. You can keep them guessing that way. It's now just a matter of hanging our hat on one of them and not trying to flip back and forth. Once we decide on which direction we're going to go as a defense, we can really make some good strides. Right now, I think we could run either one.
Q: What is the hardest think about being in the NFL? Is it the practices and the workouts or all the film study and the meetings? -- Mike Hensley
A: The hardest part is definitely the film study and the meetings. People might assume that the physical part of things would be the hardest, but pretty much everybody is in good shape. The mental side of football is what keeps you on point and what keeps you around. Anybody can go out there and tackle a dummy, but it's imperative that you know the X's and O's of the scheme you're running. You have to dedicate so much time to watching film and watching film is hard! There's no sound on film and you're in a dark room for hours and hours at a time. I usually bring my iPod because you can fall asleep if you don't have someone or something to keep you awake and keep you into watching film, which is important because you have to figure out what the opposing offense is trying to do to you in order to perform well on Sundays.
Q: How much time do you spend with you teammates when you're away from the football field? A: We've made a lot of strides as a secondary to get together as much as we can away from the football field. If you have personal relationships with some of the guys, you really start to care about them. When you care about guys, you don't want to let anybody down. It's definitely something that we, as a group, have tried to build on. That's how it is on the whole team. We don't want to let our friends, our soldiers, our comrades down.
Q: As an experienced veteran, how have you been able to teach some of the younger guys on defense?
A: I'm always offering advice. I don't say that much about technique, but just how to process the information that's being given to them so they can remember it and apply it to on-the-field situations. That's one of the greatest things about the guys on this team - there are no egos. There's never anybody who just lets the coaching bounce right off them. They listen to what you have to say and they take it all in. That's been a very good thing for us.