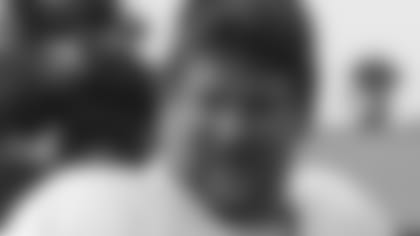 Thanks to everyone who sent in questions over the last few weeks. We've selected a few and gotten answers from defensive end Justin Smith. Check out his responses and be sure to send in your questions for the latest featured Ask a Player - TE  Vernon Davis.**
Q: Justin, I know there are more talented players on the team now that they have added players such as yourself. So why are there so many long drives by the opposing teams and so many big plays allowed? Is the problem the scheme or what? I can only imagine how disgusting it is to be a part of it. Don't you think the coaches ought to at least try something different? -Rod C. Salinas, CAA: Basically we haven't been able to get off the field on third down or sustain drives. That just comes from making plays, and for whatever reason, we haven't been able to make the play in the crucial team to get off. Whether it's missed tackles and they get the first down or just missing out on sacks or more turnovers, that's on us. We are not being consistent right now, that's for sure.
Q: Justin- I'm a big fan of how you are being utilized in the defense! I was wondering if you could give as much detail on your selection of shoulder pads by brand and size. My brother is going to be playing JUCO ball this fall and wants the same mobility and range of motion as well as presenting a smaller target for OL to latch on to, did you make any additional modifications to the back and chest plates? They seem to fit flat with no bulges, is that just dependent on how tight you make the straps? Keep up the great work.-Reginald Talili
A: I just wear standard Ridell pads that I get from our equipment guys. I just took the shoulder pads and cut the flaps off the ends. That's all they are – just no extra flaps.
Q: Justin - It's good to have you aboard, you're a tremendous 49ers. In your opinion, what is preventing the line from becoming more dominant in the pass rushing department? Is it scheme, is it personnel? Is it coaching? What are you seeing from the pass rush – -GregA: I feel like when we get into situations where we can put our speed package on the field – whether it's Rod, Tully, Parys, me and Ray – that's been our most consistent deal. That just goes along with matching up personnel and when we can put that package out there. Anytime we are in our true nickel go get 'em pass rush, we get really good pass rush. That hasn't been our problem.
Q: Justin, what's the difference between you now in San Francisco than you back in Cincinnati? -Marilyn Longoria
A: Just to a certain extent, being moved around more. That's really basically it. I'm moving around and playing from defensive tackle to the outside guy. I still have the same approach to the game, but I think that's probably the biggest difference.
Q: Justin, I absolutely love your non-stop motor and we love the addition of your skills and especially attitude to our team! My question is this, with Coach Manusky using you at so many different positions along the D-Line and linebackers front, which position do you think you are most effective at getting to the QB from and why? Also, who do you think is the toughest left tackle in the league to get past? Please continue to put opposing QB's on their back side! -Thanks for your time, Nic from Montana.
A: Probably from the three technique in pass rush situations just because you are closer to the quarterback. You are just one move away instead of being a move and a sprint away from the DE or OLB spot. As for the toughest tackle, I'd probably say Walter Jones in Seattle.
Q: Justin, Greetings from the Capital in Jefferson City, Missouri! What are the biggest adjustments that you have had to make on and off the field in moving to San Francisco? -Thanks, Tim Bommel
A: On the field, just knowing more defensively – knowing the different positions and schemes that we are running here. Off the field, I haven't had a whole lot of time to get out and about so I can't really say there have been too many tough things off the field. We got moved into our house and I'm either at home or at work.
Q: Justin, What is it like to play with Frank Gore? How tough is he? -Kevin Johnson
A: I knew from playing against him last year how good he is. He breaks tackles, and especially for not being that big of a guy, he breaks a lot of tackles and he's a strong runner. It should make it a lot easier for us on defensively if they can keep running and keep us off the field. That's your best defense right there, when we aren't even on the field. Having a guy who is that explosive, definitely makes it better for you defensively.
Q: Justin, What was the first NFL game you attended, and was that game a major source of inspiration for your journey to pro football? -Anthony C. Mowery, OhioA: When I was in high school, we went up to see the Rams. I really didn't think about playing pro football at that point. I was just more excited about playing college football, and then I just went from there.
Q: Hey Justin, I am wondering after watching the game against the Patriots, why you guys were sitting in a 4-3 with your linebackers 5-6 yards deep most of the first 3 quarters of play? Don't get me wrong it's not that I don't think that a 4-3 was the wrong choice, but when you are getting the ball rammed down your throat like we were, having them sit back that far was not brilliant. Why when it was so obvious through the rest of the game what they're game plan was, did we wait until the fourth quarter to try to stop the run?  - -Allan Story
A: Basically we were trying to match up personnel and the Patriots were using an extra receiver – 11 personnel – so you have to bring a nickel back in to match up in case it's pass. We still held them to under our goal in terms of average yards per carry, so it wasn't as much them running the ball down our throats as them doing enough to sustain drives. We couldn't get off the field on third downs. That was our biggest problem in that game.
Q: Is there any sense of building frustration because of the losses and the sense that the defense isn't playing up to expectations? Rebecca, 49ers Fan in Dallas
A: Our biggest problem is we've given up the big play. Any time you give up the big play, it puts quick points on the board and it gets the whole team down. If we can eliminate those big plays, we'll be fine. We haven't given up huge or long run yards. Big plays, and third down defense is really what we have to work on. It's execution, and all of us stepping up and playing better.
Q: Does the team feel like it can rebound and get back in the hunt for the division? It seems the NFC West is still a winnable division?
A: I don't even really pay any attention to that. There's no need to panic. We are just two games behind, so I'm not panicked. We can definitely be a lot better than we have been. It's not like we are playing to our maximum right now. That would be bad if we were. We've got some correctable things and we are working on them and we still have every intention of being in the playoffs.
Send your e-mail to Vernon at**askaplayer@niners.nfl.com**. We'll collect your questions and after a few weeks, we'll get him to give us his answers.