Over the last month we collected hundreds of questions on 49ers.com for offensive coordinator Mike Martz. Here's a sampling of what some of our fans are curious about, and Coach Martz' responses.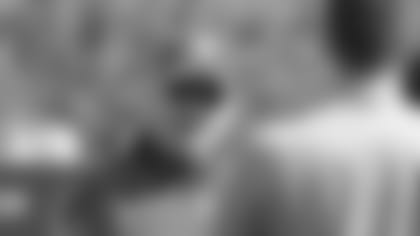 Q: Coach Martz, Welcome to the 49ers family! My question is what are your plans for Vernon Davis?**So far, he has talked a lot without being very productive and hasn't lived up to his first round draft pick expectations for our offense. Do you believe Vernon can grasp and understand your offense? Do you believe your offense will benefit his abilities? - David M. Jewell
A: Vernon has been very dominant in the run game at the point of attack, which is unusual for a gifted athlete like that. It surprised me because he has wide receiver skills and to be dominant as a blocker like that is really unusual. I think Vernon is the same as the other receivers the past year or two in that they've just had a hard time getting the ball to these guys period. I don't think it's a reflection of Vernon's skills. He just hasn't had the opportunity. We are going to increase those opportunities this spring and through camp and I think he'll start to grow with what we do, and we'll find out a little more about what he really excels at as a receiver and we'll build on those things. I'm excited after visiting with him too because He's really energetic, a confident young man who I think is just going to be a superb young player.
Q: Hi Mr. Martz, welcome and congratulations on coming to the 49ers, I hope it's a long and rewarding stay here. As you know our offensive shortcomings have been well documented. We haven't had any kind of consistency in our production for years now. What are your plans and thoughts of making us respectable and feared again? Can we get anywhere near the production you had in St. Louis? As A fan I'm tired of seeing the 10-7 scores all the time. Averaging close to 30 points would be nice again. - Leo, San Jose
A: Our approach will be a little different than maybe it has been in that we are going to let it all hang out and just go. We are going to spread things out, spread the ball around put some pressure on the offensive line and I think they are up to that challenge. The quarterback has to be very consistent, and I think that's the key. We know we can run the football effectively. We've picked up some receivers who should help us, and so we need consistent play from our quarterback at a very high level and I think we are very capable of that. We are not there yet, but I wouldn't put a limit or a ceiling on what this offense can achieve. I'm very excited about the pieces that are here.
Q: My question is about the versatility of Michael Robinson, and if you will you use him as a traditional running back or move him around some more? Also, what about Delanie Walker in the halfback role? These guys are both playmakers but they seems to get limited by their positions with so much depth at RB and TE. - Chris SpiewakA: I think both of those players are very interesting athletes. They are more than just a move tight end or a halfback. I think we can use them in different personnel groupings. We can use both of them as a wide receiver, as a lead blocker, on the line of scrimmage, or handing them the ball. They are very gifted athletes who are competent in a lot of things. Those kinds of players are really the heart and soul of what you do on offense. They'll afford you a great deal of flexibility and with what we do; those are the kind of players who excel in our offense.
Q: Where do you see JT O'Sullivan fitting in? We haven't seen much from him and I was wondering is he just a capable backup or do you see him competing for the starting QB spot? Gregory E. Corbett Sr.A: He has enough skill to be a starter in the league, there is no question in my mind. He joined us late in Detroit during camp with no preparation and did well for us. He just needs to be afforded an opportunity. He's one of the three and who knows how this works out. We don't have any predetermined alignment yet at quarterback, so this will fall into place in short order. These guys will define their roles. I think J.T. is an interesting guy. He's very intelligent, very accurate, and very competitive. I know so much about him and I have great confidence in him, so we'll put him in the mix with the other two and see what happens.
Q: I noticed that the 49ers recently acquired Isaac Bruce. I know they you coached him in St. Louis and that he is familiar with your offense and I was wondering what his role will be with the 49ers. I would imagine that he will be a great asset to the younger receivers in helping them learn the system but do you also see him contributing on the field? Thanks. Matthew G. DarrowA: Isaac will be playing the Z position for us which is the position that motions quite a bit. Bryant Johnson will be X. That's kind of how we'll originally line up with two receivers. Isaac's attention to detail, and his preparation and fierce competitiveness will affect everyone as a whole. The way he plays the game and competes in a game is just catching. If he's diminished at all in his physical skills, I challenge you to find it on tape because I can't see it. He may be nearing the end, but he sure doesn't look like it.
Q: How is Frank Gore going to play a factor in you style of offense? Can he be as effective out of the back field as Marshal Faulk was for you in St. Louis and do you plan on using the running game as much as it has been in the past years? Peter Kennedy, Barksdale AFB, LAA: We just have to make sure that Frank has a lot of touches in every game, whether we throw it to him or hand it to him. Some weeks he might have more carries, and some weeks he might get more catches. To compare anyone to Marshall is almost unfair. Frank has his own style, and I wouldn't compare Frank to anybody. He has his own way of receiving and running. He's very unselfish. He's a very violent and physical runner and yet he has the jump cut and quickness that Marshall has. The difference between Marshall and Frank is that Frank can carry the load 25-30 times a game. Marshall can too, but Frank is a very stout and physical player. Marshall was a lot more slight and he could take those amount of carries, but we would have exposed him to potential injuries. I'm just excited for the competitiveness and the ability that Frank has. When I first met him, I was taken aback by what an engaging personality he has and I can see why this team has so much respect for him as a man and a player.
Q: What do you like about wide receiver Bryant Johnson? Does he remind you of anyone who you've coached before? - ShermanA: Bryant is that big, physical type of receiver with speed who also has great change of direction, and it's very unusual to have all of those qualities. He was the third receiver down in Arizona and I think when he's put in that elite role where it's on his shoulders, he's going to have a terrific opportunity to take that and run with it. He plays the same position that Torry Holt played for us in St. Louis at the X. We also have Jason Hill at the X, but we think Bryant is going to take that, but we'll see. They'll all get an opportunity, but he's that type of a receiver who can thrive in our system.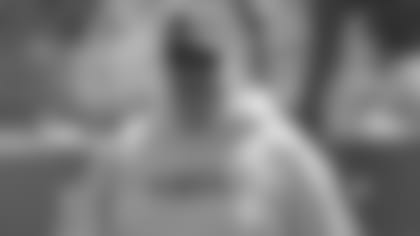 Q: I was wondering how well Jason Hill will fit into the offense with his 4.32 40 speed. I see him running very effective slants, and that Ashley Lelie has the ability to stretch the field! Just wondered how you view them and how you think this will all play out? David Luckey 49er fan for LIFE! **A: Both Ashley and Jason will be put on opposite sides so they are given an opportunity to display what they are capable of. We need to put both guys in the fire and see how they respond. Right now, Jason is over at X and Ashley is over at Z. It doesn't have to end up things that way, but we just want to even things out so they get a lot of turns and repetitions. It's time for Jason to get going. He went through the typical rookie year and you are kind of a bystander so he needs to get going. With all of the ability Ashley has, we need to put pressure on him and give him an opportunity to compete and respond and I think he can. Both of these guys are big, physical receivers that are very gifted with smaller receiver type qualities.
Q: You've worked with some different type of quarterbacks in your career including Trent Green, Kurt Warner, Marc Bulger and Jon Kitna who bring their own style of play to the game. What do you see out of quarterback Alex Smith? Is he talented enough to be an elite QB? – OrionA: As I've watched him on tape Alex is very, very impressive with his accuracy down the field. He's got Bulger's type of accuracy. He's also so athletic. I've never had a quarterback with his mobility so that can afford you some versatility. You can have Frank in the mix and fake to him and put the quarterback on the edge, and that's something I've never been able to do with a quarterback, which puts a lot more stress on a defense. With what we have here, it's going to be fun because it's going to take us in different areas I've not been before. The tight end for instance, the play action to Frank with a mobile quarterback, and really we've got three capable quarterbacks who can be starters in the league. But you asked about Alex, and so far, he's been very impressive. He's got some very special and unique skills. I can easily see why Alex was taken where he was in the draft.
Q: Hi Coach, happy to have you on board. I know that accuracy and quick decision making are attributes you're looking for in a QB...just wondered if you could describe some of the drills you'll be using to determine the capabilities of our guys. Thanks! New Mexico 49er fanA: The drills we usually do with the quarterbacks are all game related. We take a piece that is very difficult for a quarterback to function with. For instance, if he has a rusher coming fast at him from the outside and he has to step up inside, flip his hips to one side or the other and check the ball down. That's tough to handle, so we'll set that up in practice to force him to learn how to do that. Those are the things we try to create a drill for, so that when they do come up in a game, we've emulated it enough times that they handle it with ease.
Q: What is your time frame for figuring out a starting QB? It seems the sooner that is put to rest, the better. Also with Alex Smith still recovering from his shoulder, do you have to move that time table back? training camp? Preseason, etc? How will the reps be divided? – Jeremy WeisA: I think it will work out on its own. My experience is that it gets defined pretty quickly. We'll give all three guys the opportunity to display what they can do. I'm not worried about it. It's a good problem to have. Most teams want that problem! You have three quarterbacks and you are trying to find out which one you like best – so that's a real good problem to have.