What a difference a year makes. Last year the San Francisco 49ers were heading into the first season of the John Lynch and Kyle Shanahan era. We all got a taste of their aggressive nature when they introduced seven signings on the first day of the new league year.
Fast forward to Thursday and we now have a clearer picture of what Lynch and Shanahan have set for the organization that appears to be on the rise.The 49ers had a busy offseason. The team re-signed five players, including inking Jimmy Garoppolo to a five-year extension and awarding Marquise Goodwin to a three-year extension before the start of the new league year.
San Francisco also added six new players into the mix: Richard Sherman, Jeff Locke, Jerick McKinnon, Weston Richburg, Jeremiah Attaochu and Jonathan Cooper.
But the 49ers aren't the only NFC West team with a new look. All four clubs in the division have made moves that add intrigue going into the 2018 season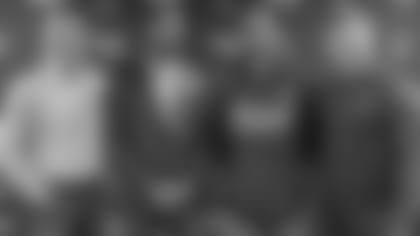 (Jeff Lewis/Los Angeles Rams Team Photographer)
Notable Additions: CB Marcus Peters, CB Aqib Talib, CB Sam Shields, DL Ndamukong Suh, CB Nickell Robey-Coleman and S Lamarcus Joyner.
Notabale Departures: DE Robert Quinn and LB Alec Ogletree.
General manager Les Snead had a plan last offseason, to surround their young quarterback Jared Goff with a stable of weapons to improve their offense under Sean McVay. That proved to be a huge success as the Rams offense was one of the most efficient and improved in the NFL. In 2018, the general manager switched gears and focused on the defense.
"There's no limit to what these guys can do," McVay said of Peters and Talib. "I think you feel like regardless of who they're matched up against, you feel very confident in their abilities. I think going into it, we feel like we've got two No. 1 corners."
Notable Additions: LB Barkevious Mingo, TE Ed Dickson, S Maurice Alexander, WR Jaron Brown and OL D.J. Fluker.
Notabale Departures: CB Richard Sherman, CB Jeremy Lane, CB DeShawn Shead, DE Michael Bennett, TE Jimmy Graham and WR Paul Richardson.
Up in Seattle, the Seahawks offseason can be described as one of change. They made wholesale changes to their coaching staff, adding new offensive coordinator Brian Schottenheimer and defensive coordinator Ken Norton Jr. as well as a few other hires.
Head coach Pete Carroll discussed the changes on the coaching staff at the NFL Scouting Combine.
"I've never wanted to stay the same," Carroll said. "I've felt that every year is a dynamic opportunity to do things in a new way, a better way. But every year is loaded with changes, and we are forced to adapt."
The Seahawks coaching staff isn't the only part of the organization that will look different, Many of the team's stalwarts that have been part of the franchises recent success will no longer be roaming the sidelines.
Notable Additions: QB Sam Bradford, QB Mike Glennon, OT Justin Pugh and OT Andre Smith.
Notabale Departures: WR Jaron Brown, WR John Brown, LB Kareem Martin and S Tyrann Mathieu.
There are some new generals in charge of the Cardinals. Head coach Bruce Arians and former starting quarterback Carson Palmer both decided to retire following the end of the 2017 season.
Arizona chose former Carolina Panthers defensive coordinator Steve Wilks as the team's new head coach. Wilks inherited a team that posted an 8-8 record in 2017 but still retains one of the best receivers in the NFL in Larry Fitzgerald.
The Cardinals were void of a quraterback going into the start of the new league year. The team quickly added two. They signed veteran Sam Bradford and former Chicago Bears quarterback Mike Glennon. Bradford looks to be the starter for the team and is looking to overcome some injury history to lead the team's offense.
Bradford is likely to be Arizona's Week 1 starter, but there's still a possibility that the Cardinals take a quarterback early in the 2018 NFL Draft.