A day after helping keep the Arizona Cardinals passing attack in check, Dre' Bly turned in another inspiring performance on Tuesday.
Instead of shutting down some of the league's top wide receivers, Bly spent the day at Dr. George Washington Carver Elementary School in San Francisco giving away holiday gifts to the entire school.
"I was sort of like a secret Santa because these kids weren't expecting it," Bly said. "I just love seeing how happy it made the kids."
The nearly 300 presents Bly gave to the children were directly purchased by him.
Before handing out the presents, Bly spoke to the children about having respect for others, the importance of education and the necessity of giving to those less fortunate than you. He also talked about his journey to the NFL and wanted the children to know that he faced many of the same challenges they are experiencing when he was a kid.  
One of the biggest factors for success, Bly said, was overcoming those obstacles and staying on the right track.
"I want to let these kids know that I was where they are now and I made it," Bly said. "I fulfilled my dream because I worked hard and never quit. I want them to keep striving and keep going forward."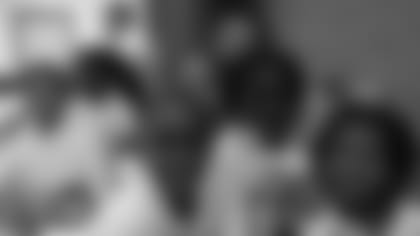 In all Bly spent nearly $7,500 on these holiday gifts, but the cost did not matter to the two-time Pro Bowler. All he cared about was making the children's holiday season.
"It was all about putting a smile on those kids' faces," Bly said. "I didn't care how much it was going to cost; I just wanted to bless them because I have been blessed in my life."
Community service is nothing new for Bly. Since entering the NFL 11 years ago, he has been involved in countless community service projects and even started his own non-profit, The Dré Bly Foundation.
The Dré Bly Foundation is a non-profit organization designed to improve education through physical excellence. The organization helps promote physical awareness by improving athletic facilities and promoting the importance of athletics in maintaining a healthy body and mind.
Since its inception in 2003, The Dré Bly Foundation has raised more than $40,000. Also, the Dré Bly Summer Football Camp has hosted more than 200 children in free football camps in different cities.
But Bly didn't start giving back when he entered the NFL, helping those around him was something Bly was taught from a young age.
"My mom and dad always gave back and that's the way I was raised," he said. "Also, I didn't have a chance to meet somebody kind of famous as a kid to give me some motivation and let me know what life is all about. Not all of these kids were raised the same way as me so I want to be the one to let them know about giving back."